Jessica L. Fetterman PhD
Assistant Professor, Vascular Biology
75 E. Newton St | (617) 358-7544

jefetter@bu.edu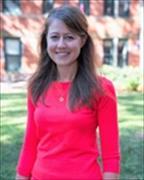 Centers
Whitaker Cardiovascular Institute
Framingham Heart Study
Evans Center for Interdisciplinary Biomedical Research
Biography
Dr. Fetterman is a basic and translational scientist studying the intersections of mitochondrial physiology, mitochondrial genetic epidemiology, and cardiovascular disease. Her work focuses on the contribution of mitochondrial genetic variation and abnormalities to cardiovascular disease in the presence of risk factors, including tobacco product use and diabetes.

Using bioinformatics methods, Dr. Fetterman discovered that several select mitochondrial genetic variants are associated with non-invasive measures of vascular function within the Framingham Heart Study (FHS). Additionally, she has applied similar methodology to select mitochondrial single variant data within Cohorts for Heart and Aging Research in Genomic Epidemiology (CHARGE) to determine the associations of select mitochondrial genetic variants with cardiometabolic measures in collaboration with members of the mitochondrial genetics working group. Recently, Dr. Fetterman was awarded the competitive Trans-Omics Precision Medicine (TOPMed) Analytical Support Award for early career investigators to perform comprehensive bioinformatic annotation of the mitochondrial genetic variants within the TOPMed cohorts.

Dr. Fetterman also conducts research on the impact of new and emerging tobacco products on the vasculature, particularly studies designed to inform tobacco product regulation. Some of her recent work demonstrated that tobacco product flavoring additives induce vascular endothelial dysfunction, an early indicator of cardiovascular injury. She serves as an Associate Director of Education and Training within American Heart Association Tobacco Regulation and Addiction Center. Additionally, she is the Director for the Boston University Tobacco Regulatory Science Affinity Research Collaborative, which is designed to bring together multi-disciplinary teams of scientists within Boston University to increase our understanding of tobacco product use patterns and the impact of new and emerging tobacco products on human health and disease.
Websites
Education
Pathology, PhD, University of Alabama at Birmingham
Microbiology, BA, Ohio Wesleyan University
Publications
Published on 7/17/2023
Rose JJ, Krishnan-Sarin S, Exil VJ, Hamburg NM, Fetterman JL, Ichinose F, Perez-Pinzon MA, Rezk-Hanna M, Williamson E. Cardiopulmonary Impact of Electronic Cigarettes and Vaping Products: A Scientific Statement From the American Heart Association. Circulation. 2023 Aug 22; 148(8):703-728. PMID: 37458106.
Published on 6/29/2023
Brant LCC, Ribeiro AH, Pinto-Filho MM, Kornej J, Preis SR, Fetterman JL, Eromosele OB, Magnani JW, Murabito JM, Larson MG, Benjamin EJ, Ribeiro ALP, Lin H. Association Between Electrocardiographic Age and Cardiovascular Events in Community Settings: The Framingham Heart Study. Circ Cardiovasc Qual Outcomes. 2023 Jul; 16(7):e009821. PMID: 37381910.
Published on 6/10/2023
Li Y, Gray A, Xue L, Farb MG, Ayalon N, Andersson C, Ko D, Benjamin EJ, Levy D, Vasan RS, Larson MG, Rong J, Xanthakis V, Liu C, Fetterman JL, Gopal DM. Metabolomic Profiles, Ideal Cardiovascular Health, and Risk of Heart Failure and Atrial Fibrillation: Insights From the Framingham Heart Study. J Am Heart Assoc. 2023 Jun 20; 12(12):e028022. PMID: 37301766.
Published on 5/11/2023
Booras A, Wiener RS, Maccarone J, Stokes AC, Fetterman JL, Hamburg NM, Singh J, Bulekova K, Kathuria H. A Longitudinal Study of Perceptions of the Massachusetts Menthol Ban and Its Impact on Smoking Behaviors among Marginalized Individuals. Int J Environ Res Public Health. 2023 May 11; 20(10). PMID: 37239518.
Published on 4/27/2023
Xue L, Moreira JD, Smith KK, Fetterman JL. The Mighty NUMT: Mitochondrial DNA Flexing Its Code in the Nuclear Genome. Biomolecules. 2023 Apr 27; 13(5). PMID: 37238623.
Published on 3/14/2023
Wu J, Origgi JM, Ranker LR, Bhatnagar A, Robertson RM, Xuan Z, Wijaya D, Hong T, Fetterman JL. Compliance With the US Food and Drug Administration's Guidelines for Health Warning Labels and Engagement in Little Cigar and Cigarillo Content: Computer Vision Analysis of Instagram Posts. JMIR Infodemiology. 2023; 3:e41969. PMID: 37113379.
Published on 1/26/2023
Majid S, Weisbrod RM, Fetterman JL, Keith RJ, Rizvi SHM, Zhou Y, Behrooz L, Robertson RM, Bhatnagar A, Conklin DJ, Hamburg NM. Pod-based e-liquids impair human vascular endothelial cell function. PLoS One. 2023; 18(1):e0280674. PMID: 36701344.
Published on 12/11/2022
Amraotkar AR, Owolabi US, Malovichko MV, Majid S, Weisbrod RM, Benjamin EJ, Fetterman JL, Hirsch GA, Srivastava S, Poudel R, Robertson RM, Bhatnagar A, Hamburg NM, Keith RJ. Association of electronic cigarette use with circulating angiogenic cell levels in healthy young adults: Evidence for chronic systemic injury. Vasc Med. 2023 Feb; 28(1):18-27. PMID: 36503365.
Published on 11/2/2022
Moreira JD, Gower AC, Xue L, Alekseyev Y, Smith KK, Choi SH, Ayalon N, Farb MG, Tenan K, LeClerc A, Levy D, Benjamin EJ, Lenburg ME, Mitchell RN, Padera RF, Fetterman JL, Gopal DM. Systematic dissection, preservation, and multiomics in whole human and bovine hearts. Cardiovasc Pathol. 2023; 63:107495. PMID: 36334690.
Published on 7/20/2022
Schwartz B, Gjini P, Gopal DM, Fetterman JL. Inefficient Batteries in Heart Failure: Metabolic Bottlenecks Disrupting the Mitochondrial Ecosystem. JACC Basic Transl Sci. 2022 Nov; 7(11):1161-1179. PMID: 36687274.
View full list of 55 publications.