Jessica L. Fetterman PhD
Assistant Professor, Vascular Biology
75 E. Newton St | (617) 358-7544

jefetter@bu.edu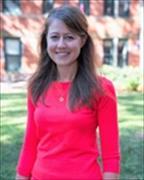 Centers
Whitaker Cardiovascular Institute
Framingham Heart Study
Evans Center for Interdisciplinary Biomedical Research
Biography
Dr. Fetterman is a basic and translational scientist studying the intersections of mitochondrial physiology, mitochondrial genetic epidemiology, and cardiovascular disease. Her work focuses on the contribution of mitochondrial genetic variation and abnormalities to cardiovascular disease in the presence of risk factors, including tobacco product use and diabetes.

Using bioinformatics methods, Dr. Fetterman discovered that several select mitochondrial genetic variants are associated with non-invasive measures of vascular function within the Framingham Heart Study (FHS). Additionally, she has applied similar methodology to select mitochondrial single variant data within Cohorts for Heart and Aging Research in Genomic Epidemiology (CHARGE) to determine the associations of select mitochondrial genetic variants with cardiometabolic measures in collaboration with members of the mitochondrial genetics working group. Recently, Dr. Fetterman was awarded the competitive Trans-Omics Precision Medicine (TOPMed) Analytical Support Award for early career investigators to perform comprehensive bioinformatic annotation of the mitochondrial genetic variants within the TOPMed cohorts.

Dr. Fetterman also conducts research on the impact of new and emerging tobacco products on the vasculature, particularly studies designed to inform tobacco product regulation. Some of her recent work demonstrated that tobacco product flavoring additives induce vascular endothelial dysfunction, an early indicator of cardiovascular injury. She serves as an Associate Director of Education and Training within American Heart Association Tobacco Regulation and Addiction Center. Additionally, she is the Director for the Boston University Tobacco Regulatory Science Affinity Research Collaborative, which is designed to bring together multi-disciplinary teams of scientists within Boston University to increase our understanding of tobacco product use patterns and the impact of new and emerging tobacco products on human health and disease.
Websites
Education
Pathology, PhD, University of Alabama at Birmingham, 2011
Microbiology, BA, Ohio Wesleyan University, 2007
Publications
Published on 1/26/2023
Majid S, Weisbrod RM, Fetterman JL, Keith RJ, Rizvi SHM, Zhou Y, Behrooz L, Robertson RM, Bhatnagar A, Conklin DJ, Hamburg NM. Pod-based e-liquids impair human vascular endothelial cell function. PLoS One. 2023; 18(1):e0280674. PMID: 36701344.
Published on 12/11/2022
Amraotkar AR, Owolabi US, Malovichko MV, Majid S, Weisbrod RM, Benjamin EJ, Fetterman JL, Hirsch GA, Srivastava S, Poudel R, Robertson RM, Bhatnagar A, Hamburg NM, Keith RJ. Association of electronic cigarette use with circulating angiogenic cell levels in healthy young adults: Evidence for chronic systemic injury. Vasc Med. 2023 Feb; 28(1):18-27. PMID: 36503365.
Published on 11/2/2022
Moreira JD, Gower AC, Xue L, Alekseyev Y, Smith KK, Choi SH, Ayalon N, Farb MG, Tenan K, LeClerc A, Levy D, Benjamin EJ, Lenburg ME, Mitchell RN, Padera RF, Fetterman JL, Gopal DM. Systematic dissection, preservation, and multiomics in whole human and bovine hearts. Cardiovasc Pathol. 2023; 63:107495. PMID: 36334690.
Published on 7/20/2022
Schwartz B, Gjini P, Gopal DM, Fetterman JL. Inefficient Batteries in Heart Failure: Metabolic Bottlenecks Disrupting the Mitochondrial Ecosystem. JACC Basic Transl Sci. 2022 Nov; 7(11):1161-1179. PMID: 36687274.
Published on 6/15/2022
Rezk-Hanna M, Warda US, Stokes AC, Fetterman J, Li J, Macey PM, Darawad M, Song Y, Ben Taleb Z, Brecht ML, Benowitz NL. Associations of Smokeless Tobacco Use With Cardiovascular Disease Risk: Insights From the Population Assessment of Tobacco and Health Study. Nicotine Tob Res. 2022 Jun 15; 24(7):1063-1070. PMID: 34999825.
Published on 6/9/2022
Wu J, Harlow AF, Wijaya D, Berman M, Benjamin EJ, Xuan Z, Hong T, Fetterman JL. The Impact of Influencers on Cigar Promotions: A Content Analysis of Large Cigar and Swisher Sweets Videos on TikTok. Int J Environ Res Public Health. 2022 Jun 09; 19(12). PMID: 35742315.
Published on 6/1/2022
Xie W, Tackett AP, Berlowitz JB, Harlow AF, Kathuria H, Galiatsatos P, Fetterman JL, Cho J, Blaha MJ, Hamburg NM, Robertson RM, DeFilippis AP, Hall ME, Bhatnagar A, Benjamin EJ, Stokes AC. Association of Electronic Cigarette Use with Respiratory Symptom Development among U.S. Young Adults. Am J Respir Crit Care Med. 2022 Jun 01; 205(11):1320-1329. PMID: 35089853.
Published on 5/17/2022
Battle SL, Puiu D, Verlouw J, Broer L, Boerwinkle E, Taylor KD, Rotter JI, Rich SS, Grove ML, Pankratz N, Fetterman JL, Liu C, Arking DE. A bioinformatics pipeline for estimating mitochondrial DNA copy number and heteroplasmy levels from whole genome sequencing data. NAR Genom Bioinform. 2022 Jun; 4(2):lqac034. PMID: 35591888.
Published on 2/2/2022
Liu C, Fetterman JL, Sun X, Yan K, Liu P, Luo Y, Ding J, Zhu J, Levy D. Comparison of mitochondrial DNA sequences from whole blood and lymphoblastoid cell lines. Sci Rep. 2022 02 02; 12(1):1801. PMID: 35110616.
Published on 1/20/2022
Wang Y, Xu YA, Wu J, Kim HM, Fetterman JL, Hong T, McLaughlin ML. Moralization of E-cigarette Use and Regulation: A Mixed-Method Computational Analysis of Opinion Polarization. Health Commun. 2022 Jan 20; 1-11. PMID: 35057690.
View full list of 49 publications.