Jessica L. Fetterman PhD
Assistant Professor, Vascular Biology
75 E. Newton St | (617) 358-7544

jefetter@bu.edu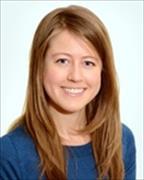 Centers
Whitaker Cardiovascular Institute
Framingham Heart Study
Evans Center for Interdisciplinary Biomedical Research
Biography
Dr. Fetterman is a basic and translational scientist studying the intersections of mitochondrial physiology, mitochondrial genetic epidemiology, and cardiovascular disease. Her work focuses on the contribution of mitochondrial genetic variation and abnormalities to cardiovascular disease in the presence of risk factors, including tobacco product use and diabetes.

Using bioinformatics methods, Dr. Fetterman discovered that several select mitochondrial genetic variants are associated with non-invasive measures of vascular function within the Framingham Heart Study (FHS). Additionally, she has applied similar methodology to select mitochondrial single variant data within Cohorts for Heart and Aging Research in Genomic Epidemiology (CHARGE) to determine the associations of select mitochondrial genetic variants with cardiometabolic measures in collaboration with members of the mitochondrial genetics working group. Recently, Dr. Fetterman was awarded the competitive Trans-Omics Precision Medicine (TOPMed) Analytical Support Award for early career investigators to perform comprehensive bioinformatic annotation of the mitochondrial genetic variants within the TOPMed cohorts.

Dr. Fetterman also conducts research on the impact of new and emerging tobacco products on the vasculature, particularly studies designed to inform tobacco product regulation. Some of her recent work demonstrated that tobacco product flavoring additives induce vascular endothelial dysfunction, an early indicator of cardiovascular injury. She serves as an Associate Director of Education and Training within American Heart Association Tobacco Regulation and Addiction Center. Additionally, she is the Director for the Boston University Tobacco Regulatory Science Affinity Research Collaborative, which is designed to bring together multi-disciplinary teams of scientists within Boston University to increase our understanding of tobacco product use patterns and the impact of new and emerging tobacco products on human health and disease.
Education
Pathology, PhD, University of Alabama at Birmingham, 2011
Microbiology, BA, Ohio Wesleyan University, 2007
Publications
Published on 7/21/2021
Liu C, Fetterman JL, Qian Y, Sun X, Blackwell TW, Pitsillides A, Cade BE, Wang H, Raffield LM, Lange LA, Anugu P, Abecasis G, Adrienne Cupples L, Redline S, Correa A, Vasan RS, Wilson JG, Ding J, Levy D. Presence and transmission of mitochondrial heteroplasmic mutations in human populations of European and African ancestry. Mitochondrion. 2021 Sep; 60:33-42. PMID: 34303007.
Published on 5/24/2021
Stokes AC, Wilson AE, Lundberg DJ, Xie W, Berry KM, Fetterman JL, Harlow AF, Cozier YC, Barrington-Trimis JL, Sterling KL, Benjamin EJ, Blaha MJ, Hamburg NM, Bhatnagar A, Robertson RM. Racial/Ethnic Differences in Associations of Non-cigarette Tobacco Product Use With Subsequent Initiation of Cigarettes in US Youths. Nicotine Tob Res. 2021 05 24; 23(6):900-908. PMID: 32948872.
Published on 5/20/2021
Majid S, Keith RJ, Fetterman JL, Weisbrod RM, Nystoriak J, Wilson T, Stokes AC, Blaha MJ, Srivastava S, Robertson RM, Bhatnagar A, Hamburg NM. Lipid profiles in users of combustible and electronic cigarettes. Vasc Med. 2021 Oct; 26(5):483-488. PMID: 34013801.
Published on 1/21/2021
Harlow AF, Fetterman JL, Ross CS, Robertson RM, Bhatnagar A, Benjamin EJ, Stokes AC. Association of device type, flavours and vaping behaviour with tobacco product transitions among adult electronic cigarette users in the USA. Tob Control. 2021 Jan 21. PMID: 33479031.
Published on 1/8/2021
Hong T, Wu J, Wijaya D, Xuan Z, Fetterman JL. JUUL the heartbreaker: Twitter analysis of cardiovascular health perceptions of vaping. Tob Induc Dis. 2021; 19:01. PMID: 33437228.
Published on 1/4/2021
Stokes AC, Xie W, Wilson AE, Yang H, Orimoloye OA, Harlow AF, Fetterman JL, DeFilippis AP, Benjamin EJ, Robertson RM, Bhatnagar A, Hamburg NM, Blaha MJ. Association of Cigarette and Electronic Cigarette Use Patterns With Levels of Inflammatory and Oxidative Stress Biomarkers Among US Adults: Population Assessment of Tobacco and Health Study. Circulation. 2021 Feb 23; 143(8):869-871. PMID: 33390037.
Published on 11/24/2020
Hughes WE, Chabowski DS, Ait-Aissa K, Fetterman JL, Hockenberry J, Beyer AM, Gutterman DD. Critical Interaction Between Telomerase and Autophagy in Mediating Flow-Induced Human Arteriolar Vasodilation. Arterioscler Thromb Vasc Biol. 2021 01; 41(1):446-457. PMID: 33232201.
Published on 6/6/2020
Masaki N, Feng B, Bretón-Romero R, Inagaki E, Weisbrod RM, Fetterman JL, Hamburg NM. O-GlcNAcylation Mediates Glucose-Induced Alterations in Endothelial Cell Phenotype in Human Diabetes Mellitus. J Am Heart Assoc. 2020 06 16; 9(12):e014046. PMID: 32508185.
Published on 5/26/2020
Di Frances CD, Childs E, Fetterman JL, Villanti AC, Stanton CA, Russo AR, Hirsch GA, Solis AC, Benjamin EJ. Implementing and Evaluating a Mentor Training to Improve Support for Early-Career Scholars in Tobacco Regulatory Science. Nicotine Tob Res. 2020 05 26; 22(6):1041-1045. PMID: 31095330.
Published on 4/29/2020
Fetterman JL, Keith RJ, Palmisano JN, McGlasson KL, Weisbrod RM, Majid S, Bastin R, Stathos MM, Stokes AC, Robertson RM, Bhatnagar A, Hamburg NM. Alterations in Vascular Function Associated With the Use of Combustible and Electronic Cigarettes. J Am Heart Assoc. 2020 05 05; 9(9):e014570. PMID: 32345096.
View full list of 37 publications.