Gyorgy Baffy MD, PhD
Adjunct Associate Professor, Gastroenterology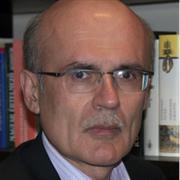 Biography
Dr. Gyorgy Baffy is an Associate Professor of Medicine at Harvard Medical School, Adjunct Associate Professor of Medicine in Gastroenterology at Boston University, and Chief of Gastroenterology at the VA Boston Healthcare System. He is a graduate of the University Medical School of Debrecen in Hungary. In addition, he obtained his PhD from his studies on growth factor-mediated calcium signaling as an NIH Fogarty Fellow in the Department of Biochemistry and Biophysics at the University of Pennsylvania. He trained in gastroenterology at the University of Michigan and the Brigham and Women's Hospital. His research interests focus on various aspects of nonalcoholic fatty liver disease such as outcomes prediction, biomarkers of lipotoxicity, metabolic reprogramming, cancer bioenergetics, and hepatocellular carcinoma. He has been involved in various clinical trials that pertain to colorectal cancer screening. He organized multiple workshops and symposia on his research topics at major US conferences. He published over 60 peer-reviewed papers and book chapters. He has participated in numerous scientific review panels and provides editorial work for several journals in gastroenterology and hepatology. In 2014, he received a Fulbright US Scholar award to teach for a semester about current issues of obesity and related disorders at the University of Debrecen. He is a Fellow of the American College of Physicians, American Gastroenterological Association, and the American Association for the Study of Liver Diseases. He is the recipient of the Madaus Prize from the Madaus Liver Foundation and the Hetényi Medal of the Hungarian Gastroenterological Association.
Education
Medicine, MD, University of Debrecen, 1980
Medicine, PhD, Hungarian Academy of Sciences, 1995
Publications
Published on 11/1/2022
Lonardo A, Mantovani A, Targher G, Baffy G. Nonalcoholic Fatty Liver Disease and Chronic Kidney Disease: Epidemiology, Pathogenesis, and Clinical and Research Implications. Int J Mol Sci. 2022 Nov 01; 23(21). PMID: 36362108.
Published on 12/1/2021
Fekete M, Piroska M, Szily M, Erdei M, Jokkel Z, Szabo H, Littvay L, Baffy G, Tarnoki AD, Tarnoki DL. Heritability analysis of liver stiffness detected by ultrasound shear wave elastography: a twin study. Eur J Gastroenterol Hepatol. 2021 12 01; 33(1S Suppl 1):e766-e770. PMID: 34284414.
Published on 11/1/2021
Imperiale TF, Daggy JK, Imler TD, Sherer EA, Kahi CJ, Larson J, Cardwell J, Johnson CS, Ahnen DJ, Antaki F, Ashley C, Baffy G, Dominitz JA, Hou J, Korsten MA, Nagar A, Promrat K, Robertson DJ, Saini S, Shergill A, Smalley WE. Prevalence of Advanced Colorectal Neoplasia in Veterans: Effects of Age, Sex, and Race/Ethnicity. J Clin Gastroenterol. 2021 Nov-Dec 01; 55(10):876-883. PMID: 34049372.
Published on 10/2/2021
Baffy G, Bosch J. Overlooked subclinical portal hypertension in non-cirrhotic NAFLD: Is it real and how to measure it? J Hepatol. 2022 02; 76(2):458-463. PMID: 34606912.
Published on 7/19/2021
Di Ciaula A, Calamita G, Shanmugam H, Khalil M, Bonfrate L, Wang DQ, Baffy G, Portincasa P. Mitochondria Matter: Systemic Aspects of Nonalcoholic Fatty Liver Disease (NAFLD) and Diagnostic Assessment of Liver Function by Stable Isotope Dynamic Breath Tests. Int J Mol Sci. 2021 Jul 19; 22(14). PMID: 34299321.
Published on 5/24/2021
Mohanty A, Kapuria D, Canakis A, Lin H, Amat MJ, Rangel Paniz G, Placone NT, Thomasson R, Roy H, Chak E, Baffy G, Curry MP, Laine L, Rustagi T. Fresh frozen plasma transfusion in acute variceal haemorrhage: Results from a multicentre cohort study. Liver Int. 2021 08; 41(8):1901-1908. PMID: 33969607.
Published on 3/24/2021
Kaplan DE, Mehta R, Garcia-Tsao G, Albrecht J, Aytaman A, Baffy G, Bajaj J, Hernaez R, Hunt K, Ioannou G, Johnson K, Kanwal F, Lee TH, Monto A, Pandya P, Schaubel D, Taddei TH. SACRED: Effect of simvastatin on hepatic decompensation and death in subjects with high-risk compensated cirrhosis: Statins and Cirrhosis: Reducing Events of Decompensation. Contemp Clin Trials. 2021 05; 104:106367. PMID: 33771685.
Published on 12/16/2020
Baffy G. Is the name 'NAFLD' too big to fail? Let's keep it for 'nutrition-associated fatty liver disease'. J Hepatol. 2021 04; 74(4):988. PMID: 33340579.
Published on 10/15/2020
Altajar S, Baffy G. Skeletal Muscle Dysfunction in the Development and Progression of Nonalcoholic Fatty Liver Disease. J Clin Transl Hepatol. 2020 Dec 28; 8(4):414-423. PMID: 33447525.
Published on 6/29/2020
Ryou M, Stylopoulos N, Baffy G. Nonalcoholic fatty liver disease and portal hypertension. Explor Med. 2020; 1:149-169. PMID: 32685936.
View full list of 70 publications.