Gopala Krishna Yadavalli MD
Assistant Professor, Infectious Diseases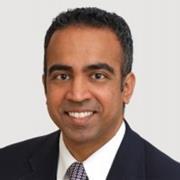 Sections
Infectious Diseases
Biography
I am interested in medical education across the spectrum of learners, and am particularly passionate about graduate medical education. My clinical interests are in inpatient medicine, HIV care, and general infectious diseases. I also have an interest in global health, social justice, and disparities.
Education
Medicine, MD, Thomas Jefferson University, 1995
Science, BS, Pennsylvania State University, 1993
Publications
Published on 2/12/2020
Kaadan MI, Dennis M, Desai N, Yadavalli G, Lederer P. One Health Education for Future Physicians: A Case Report of Cat-Transmitted Sporotrichosis. Open Forum Infect Dis. 2020 Mar; 7(3):ofaa049. PMID: 32154323.
Published on 9/29/2017
Noronha C, Chaudhry S, Chacko K, McGarry K, Agrawal A, Yadavalli G, Shalaby M. X + Y Scheduling Models in Internal Medicine Residency Programs: A National Survey of Program Directors' Perspectives. Am J Med. 2018 Jan; 131(1):107-114. PMID: 28970031.
Published on 12/1/2011
Hirsch AA, Compan A, Lawrence RH, Briggs JM, Yadavalli GK, Fuller MA. Pilot study to assess subjective and objective reporting of potential adverse drug reactions in older versus younger HIV-infected patients using antiretroviral therapy. J Assoc Nurses AIDS Care. 2012 Sep-Oct; 23(5):397-408. PMID: 22137548.
Published on 6/7/2011
Rodriguez B, Bazdar DA, Funderburg N, Asaad R, Luciano AA, Yadavalli G, Kalayjian RC, Lederman MM, Sieg SF. Frequencies of FoxP3+ naive T cells are related to both viral load and naive T cell proliferation responses in HIV disease. J Leukoc Biol. 2011 Sep; 90(3):621-8. PMID: 21653240.
Published on 11/10/2009
Yassin M, Yadavalli GK, Alvarado N, Bonomo RA. Streptococcus anginosus (Streptococcus milleri Group) Pyomyositis in a 50-Year-Old Man with Acquired Immunodeficiency Syndrome: Case Report and Review of Literature. Infection. 2010 Feb; 38(1):65-8. PMID: 19904493.
Published on 3/1/2008
Lalezari J, Yadavalli GK, Para M, Richmond G, Dejesus E, Brown SJ, Cai W, Chen C, Zhong J, Novello LA, Lederman MM, Subramanian GM. Safety, pharmacokinetics, and antiviral activity of HGS004, a novel fully human IgG4 monoclonal antibody against CCR5, in HIV-1-infected patients. J Infect Dis. 2008 Mar 1; 197(5):721-7. PMID: 18266604.
Published on 6/21/2007
Eckstein BC, Adams DA, Eckstein EC, Rao A, Sethi AK, Yadavalli GK, Donskey CJ. Reduction of Clostridium Difficile and vancomycin-resistant Enterococcus contamination of environmental surfaces after an intervention to improve cleaning methods. BMC Infect Dis. 2007; 7:61. PMID: 17584935.
Published on 7/1/2005
Yadavalli GK, Chien JW, Wener KM, Devecchio JL, Gupta S, Salata RA, Lee JH, Caldeira C, Auletta JJ, Heinzel FP. Interleukin 12 and interferon-gamma synthetic deficiency is associated with dendritic cell cytopenia after cardiac surgery. Shock. 2005 Jul; 24(1):26-33. PMID: 15988317.
Published on 2/1/2004
Hamza NS, Lisgaris M, Yadavalli G, Nadeau L, Fox R, Fu P, Lazarus HM, Koc ON, Salata RA, Laughlin MJ. Kinetics of myeloid and lymphocyte recovery and infectious complications after unrelated umbilical cord blood versus HLA-matched unrelated donor allogeneic transplantation in adults. Br J Haematol. 2004 Feb; 124(4):488-98. PMID: 14984500.
Published on 4/1/2002
A Bobak D, Yadavalli G. Update on the Management of Hepatitis C in Liver Transplant Recipients. Curr Infect Dis Rep. 2002 Apr; 4(2):105-111. PMID: 11927040.
View full list of 11 publications.