Gang Liu PhD
Research Associate Professor, Computational Biomedicine
72 East Concord Street | (617) 358-7257

gangl@bu.edu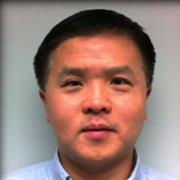 Sections
Computational Biomedicine
Centers
BU-BMC Cancer Center
Biography
Gang Liu, PhD, is a Research Associate Professor of Medicine in Computational Biomedicine at Chobanian and Avedisian School of Medicine. He advises graduate and postdoctoral students about experimental design and technological issues in research. Additionally, he the is Lab Director of High-Output Genomics Group in CBM, where he supervises assistants and coordinates with other research groups. Dr. Liu has published over 30 articles and served as guest reviewer for two academic journals. Currently, he is Co-Investigator for multiple research projects, which have received over $1,000,000 in funding.
Education
Biochemistry, PhD, University of Kentucky, 1999
Veterinary Science, MS, University of Kentucky, 1995
Biochemistry, BS, Sichuan University, 1989
Publications
Published on 1/27/2023
Xu K, Diaz AA, Duan F, Lee M, Xiao X, Liu H, Liu G, Cho MH, Gower AC, Alekseyev YO, Spira A, Aberle DR, Washko GR, Billatos E, Lenburg ME. Bronchial gene expression alterations associated with radiological bronchiectasis. Eur Respir J. 2023 Jan; 61(1). PMID: 36229050.
Published on 10/28/2022
Xu K, Shi X, Husted C, Hong R, Wang Y, Ning B, Sullivan TB, Rieger-Christ KM, Duan F, Marques H, Gower AC, Xiao X, Liu H, Liu G, Duclos G, Platt M, Spira AE, Mazzilli SA, Billatos E, Lenburg ME, Campbell JD, Beane JE. Smoking modulates different secretory subpopulations expressing SARS-CoV-2 entry genes in the nasal and bronchial airways. Sci Rep. 2022 Oct 28; 12(1):18168. PMID: 36307504.
Published on 10/28/2021
Xu K, Shi X, Husted C, Hong R, Wang Y, Ning B, Sullivan T, Rieger-Christ K, Duan F, Marques H, Gower A, Xiao X, Liu H, Liu G, Duclos G, Platt M, Spira A, Mazzilli S, Billatos E, Lenburg M, Campbell J, Beane J. Smoking Modulates Different Secretory Subpopulations Expressing SARS-CoV-2 Entry Genes in the Nasal and Bronchial Airways. Res Sq. 2021 Oct 28. PMID: 34729557.
Published on 9/1/2021
Maoz A, Merenstein C, Koga Y, Potter A, Gower AC, Liu G, Zhang S, Liu H, Stevenson C, Spira A, Reid ME, Campbell JD, Mazzilli SA, Lenburg ME, Beane J. Elevated T cell repertoire diversity is associated with progression of lung squamous cell premalignant lesions. J Immunother Cancer. 2021 09; 9(9). PMID: 34580161.
Published on 5/10/2021
Becker EJ, Faiz A, van den Berge M, Timens W, Hiemstra PS, Clark K, Liu G, Xiao X, Alekseyev YO, O'Connor G, Lam S, Spira A, Lenburg ME, Steiling K. Bronchial gene expression signature associated with rate of subsequent FEV1 decline in individuals with and at risk of COPD. Thorax. 2022 01; 77(1):31-39. PMID: 33972452.
Published on 2/18/2021
Luo HL, Pi J, Zhang JA, Yang EZ, Xu H, Luo H, Shen L, Peng Y, Liu GB, Song CM, Li KY, Wu XJ, Zheng BY, Shen HB, Chen ZW, Xu JF. Circular RNA TRAPPC6B inhibits intracellular Mycobacterium tuberculosis growth while inducing autophagy in macrophages by targeting microRNA-874-3p. Clin Transl Immunology. 2021; 10(2):e1254. PMID: 33708385.
Published on 9/15/2020
Greer DM, Shemie SD, Lewis A, Torrance S, Varelas P, Goldenberg FD, Bernat JL, Souter M, Topcuoglu MA, Alexandrov AW, Baldisseri M, Bleck T, Citerio G, Dawson R, Hoppe A, Jacobe S, Manara A, Nakagawa TA, Pope TM, Silvester W, Thomson D, Al Rahma H, Badenes R, Baker AJ, Cerny V, Chang C, Chang TR, Gnedovskaya E, Han MK, Honeybul S, Jimenez E, Kuroda Y, Liu G, Mallick UK, Marquevich V, Mejia-Mantilla J, Piradov M, Quayyum S, Shrestha GS, Su YY, Timmons SD, Teitelbaum J, Videtta W, Zirpe K, Sung G. Determination of Brain Death/Death by Neurologic Criteria: The World Brain Death Project. JAMA. 2020 Sep 15; 324(11):1078-1097. PMID: 32761206.
Published on 3/31/2020
Zhang JA, Lu YB, Wang WD, Liu GB, Chen C, Shen L, Luo HL, Xu H, Peng Y, Luo H, Huang GX, Wu DD, Zheng BY, Yi LL, Chen ZW, Xu JF. BTLA-Expressing Dendritic Cells in Patients With Tuberculosis Exhibit Reduced Production of IL-12/IFN-a and Increased Production of IL-4 and TGF-ß, Favoring Th2 and Foxp3+ Treg Polarization. Front Immunol. 2020; 11:518. PMID: 32296431.
Published on 2/20/2020
Luo HL, Peng Y, Luo H, Zhang JA, Liu GB, Xu H, Huang GX, Sun YF, Huang J, Zheng BY, Zhong JX, Xu JF. Circular RNA hsa_circ_0001380 in peripheral blood as a potential diagnostic biomarker for active pulmonary tuberculosis. Mol Med Rep. 2020 04; 21(4):1890-1896. PMID: 32319627.
Published on 2/7/2020
Drizik E, Corbett S, Zheng Y, Vermeulen R, Dai Y, Hu W, Ren D, Duan H, Niu Y, Xu J, Fu W, Meliefste K, Zhou B, Zhang X, Yang J, Bassig B, Liu H, Ye M, Liu G, Jia X, Meng T, Bin P, Zhang J, Silverman D, Spira A, Rothman N, Lenburg ME, Lan Q. Transcriptomic changes in the nasal epithelium associated with diesel engine exhaust exposure. Environ Int. 2020 04; 137:105506. PMID: 32044442.
View full list of 49 publications.