Gang Liu PhD
Research Associate Professor, Computational Biomedicine
72 East Concord Street | (617) 358-7257

gangl@bu.edu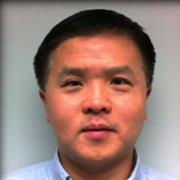 Sections
Computational Biomedicine
Centers
BU-BMC Cancer Center
Biography
Gang Liu, PhD, is a Research Associate Professor of Medicine in Computational Biomedicine at Boston University School of Medicine. He advises graduate and postdoctoral students about experimental design and technological issues in research. Additionally, he the is Lab Director of High-Output Genomics Group in CBM, where he supervises assistants and coordinates with other research groups. Dr. Liu has published over 30 articles and served as guest reviewer for two academic journals. Currently, he is Co-Investigator for multiple research projects, which have received over $1,000,000 in funding.
Education
Biochemistry, PhD, University of Kentucky, 1999
Veterinary Science, MS, University of Kentucky, 1995
Biochemistry, BS, Sichuan University, 1989
Publications
Published on 5/10/2021
Becker EJ, Faiz A, van den Berge M, Timens W, Hiemstra PS, Clark K, Liu G, Xiao X, Alekseyev YO, O'Connor G, Lam S, Spira A, Lenburg ME, Steiling K. Bronchial gene expression signature associated with rate of subsequent FEV1 decline in individuals with and at risk of COPD. Thorax. 2021 May 10. PMID: 33972452.
Published on 9/15/2020
Greer DM, Shemie SD, Lewis A, Torrance S, Varelas P, Goldenberg FD, Bernat JL, Souter M, Topcuoglu MA, Alexandrov AW, Baldisseri M, Bleck T, Citerio G, Dawson R, Hoppe A, Jacobe S, Manara A, Nakagawa TA, Pope TM, Silvester W, Thomson D, Al Rahma H, Badenes R, Baker AJ, Cerny V, Chang C, Chang TR, Gnedovskaya E, Han MK, Honeybul S, Jimenez E, Kuroda Y, Liu G, Mallick UK, Marquevich V, Mejia-Mantilla J, Piradov M, Quayyum S, Shrestha GS, Su YY, Timmons SD, Teitelbaum J, Videtta W, Zirpe K, Sung G. Determination of Brain Death/Death by Neurologic Criteria: The World Brain Death Project. JAMA. 2020 Sep 15; 324(11):1078-1097. PMID: 32761206.
Published on 2/7/2020
Drizik E, Corbett S, Zheng Y, Vermeulen R, Dai Y, Hu W, Ren D, Duan H, Niu Y, Xu J, Fu W, Meliefste K, Zhou B, Zhang X, Yang J, Bassig B, Liu H, Ye M, Liu G, Jia X, Meng T, Bin P, Zhang J, Silverman D, Spira A, Rothman N, Lenburg ME, Lan Q. Transcriptomic changes in the nasal epithelium associated with diesel engine exhaust exposure. Environ Int. 2020 04; 137:105506. PMID: 32044442.
Published on 12/11/2019
Duclos GE, Teixeira VH, Autissier P, Gesthalter YB, Reinders-Luinge MA, Terrano R, Dumas YM, Liu G, Mazzilli SA, Brandsma CA, van den Berge M, Janes SM, Timens W, Lenburg ME, Spira A, Campbell JD, Beane J. Characterizing smoking-induced transcriptional heterogeneity in the human bronchial epithelium at single-cell resolution. Sci Adv. 2019 12; 5(12):eaaw3413. PMID: 31844660.
Published on 6/22/2019
Corbett SE, Nitzberg M, Moses E, Kleerup E, Wang T, Perdomo C, Perdomo C, Liu G, Xiao X, Liu H, Elashoff DA, Brooks DR, O'Connor GT, Dubinett SM, Spira A, Lenburg ME. Gene Expression Alterations in the Bronchial Epithelium of e-Cigarette Users. Chest. 2019 10; 156(4):764-773. PMID: 31233743.
Published on 5/6/2019
Hijazi K, Malyszko B, Steiling K, Xiao X, Liu G, Alekseyev YO, Dumas YM, Hertsgaard L, Jensen J, Hatsukami D, Brooks DR, O'Connor G, Beane J, Lenburg ME, Spira A. Tobacco-Related Alterations in Airway Gene Expression are Rapidly Reversed Within Weeks Following Smoking-Cessation. Sci Rep. 2019 05 06; 9(1):6978. PMID: 31061400.
Published on 4/23/2019
Beane JE, Mazzilli SA, Campbell JD, Duclos G, Krysan K, Moy C, Perdomo C, Schaffer M, Liu G, Zhang S, Liu H, Vick J, Dhillon SS, Platero SJ, Dubinett SM, Stevenson C, Reid ME, Lenburg ME, Spira AE. Molecular subtyping reveals immune alterations associated with progression of bronchial premalignant lesions. Nat Commun. 2019 04 23; 10(1):1856. PMID: 31015447.
Published on 6/22/2018
Billatos E, Faiz A, Gesthalter Y, LeClerc A, Alekseyev YO, Xiao X, Liu G, Ten Hacken NHT, Heijink IH, Timens W, Brandsma CA, Postma DS, van den Berge M, Spira A, Lenburg ME. Impact of acute exposure to cigarette smoke on airway gene expression. Physiol Genomics. 2018 09 01; 50(9):705-713. PMID: 29932825.
Published on 9/6/2017
Pavel AB, Campbell JD, Liu G, Elashoff D, Dubinett S, Smith K, Whitney D, Lenburg ME, Spira A. Alterations in Bronchial Airway miRNA Expression for Lung Cancer Detection. Cancer Prev Res (Phila). 2017 Nov; 10(11):651-659. PMID: 28877936.
Published on 5/22/2017
Beane J, Mazzilli SA, Tassinari AM, Liu G, Zhang X, Liu H, Buncio AD, Dhillon SS, Platero SJ, Lenburg ME, Reid ME, Lam S, Spira AE. Detecting the Presence and Progression of Premalignant Lung Lesions via Airway Gene Expression. Clin Cancer Res. 2017 Sep 01; 23(17):5091-5100. PMID: 28533227.
View full list of 35 publications.