Darrell Nelson Kotton MD
Professor, Pulmonary, Allergy, Sleep & Critical Care Medicine
Professor, Pathology & Laboratory Medicine
670 Albany St | (617) 414-2969

dkotton@bu.edu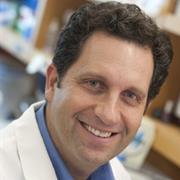 Sections
Pulmonary, Allergy, Sleep & Critical Care Medicine
Centers
Center for Regenerative Medicine
Pulmonary Center
Framingham Heart Study
Evans Center for Interdisciplinary Biomedical Research
Biography
Expertise includes: Stem Cell Biology; iPS cells; Reprogramming; Gene Therapy; Lung Developmental Biology.
Other Positions
Websites
Education
MD, Washington University School of Medicine, 1994
BA, University of Pennsylvania, 1989
Publications
Published on 10/1/2021
Sun YL, Hurley K, Villacorta-Martin C, Huang J, Hinds A, Gopalan K, Caballero IS, Russo SJ, Kitzmiller JA, Whitsett JA, Beers MF, Kotton DN. Heterogeneity in Human Induced Pluripotent Stem Cell-derived Alveolar Epithelial Type II Cells Revealed with ABCA3/SFTPC Reporters. Am J Respir Cell Mol Biol. 2021 10; 65(4):442-460. PMID: 34101541.
Published on 9/9/2021
Chen DY, Khan N, Close BJ, Goel RK, Blum B, Tavares AH, Kenney D, Conway HL, Ewoldt JK, Chitalia VC, Crossland NA, Chen CS, Kotton DN, Baker SC, Fuchs SY, Connor JH, Douam F, Emili A, Saeed M. SARS-CoV-2 Disrupts Proximal Elements in the JAK-STAT Pathway. J Virol. 2021 09 09; 95(19):e0086221. PMID: 34260266.
Published on 9/7/2021
Mirabelli C, Wotring JW, Zhang CJ, McCarty SM, Fursmidt R, Pretto CD, Qiao Y, Zhang Y, Frum T, Kadambi NS, Amin AT, O'Meara TR, Spence JR, Huang J, Alysandratos KD, Kotton DN, Handelman SK, Wobus CE, Weatherwax KJ, Mashour GA, O'Meara MJ, Chinnaiyan AM, Sexton JZ. Morphological cell profiling of SARS-CoV-2 infection identifies drug repurposing candidates for COVID-19. Proc Natl Acad Sci U S A. 2021 09 07; 118(36). PMID: 34413211.
Published on 8/31/2021
Alysandratos KD, Russo SJ, Petcherski A, Taddeo EP, Acín-Pérez R, Villacorta-Martin C, Jean JC, Mulugeta S, Rodriguez LR, Blum BC, Hekman RM, Hix OT, Minakin K, Vedaie M, Kook S, Tilston-Lunel AM, Varelas X, Wambach JA, Cole FS, Hamvas A, Young LR, Liesa M, Emili A, Guttentag SH, Shirihai OS, Beers MF, Kotton DN. Patient-specific iPSCs carrying an SFTPC mutation reveal the intrinsic alveolar epithelial dysfunction at the inception of interstitial lung disease. Cell Rep. 2021 Aug 31; 36(9):109636. PMID: 34469722.
Published on 7/20/2021
Suzuki S, Hawkins FJ, Barillà C, Beermann ML, Kotton DN, Davis BR. Differentiation of human pluripotent stem cells into functional airway basal stem cells. STAR Protoc. 2021 Sep 17; 2(3):100683. PMID: 34355203.
Published on 4/20/2021
Li Y, Renner DM, Comar CE, Whelan JN, Reyes HM, Cardenas-Diaz FL, Truitt R, Tan LH, Dong B, Alysandratos KD, Huang J, Palmer JN, Adappa ND, Kohanski MA, Kotton DN, Silverman RH, Yang W, Morrisey EE, Cohen NA, Weiss SR. SARS-CoV-2 induces double-stranded RNA-mediated innate immune responses in respiratory epithelial-derived cells and cardiomyocytes. Proc Natl Acad Sci U S A. 2021 04 20; 118(16). PMID: 33811184.
Published on 4/20/2021
Posabella A, Alber AB, Undeutsch HJ, Droeser RA, Hollenberg AN, Ikonomou L, Kotton DN. Derivation of Thyroid Follicular Cells From Pluripotent Stem Cells: Insights From Development and Implications for Regenerative Medicine. Front Endocrinol (Lausanne). 2021; 12:666565. PMID: 33959101.
Published on 4/7/2021
Yan B, Freiwald T, Chauss D, Wang L, West E, Mirabelli C, Zhang CJ, Nichols EM, Malik N, Gregory R, Bantscheff M, Ghidelli-Disse S, Kolev M, Frum T, Spence JR, Sexton JZ, Alysandratos KD, Kotton DN, Pittaluga S, Bibby J, Niyonzima N, Olson MR, Kordasti S, Portilla D, Wobus CE, Laurence A, Lionakis MS, Kemper C, Afzali B, Kazemian M. SARS-CoV-2 drives JAK1/2-dependent local complement hyperactivation. Sci Immunol. 2021 04 07; 6(58). PMID: 33827897.
Published on 2/13/2021
Dobrindt K, Hoagland DA, Seah C, Kassim B, O'Shea CP, Murphy A, Iskhakova M, Fernando MB, Powell SK, Deans PJM, Javidfar B, Peter C, Møller R, Uhl SA, Garcia MF, Kimura M, Iwasawa K, Crary JF, Kotton DN, Takebe T, Huckins LM, tenOever BR, Akbarian S, Brennand KJ. Common Genetic Variation in Humans Impacts In Vitro Susceptibility to SARS-CoV-2 Infection. Stem Cell Reports. 2021 03 09; 16(3):505-518. PMID: 33636110.
Published on 1/7/2021
Hekman RM, Hume AJ, Goel RK, Abo KM, Huang J, Blum BC, Werder RB, Suder EL, Paul I, Phanse S, Youssef A, Alysandratos KD, Padhorny D, Ojha S, Mora-Martin A, Kretov D, Ash PEA, Verma M, Zhao J, Patten JJ, Villacorta-Martin C, Bolzan D, Perea-Resa C, Bullitt E, Hinds A, Tilston-Lunel A, Varelas X, Farhangmehr S, Braunschweig U, Kwan JH, McComb M, Basu A, Saeed M, Perissi V, Burks EJ, Layne MD, Connor JH, Davey R, Cheng JX, Wolozin BL, Blencowe BJ, Wuchty S, Lyons SM, Kozakov D, Cifuentes D, Blower M, Kotton DN, Wilson AA, Mühlberger E, Emili A. Actionable Cytopathogenic Host Responses of Human Alveolar Type 2 Cells to SARS-CoV-2. Mol Cell. 2021 Jan 07; 81(1):212. PMID: 33417854.
View full list of 117 publications.