Caroline M. Apovian MD
Professor, Endocrinology, Diabetes, Nutrition & Weight Management
Professor, Diabetes & Endocrinology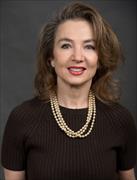 Sections
Endocrinology, Diabetes, Nutrition & Weight Management
Centers
Boston Nutrition Obesity Research Center
Evans Center for Interdisciplinary Biomedical Research
Biography
Caroline M. Apovian, MD, FACP, FTOS, DABOM is Adjunct Professor of Medicine and Pediatrics in the Section of Endocrinology, Diabetes, Nutrition and Weight Management at Boston University School of Medicine, Boston, MA, USA. Until December 2020, she was the Director of the Nutrition and Weight Management Center and the Fellowship Program in Obesity Medicine and Nutrition at Boston Medical Center (BMC). For over thirty years, Dr. Apovian has held a position at the forefront of the obesity and nutrition fields. One of the world's premier weight loss experts, she has distinguished herself as a leading researcher, healthcare provider, teacher, and New York Times bestselling author.

Under Dr. Apovian's direction, the Nutrition and Weight Management Center at BMC has specialized in the assessment and treatment of obesity and its comorbidities with a focus on underserved populations, as the Center sees a diverse ethnic population. Nationally, she is one of the founding creators of the American Board of Obesity Medicine which provides certification and recognition for physicians who have specialized knowledge and training in the practice of obesity medicine.

Her current research interests are weight change and its effects on adipose tissue metabolism and inflammation, obesity and cardiovascular disease, resolution of diabetes and cardiovascular disease in the bariatric surgery population, disparities in the treatment of obesity in underserved populations, and novel pharmacotherapeutic agents for the treatment of obesity. She is also an expert in sampling subcutaneous adipose tissue and muscle tissue in humans and has been studying the relationship between adipose tissue inflammation and obesity for over 15 years.

Dr. Apovian has published over ten books and over 200 peer-reviewed original research and review articles on obesity and nutrition. Dr. Apovian was a member of the expert panel for updating the 2013 AHA/ACC/TOS Clinical Guidelines for the Management of Overweight and Obesity in Adults, published in the Circulation and Obesity journals and was the Chair of the Endocrine Society Guidelines for Medical Treatment of Obesity published in the Journal of Endocrinology and Metabolism in 2015. She is a former Nutrition Consultant for the National Aeronautics and Space Administration (NASA). Dr. Apovian has given over 150 invited lectures nationally and internationally and currently serves as Immediate Past-President of The Obesity Society (2017-2018). She has been an active member of The Obesity Society since 1994 and was Secretary/Treasurer from 2005-2009 and President from 2017-2018. She is also Co-Director of the Blackburn Course in Obesity Medicine and Co-Director of the National Institutes of Health (NIH)-sponsored Boston Nutrition and Obesity Research Center (BNORC).
Other Positions
Websites
Education
MD, University of Medicine and Dentistry of New Jersey, 1985
BA, Barnard College, 1980
Publications
Published on 9/14/2021
Gagliano-Jucá T, Apovian CM. Eliminating the "Morbid" in Obesity: A Step Toward More Sensitive Documentation in the Era of Open Notes. Ann Intern Med. 2021 Sep 14. PMID: 34516274.
Published on 9/1/2021
Charoenngam N, Kalajian TA, Shirvani A, Yoon GH, Desai S, McCarthy A, Apovian CM, Holick MF. A pilot-randomized, double-blind crossover trial to evaluate the pharmacokinetics of orally administered 25-hydroxyvitamin D3 and vitamin D3 in healthy adults with differing BMI and in adults with intestinal malabsorption. Am J Clin Nutr. 2021 09 01; 114(3):1189-1199. PMID: 34008842.
Published on 9/1/2021
Charoenngam N, Kalajian TA, Shirvani A, Yoon GH, Desai S, McCarthy A, Apovian CM, Holick MF. Reply to S Minisola et al. Am J Clin Nutr. 2021 09 01; 114(3):1252-1253. PMID: 34467971.
Published on 7/1/2021
Gokce N, Karki S, Dobyns A, Zizza E, Sroczynski E, Palmisano JN, Mazzotta C, Hamburg NM, Pernar LI, Carmine B, Carter CO, LaValley M, Hess DT, Apovian CM, Farb MG. Association of Bariatric Surgery With Vascular Outcomes. JAMA Netw Open. 2021 Jul 01; 4(7):e2115267. PMID: 34251443.
Published on 6/26/2021
Charoenngam N, Alexanian SM, Apovian CM, Holick MF. Association between Hyperglycemia at Hospital Presentation and Hospital Outcomes in COVID-19 Patients with and without Type 2 Diabetes: A Retrospective Cohort Study of Hospitalized Inner-City COVID-19 Patients. Nutrients. 2021 Jun 26; 13(7). PMID: 34206813.
Published on 6/7/2021
Charoenngam N, Ilori TO, Holick MF, Hochberg NS, Apovian CM. Self-identified Race and COVID-19-Associated Acute Kidney Injury and Inflammation: a Retrospective Cohort Study of Hospitalized Inner-City COVID-19 Patients. J Gen Intern Med. 2021 Jun 07. PMID: 34100227.
Published on 5/22/2021
Huang G, Pencina K, Li Z, Apovian CM, Travison TG, Storer TW, Gagliano-Jucá T, Basaria S, Bhasin S. Effect of Protein Intake on Visceral Abdominal Fat and Metabolic Biomarkers in Older Men With Functional Limitations: Results From a Randomized Clinical Trial. J Gerontol A Biol Sci Med Sci. 2021 05 22; 76(6):1084-1089. PMID: 33417663.
Published on 4/28/2021
Dalamaga M, Christodoulatos GS, Karampela I, Vallianou N, Apovian CM. Understanding the Co-Epidemic of Obesity and COVID-19: Current Evidence, Comparison with Previous Epidemics, Mechanisms, and Preventive and Therapeutic Perspectives. Curr Obes Rep. 2021 Sep; 10(3):214-243. PMID: 33909265.
Published on 4/24/2021
Mehta M, Istfan NW, Apovian CM. Obesity: Overview of Weight Management. Endocr Pract. 2021 Jun; 27(6):626-635. PMID: 33901648.
Published on 4/2/2021
Charoenngam N, Shirvani A, Reddy N, Vodopivec DM, Apovian CM, Holick MF. Authors' Reply: Vitamin D Sufficiency and COVID-19: Is Vitamin D Binding Protein (and Its Polymorphism) the Missing Link? Endocr Pract. 2021 06; 27(6):646-647. PMID: 33819635.
View full list of 214 publications.