Caroline M. Apovian MD
Adjunct Professor, Endocrinology, Diabetes, Nutrition & Weight Management
Adjunct Professor, Diabetes & Endocrinology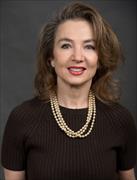 Sections
Endocrinology, Diabetes, Nutrition & Weight Management
Centers
Boston Nutrition Obesity Research Center
Evans Center for Interdisciplinary Biomedical Research
Biography
Caroline M. Apovian, MD, FACP, FTOS, DABOM is Adjunct Professor of Medicine and Pediatrics in the Section of Endocrinology, Diabetes, Nutrition and Weight Management at Chobanian and Avedisian School of Medicine, Boston, MA, USA. Until December 2020, she was the Director of the Nutrition and Weight Management Center and the Fellowship Program in Obesity Medicine and Nutrition at Boston Medical Center (BMC). For over thirty years, Dr. Apovian has held a position at the forefront of the obesity and nutrition fields. One of the world's premier weight loss experts, she has distinguished herself as a leading researcher, healthcare provider, teacher, and New York Times bestselling author.

Under Dr. Apovian's direction, the Nutrition and Weight Management Center at BMC has specialized in the assessment and treatment of obesity and its comorbidities with a focus on underserved populations, as the Center sees a diverse ethnic population. Nationally, she is one of the founding creators of the American Board of Obesity Medicine which provides certification and recognition for physicians who have specialized knowledge and training in the practice of obesity medicine.

Her current research interests are weight change and its effects on adipose tissue metabolism and inflammation, obesity and cardiovascular disease, resolution of diabetes and cardiovascular disease in the bariatric surgery population, disparities in the treatment of obesity in underserved populations, and novel pharmacotherapeutic agents for the treatment of obesity. She is also an expert in sampling subcutaneous adipose tissue and muscle tissue in humans and has been studying the relationship between adipose tissue inflammation and obesity for over 15 years.

Dr. Apovian has published over ten books and over 200 peer-reviewed original research and review articles on obesity and nutrition. Dr. Apovian was a member of the expert panel for updating the 2013 AHA/ACC/TOS Clinical Guidelines for the Management of Overweight and Obesity in Adults, published in the Circulation and Obesity journals and was the Chair of the Endocrine Society Guidelines for Medical Treatment of Obesity published in the Journal of Endocrinology and Metabolism in 2015. She is a former Nutrition Consultant for the National Aeronautics and Space Administration (NASA). Dr. Apovian has given over 150 invited lectures nationally and internationally and currently serves as Immediate Past-President of The Obesity Society (2017-2018). She has been an active member of The Obesity Society since 1994 and was Secretary/Treasurer from 2005-2009 and President from 2017-2018. She is also Co-Director of the Blackburn Course in Obesity Medicine and Co-Director of the National Institutes of Health (NIH)-sponsored Boston Nutrition and Obesity Research Center (BNORC).
Other Positions
Websites
Education
MD, University of Medicine and Dentistry of New Jersey, 1985
BA, Barnard College, 1980
Publications
Published on 2/28/2023
Charoenngam N, Apovian CM, Pongchaiyakul C. Increased fat mass negatively influences femoral neck bone mineral density in men but not women. Front Endocrinol (Lausanne). 2023; 14:1035588. PMID: 36926024.
Published on 12/1/2022
Hafida S, Apovian C. Physiology of the Weight-Reduced State and Its Impact on Weight Regain. Endocrinol Metab Clin North Am. 2022 Dec; 51(4):795-815. PMID: 36244694.
Published on 11/30/2022
Apovian CM, Guo XR, Hawley JA, Karmali S, Loos RJF, Waterlander WE. Approaches to addressing the rise in obesity levels. Nat Rev Endocrinol. 2023 Feb; 19(2):76-81. PMID: 36450930.
Published on 10/3/2022
Corkey BE, Apovian CM. "En attendant Godot": Waiting for the answer to obesity and longevity. Obesity (Silver Spring). 2022 Nov; 30(11):2105-2106. PMID: 36192830.
Published on 10/1/2022
Coleman KJ, Wellman R, Fitzpatrick SL, Conroy MB, Hlavin C, Lewis KH, Coley RY, McTigue KM, Tobin JN, McBride CL, Desai JR, Clark JM, Toh S, Sturtevant JL, Horgan CE, Duke MC, Williams N, Anau J, Horberg MA, Michalsky MP, Cook AJ, Arterburn DE, Apovian CM. Comparative Safety and Effectiveness of Roux-en-Y Gastric Bypass and Sleeve Gastrectomy for Weight Loss and Type 2 Diabetes Across Race and Ethnicity in the PCORnet Bariatric Study Cohort. JAMA Surg. 2022 Oct 01; 157(10):897-906. PMID: 36044239.
Published on 9/27/2022
Si K, Hu Y, Wang M, Apovian CM, Chavarro JE, Sun Q. Weight loss strategies, weight change, and type 2 diabetes in US health professionals: A cohort study. PLoS Med. 2022 Sep; 19(9):e1004094. PMID: 36166473.
Published on 7/28/2022
Ludwig DS, Apovian CM, Aronne LJ, Astrup A, Cantley LC, Ebbeling CB, Heymsfield SB, Johnson JD, King JC, Krauss RM, Taubes G, Volek JS, Westman EC, Willett WC, Yancy WS, Friedman MI. Competing paradigms of obesity pathogenesis: energy balance versus carbohydrate-insulin models. Eur J Clin Nutr. 2022 09; 76(9):1209-1221. PMID: 35896818.
Published on 4/7/2022
Karampela I, Vallianou N, Magkos F, Apovian CM, Dalamaga M. Obesity, Hypovitaminosis D, and COVID-19: the Bermuda Triangle in Public Health. Curr Obes Rep. 2022 Sep; 11(3):116-125. PMID: 35391661.
Published on 2/17/2022
Bikman BT, Shimy KJ, Apovian CM, Yu S, Saito ER, Walton CM, Ebbeling CB, Ludwig DS. A high-carbohydrate diet lowers the rate of adipose tissue mitochondrial respiration. Eur J Clin Nutr. 2022 09; 76(9):1339-1342. PMID: 35177807.
Published on 1/19/2022
Coughlin JW, Nauman E, Wellman R, Coley RY, McTigue KM, Coleman KJ, Jones DB, Lewis KH, Tobin JN, Wee CC, Fitzpatrick SL, Desai JR, Murali S, Morrow EH, Rogers AM, Wood GC, Schlundt DG, Apovian CM, Duke MC, McClay JC, Soans R, Nemr R, Williams N, Courcoulas A, Holmes JH, Anau J, Toh S, Sturtevant JL, Horgan CE, Cook AJ, Arterburn DE. Preoperative Depression Status and 5 Year Metabolic and Bariatric Surgery Outcomes in the PCORnet Bariatric Study Cohort. Ann Surg. 2023 Apr 01; 277(4):637-646. PMID: 35058404.
View full list of 226 publications.