Aala Jaberi MD
Assistant Professor, Nephrology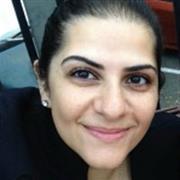 Biography
Aala Jaberi, MD is an Assistant Professor of Nephrology at Boston University School of Medicine. Dr. Jaberi received her medical degree from the Royal College of Physicians in Ireland. She has also completed a Fellowship in Nephrology at Boston University Medical Center.
Websites
Education
Medicine, MBBCh, Royal College of Surgeons in Ireland, 2005
Publications
Published on 9/10/2020
Driscoll D, Bleecker G, Francis J, Jaberi A. Acute Hemodialysis for Treatment of Severe Ethanol Intoxication. Kidney Med. 2020 Nov-Dec; 2(6):793-796. PMID: 33319202.
Published on 10/9/2019
Angel-Korman A, Jaberi A, Sanchorawala V, Havasi A. The utility of repeat kidney biopsy in systemic immunoglobulin light chain amyloidosis. Amyloid. 2020 Mar; 27(1):17-24. PMID: 31595786.
Published on 8/19/2017
Al-Rabadi L, Quillen K, Shashar M, Al Marji C, Jaberi A, Chitalia V, Henderson J, Salant D, Beck LH. Concurrent Presentation of Thrombotic Thrombocytopenic Purpura and Membranous Nephropathy. Kidney Int Rep. 2018 Mar; 3(2):476-481. PMID: 29725652.
Published on 10/1/2016
Jaberi A, Seth B, Steenkamp D, Alexanian S, Borkan SC. Sodium-Glucose Cotransporter 2 Inhibitors and Euglycemic Diabetic Ketoacidosis: Metabolic Acidosis With a Twist. Clin Diabetes. 2016 Oct; 34(4):214-216. PMID: 27766015.
Published on 6/18/2015
Jaberi A, Hooker E, Guillemette J, Papillon J, Kristof AS, Cybulsky AV. Identification of Tpr and a-actinin-4 as two novel SLK-interacting proteins. Biochim Biophys Acta. 2015 Oct; 1853(10 Pt A):2539-52. PMID: 26094769.
Published on 4/24/2012
Kitzler TM, Jaberi A, Sendlhofer G, Rehak P, Binder C, Petnehazy E, Stacher R, Kotanko P. Efficacy of vitamin E and N-acetylcysteine in the prevention of contrast induced kidney injury in patients with chronic kidney disease: a double blind, randomized controlled trial. Wien Klin Wochenschr. 2012 May; 124(9-10):312-9. PMID: 22527829.
Published on 12/27/2011
Luhovy AY, Jaberi A, Papillon J, Guillemette J, Cybulsky AV. Regulation of the Ste20-like kinase, SLK: involvement of activation segment phosphorylation. J Biol Chem. 2012 Feb 17; 287(8):5446-58. PMID: 22203681.
View full list of 7 publications.