Dr. Jeff Schneider Selected as Leader of Graduate Medical Education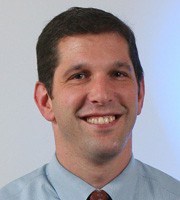 Congratulations to Dr. Jeff Schneider for being selected as the new Designated Institutional Official (DIO) in Graduate Medical Education (GME) at Boston Medical Center!
The DIO is a senior member of BMC's Medical Affairs Department and is responsible for ensuring the quality of residency and clinical fellowship training at BMC. Dr. Schneider was chosen for the position after an extensive national search.
Dr. Schneider has served as the Residency Program Director for the Department of Emergency Medicine since 2008, during which time he led the transition of the program from a PGY 2-4 to PGY 1-4 format, oversaw the implementation of numerous innovative teaching and educational initiatives, and acted as a mentor for many medical students, residents, and junior faculty. In addition, he has received numerous national teaching awards, was named the Massachusetts College of Emergency Physicians "Physician of the Year," and is one of 21 educators in the country who has been inducted into the Academy of Distinguished Educators in Emergency Medicine.
We are proud of Dr. Schneider's accomplishments and grateful for his many contributions to our residency program. Congratulations!