Dr. Thea James Receives 2014 Schwartz Center Compassionate Caregiver Award
Congratulations to Dr. Thea James for receiving the 2014 Schwartz Center Compassionate Caregiver Award!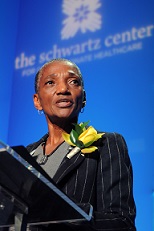 This award recognizes a healthcare provider who embodies characteristics of compassionate care such as respect, interpersonal communication, empathy, and cultural sensitivity.
Dr. James was cited for her extraordinary ability to interact "with patients in a truly authentic and compassionate manner. She sees the person behind each injury and searches for that person's story. Her sensitivity, communications skills, optimism and kindness have deeply impacted the lives of her patients and families."
Dr. James is an Assistant Professor of Emergency Medicine, Director and Co-founder of the Violence Intervention Advocate Program (VIAP), Co-founder of Unified for Global Healing, and President of the Boston Medical Center Medical and Dental Faculty. She received the award on November 20, 2014.