Dr. Gabrielle Jacquet Wins 2014 AWAEM Early Career Faculty Award
We are proud to announce that Dr. Gabrielle A. Jacquet, Assistant Residency Director and Director of the International Health Section, has been chosen as the recipient of the prestigious 2014 Academy for Women in Academic Emergency Medicine (AWAEM) Early Career Faculty award!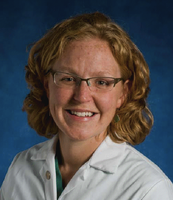 Each year AWAEM awards this honor to a female faculty who shows promise for significant career achievements in the field of Emergency Medicine. Dr. Jacquet was chosen because she "has devoted much of her academic focus to Emergency Medicine development projects internationally with research and training projects in India and Haiti. In addition to working internationally, Dr. Jacquet is devoted to improving education in her own residency program and has demonstrated a strong commitment to mentoring. She formally and informally mentors many residents and colleagues and has helped organize a women's mentoring program at her institution. Dr. Jacquet's commitment to education, her advocacy for emergency medicine internationally, and her dedication to mentoring distinguished her among the strong field of candidates."
Congratulations!