Confocal Microscopes
The Confocal Microscopes are part of the Integrated Biomedical Imaging Services (IBIS) providing confocal microscopy services for imaging cells and tissue, as well as assistance with projects, experiment planning and analysis.
The microscopes are Zeiss laser scanning confocal microscopes acquired from NCRR grants and NIH supplements that are available for use by students, technicians, postdocs, and faculty.
Instruments
Zeiss LSM 880 with Airyscan enables fast and high-resolution.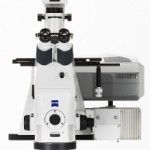 The Zeiss LSM 710 NLO microscope system equipped with 6 visible laser lines (458nm, 488nm, 514nm, 561nm, 594nm, 633nm), a 405nm solid state laser as well as a tunable femtosecond IR pulse laser for multiphoton excitation (Coherent Chameleon Vision–S).
In addition to two descanned internal detectors and a spectral detector which enables lambda scanning and linear unmixing of fluorescent probes, the system has two highly sensitive gallium arsenide non-descanned detectors for collection of emitted light from two-photon experiments. The laser scanning system is coupled to an upright microscope with a motorized stage and is complete with a variety of objective lenses (10X, 20X, 40X, 63X).
Applications of the system include:
Optical sectioning of fluorescent tissue using confocal or multiphoton imaging
Time-lapse imaging of living tissue or cell culture
Tile scanning and stitching of composite images
3D reconstruction of biological tissue/cells
In vivo time-lapse imaging
FRAP, FRET, Bleaching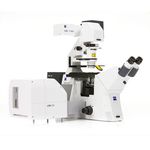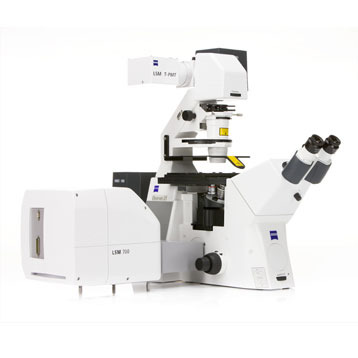 The Zeiss LSM 700 is equipped with four solid state lasers (405, 488, 555, and 639 nm). Available objectives include 10X dry, 20X dry, 40X oil, and 63X oil. Features of the Zeiss ZEN software include single image acquisition, z-stacks, tiling, programming of multiple locations, time-lapse imaging, and fluorescence recovery after photobleaching (FRAP). Using the proprietary Zeiss software (ZEN) or freeware such as ImageJ or FIJI, one can assess intensity values within regions of interests (ROIs), create 3-D projections from z-stacks, generate histograms, and analyze images for co-localization.
Hours
Monday to Friday: 6 a.m. to 7 p.m.
Additional hours are available for persons who have been approved by Dr. Trinkaus-Randall.
Time-lapse imaging experiments will be charged at the base rate for the first four hours; subsequent hours will be charged at the extended time-lapse imaging rate $10 per hour.
Usage and Training
Training is mandatory for all users and typically requires approximately four hours divided between two sessions. Some live-cell imaging techniques may require additional training hours. Upon learning the goal of your experiments, we will choose the microscope best suited to your needs. Imaging may also be performed in an assisted manner upon request. This often makes sense for users who need to obtain images for a particular experiment but who do not expect to use the facility on a regular basis.
How to Schedule
Please login to iLab system to schedule equipment time or services. For new users please follow the steps outlined in Information for New Users.
We ask that all users provide at least 18-hour notice before canceling scheduled time on the instruments so that we may make this time available to other users. Inability to do this will result in a fine equivalent to the first hour of the scheduled time on the instrument.
Acknowledgments
We greatly appreciate when authors acknowledge the Integrated Biomedical Imaging Services (IBIS) in publications containing data obtained using our equipment and/or assistance.
Contact
Vickery Trinkaus-Randall, PhD
Core Director
(617) 358-1235 |vickery@bu.edu
Location
BUSM Housman Medical Research Center
72 E. Concord Street, R Building R-815
Boston, MA 02118
View BUMAPS
◄ Back to Integrated Biomedical Imaging Services (IBIS) website