Zeiss LSM 880 Microscope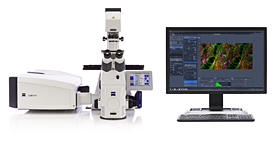 Zeiss LSM 880 with Airyscan enables fast and high-resolution.
BUMC Rates
External Academic Users Rates
External Commercial Users Rates
$45/hour unassisted
$100/hour training/assisted
$100/hour unassisted
$160/hour training/assisted
$150/hour unassisted
$200/hour training/assisted
Usage
Persons are trained and then evaluated before working independently. Training usually requires about four hours, divided between two sessions. In some cases both parties decide that it is better for the imaging to be performed in an assisted manner.
How to Schedule
Please login to iLab system to schedule equipment time or services. For new users please follow the steps outlined in Information for New Users.
Contact
Vickery Trinkaus-Randall, PhD
Core Director
(617) 358-1235 |vickery@bu.edu
Location 
BUSM Housman Medical Research Center
72 E. Concord Street, R Building R-815
Boston, MA 02118
View BUMAPS
◄ Back to Confocal Microscopes website