Alumni E-Mentor Program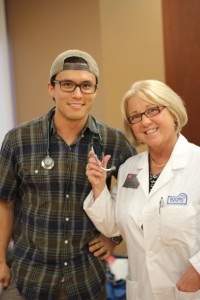 As a graduate of Boston University Chobanian & Avedisian School of Medicine your insight and guidance is invaluable to current medical students. We also recognize that your work schedule and other commitments may put limits on the amount of time you have available for in-person mentoring activities. For these reasons, Dr. Daniel Chen, Assistant Dean for Student Affairs, has worked with the Alumni Association to develop the Alumni E-Mentor Program.
The E-Mentor program provides a way for students and alumni to connect, in an easy and flexible way. For example, a student may have questions about a medical specialty which he/she is considering as a career choice. Other students may have questions about what practice is like in a particular geographic area. Your assistance in answering these types of questions will bring much relief to a student during stressful career decisions.
By completing the form below, you are giving us permission to include you in our directory of Alumni E-Mentors. Current medical students will be able to contact you at your preferred phone/email. You can share with the students your experiences transitioning through medical school, residency and your career as it currently stands.
To encourage the success of this program, we ask that once you hear from a student, you keep your response lag time to five business days at most.
Visit our E-Mentor FAQs page to learn more information about this program, including possible times during the year students may be in contact with you.