Parents
Welcome to the BU Chobanian & Avedisian School of Medicine!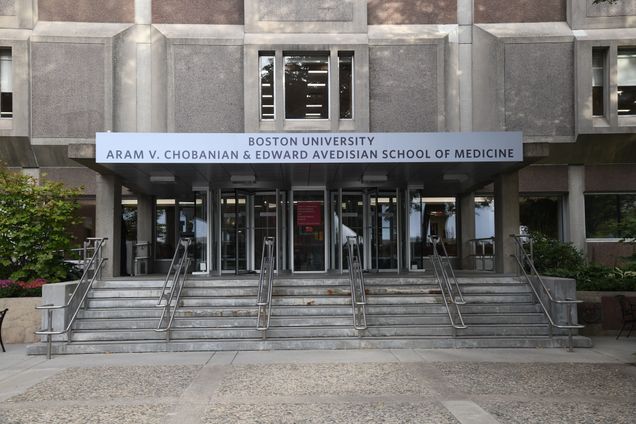 The BU Chobanian & Avedisian School of Medicine has a three-part mission: providing an outstanding medical education, research excellence, and service to the community.
Exceptional education
The teaching program your children will experience at the Chobanian & Avedisian School of Medicine is rigorous and highly practical. We are nationally recognized for providing exceptional clinical education through 33 affiliated hospitals, 14 neighborhood health centers, and numerous private clinics and doctors' offices in Greater Boston.
Patients and skills
At the heart of our educational philosophy is an ambitious goal: to create a community of future physicians and other health care professionals who are patient-focused and skilled in caring for people from many cultures, some quite different than their own. In keeping with that goal, our students begin to see patients from the Boston community soon after they arrive on campus. Working directly with a physician, students complete intake interviews, take vital signs, and begin to learn how to put the patient first.
Boston Medical Center
Much of this training takes place in Boston Medical Center, the largest of our eight partner institutions, where an amazingly diverse patient population seeks expert care. BMC has a distinguished record of compassion in its own right, as evidenced by its sponsorship of the only hospital-based food pantry in the country, legal partnerships to aid in the medical care of patients, and a center for refugee health and human rights.
Your children
We believe that our approach to medical education yields doctors of great skill and compassion. We are dedicated to helping your children become such doctors. And we are thrilled to welcome you to the Chobanian & Avedisian School of Medicine community.
Resources
BU Chobanian & Avedisian Parent Events
Student resources
Parents E-Newsletter
Plan your visit
Contact us