Alumni Stories
This is a collaboration between the Alumni and Communications offices. We seek alumni who are willing to share their journeys in medicine with us. We want to know what they are up to and give them a platform to tell their story.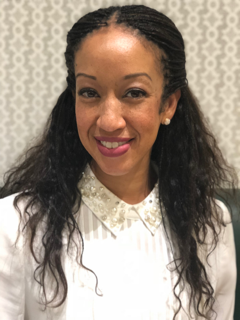 Shawn Smith, MD (CAMED'03), can trace her interest in medicine to the seventh-grade science classes she loved and the example of an older cousin, a pharmacist who helped her win first place in the school science fair for "Penicillin, The Great Discovery."  
"She really helped me with that," Smith said. "There were petri dishes all around our house." 
But the daughter of an elementary school teacher had a second passion, teaching.  
"Occasionally, I'd go to work with her, if I had a day off from school."  
Smith found she enjoyed interacting with her mother's students. 
"They were inquisitive and curious and funny, and I had such a good time with them that I knew that I wanted my career to be with children," said Smith ('03), an assistant professor of pediatrics at Northwestern University Feinberg School of Medicine. She works as a pediatric hospitalist in one of the two Neonatal Intensive Care Units (NICU) at the Ann & Robert H. Lurie Children's Hospital of Chicago, serves as director of health equity learning and development, and leads a health equity and advocacy course at Feinberg. Smith received her undergraduate degree at Clark Atlanta University in Atlanta, Georgia, where she initially focused on child psychology but switched to pre-med to pursue a career in child psychiatry. In her sophomore year, Smith learned about BU's Early Medical School Selection Program (EMSSP) developed in 1982 with a consortium of historically Black colleges and universities to increase diversity in the physician workforce. 
"I said, 'Okay, this is my chance,'" she said. "I don't think I even realized how difficult it was to get into medical school, but that was a wonderful program." 
There's still a shortage of Black, Latino and indigenous American physicians, Smith said, and it should remain a priority to expose students from underrepresented populations to science and to medical careers throughout their education.  
Medical school itself was the most challenging experience of her life and Smith appreciated the companionship and support of EMSSP students she'd befriended through her time at BU.  
"They were a nice, built-in support system, even the (EMSSP) students who were years ahead of me, or who had started residency kept in touch and gave us pointers," she said. 
Her medical school experience at BU informed her approach to teaching and relating to students as an assistant professor and clinical instructor. 
"I'm really able to be empathetic and listen to them," Smith said. 
Her decision to choose hospital-based medicine and work in the neonatal intensive care was the result of a pediatric residency rotation in a NICU and a stint shadowing a classmate who was working in the NICU at Lurie Children's Hospital.  
Even in a bustling NICU, Smith enjoys the opportunities to teach. 
"When you are working…it's busy, it's moving. That is the best time, where you get to teach others," she said. "I want the medical students and trainees I work with to feel really comfortable and confident at the head of the bed, taking care of those infants." 
Smith is a member of the American Academy of Pediatrics (AAP) Advancing Equity in Subspecialties and the AAP Illinois Chapter Equity Diversity and Inclusion. 
"I help to make sure our trainees and faculty are aware of the implicit bias we as physicians hold and may take into our patient encounters," Smith said of her position as director of health equity learning and development. 
Smith is currently working on several projects to assess maternal and infant mortality. She is a member of the Northwestern IL-PQC Birth Equity team and the Community Advisory Board for Family Connects that pairs community health workers in Chicago to partner with expectant birthing people to help them ask the right questions and to ensure good communication between physicians and patients. That support continues through the child's first year of life.  
Smith said physicians needed to be out in the community, speaking up for change. 
"It is very important for physicians…to be an advocate outside of the patient's room," she said. 
---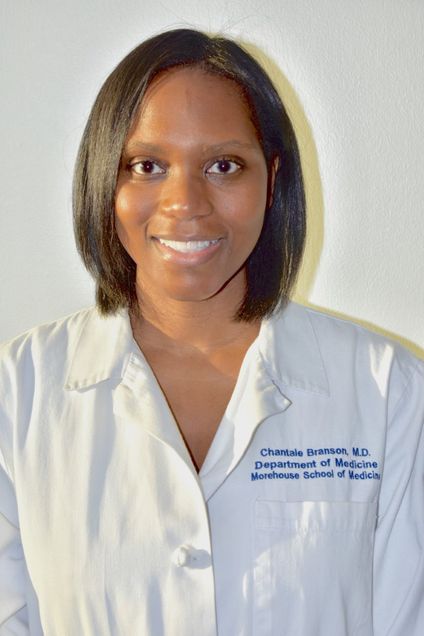 Chantale Branson, MD (CAMED'12), knows exactly when she first expressed her interest in medicine. It was in her elementary school auditorium and the principal was circulating among the students asking each one what they wanted to be when they grew up.  
"I mispronounced the word, but I distinctly remember saying I wanted to be a pediatrician," said Branson, a movement disorders/sleep specialist and assistant professor of neurology at Morehouse School of Medicine in Atlanta. 
Branson clung to that desire even while attending performing arts elementary and high schools with the goal of becoming a dancer. Her enthusiasm for medicine resurfaced while attending Clark Atlanta University in Atlanta, graduating with high honors as a biology major. Her undergraduate dean urged her to apply to Boston University's Early Medical School Selection Program (EMSSP). Intended to increase diversity in the physician workforce, the program provides support in both the admissions and academic processes and draws from historically Black colleges and universities, but now also includes schools with large Pacific Island and Latino populations.  
Branson had her doubts. Born and raised in Georgia, attending a Black college, she did not feel like a minority. But she knew Boston had a history of segregation and racism.  
"I remember thinking I didn't want to go to Boston, that I wouldn't feel comfortable," she said.  
Her mother felt differently. 
"She was so excited for me. She started literally screaming, and that made me excited about the possibility, the prospects," Branson recalled. The friendships made with other EMSSP students and the experience of bonding with others during the summer program eased the transition.  
In her third year of medical school, Branson found her specialty while on a neurology rotation at the VA Boston Healthcare System's Jamaica Plain VA Medical Center. 
"It just clicked. I just really enjoyed the questions, the science behind it, being able to make a diagnosis based on the physical examination, not relying so heavily on other technology," said Branson.  
While on that rotation, she received a call from her father informing her that her paternal grandmother had Parkinson's Disease. The warning signs had been there for years, Branson said. A serious car accident, slowed movement, things her family and physician attributed to aging. But a neurologist recognized the signs of Parkinson's in her grandmother as soon as she walked into the examination room. 
Her grandmother's experience, combined with her interest in neurology and the urging of mentor Anna Hohler, MD, adjunct professor of neurology, informed her choice of career.  
"It really shaped the decision I made with regard to pursuing neurology. And not just neurology, but movement disorders as a specialty," said Branson, whose research includes racial disparities in the diagnoses and treatment of Parkinson's disease in underrepresented and underserved minority populations.  
"We're trying to figure out what type of studies would be best to understand how to eradicate (these disparities in diagnosis and treatment)," said Branson. 
---
Louis W. Sullivan, MD (CAMED'58) & Sabreea Parnell, MD (CAMED'22)
BU Medicine article (p.37)