Summer Experiences Help BPS Students Envision A Future in Healthcare
Like most students entering their senior year, Dorchester's Sabrin Warsame, a student at the John D. O'Bryant School of Mathematics and Science in Roxbury, is contemplating her post-secondary future.
"I'm still trying to understand what I want to do, but I know I do want to go into medicine and healthcare," she said, possibly as a nurse or a biochemist.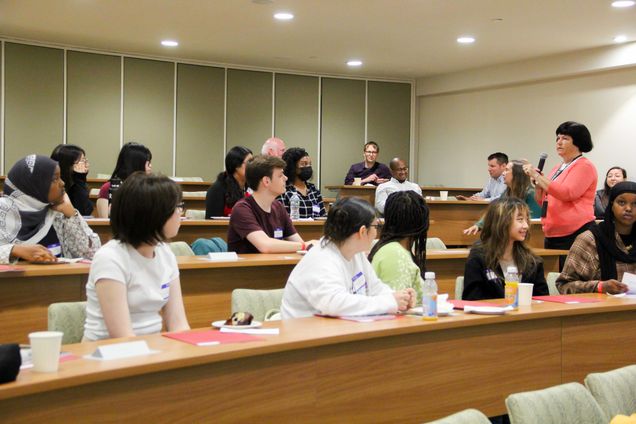 Warsame was one of six O'Bryant students selected for the Summer Biomedical Research Internship at the Chobanian & Avedisian School of Medicine, a new six-week program implemented by the department of medical sciences & education with funding from the Burroughs Wellcome Fund. Another 24 students from the Boston Public Schools (BPS) are enrolled in the two-week Med-Science Program (MSP) with support from Boston-based Vertex Pharmaceuticals. The goal of high school outreach programs is to introduce underrepresented youth from Boston and other communities to post-secondary STEM-M (Science, Technology, Engineering, Mathematics and Medicine) with the overall mission of diversifying the biomedical research and healthcare workforce.
"I can tell you that getting a degree in science is one of the best ways to stay employed going forward," School of Medicine Dean and Medical Campus Provost Karen Antman, MD, told the high school students at a July 10 welcoming reception. Taking care of patients or doing the research that leads to better care are growth industries, she said.
Burroughs Wellcome originally approached the school with the idea of creating a pipeline program for biomedical research for students considered as underrepresented in medicine (URM). Biomedical research doesn't have the high visibility of other medical professions, like physicians, especially among students who, like Warsame, will be the first in their family to attend college.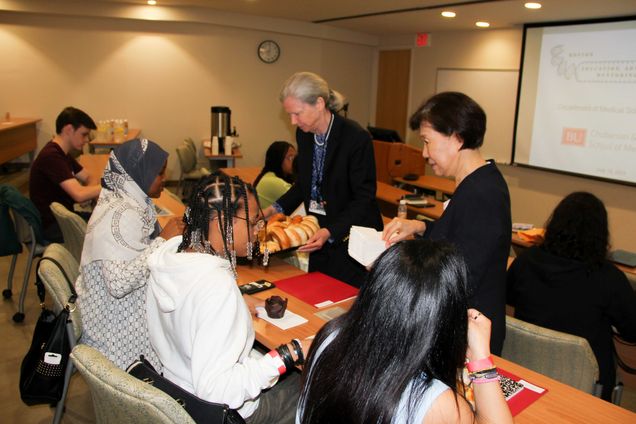 "One of the reasons there are very few URM students in biomedical research is that very few know about it," said Hee-Young Park, PhD, professor and chair of medical sciences & education and associate dean for faculty affairs at the school. "We want to reach out to younger students so that they begin to appreciate, begin to identify themselves as physicians, biomedical researchers, physician assistants or genetic counselors."
Research interns are assigned according to their interests to individual labs in the department of pathology & laboratory medicine. Supervised by a faculty researcher, working alongside graduate students and postdoctoral researchers, they experience the life of a biomedical scientist while also taking classes in professional development, leadership and the college application process. They will complete an independent research project and make an oral presentation at the end of the program.
The Med-Science Program is open to all BPS students and held in-person for two weeks in the summer, with virtual programming on Saturday mornings during the school year. This summer, the sessions are led by medical and graduate students focused on genetic counseling, neuroanatomy, clinical applications of anatomy and pathophysiology, surgery, anesthesiology and sports medicine.
Aleeza Gavin, a rising O'Bryant senior from Roslindale, said the six weeks as a research intern did cut into her summer. "But I feel like this pertains more to my future than having a couple of months of fun," she said.
Recognizing that BPS students frequently must work to help support their family, MSP students receive a $750 stipend and research interns get $450 per week. All students receive free MBTA passes.
"The students who come to us are motivated, trying to fit a job and their aspirations for the future into their summer," said Maura Kelley, MD, an assistant professor in the department of medical sciences & education who directs the high school programs.
This hands-on approach comes at a pivotal moment in a high school student's educational life, as they decide about college and a path that potentially leads to a career.
"I'm already intrigued by the medical field and just wanted to look at more career options, like surgery, that I feel this program (Med-Science Program) will help me look into," said Danial Kahn of Brighton, a rising junior at the O'Bryant school.
Most BPS students must depend on their own initiative and skills to navigate the daunting college application process, said Kelley. She hopes a new pilot program to provide mentors to help these students on that vital next step.
"We are making an investment in the future," said Park.