29th Annual Henry I. Russek Student Achievement Day Celebrates GMS Academic Research and Service
Graduate Medical Sciences marked the 29th Annual Henry I. Russek Student Achievement Day on Friday, April 21, in the Hiebert Lounge.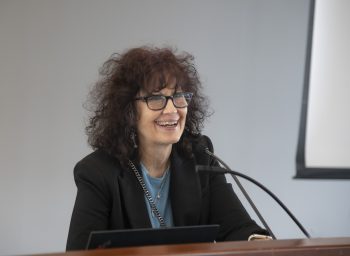 Russek Day, held each year since 1994, honors the memory of both Henry I. Russek, MD, a prolific physician scientist in cardiology, and his wife, philanthropist Elayne Russek. The Russek's daughter, Shelley Russek, PhD, organizes the event each year to celebrate the ongoing achievements of the graduate student body at Boston University Chobanian & Avedisian School of Medicine.
Russek is a professor of Pharmacology and Experimental Therapeutics, director of the Graduate Program for Neuroscience and the president of The Russek Foundation.
She explained that the mission of Russek Day each year goes above and beyond academic research – it incorporates how students balance their research with service to their departments, their programs and their communities.
"Each person getting an award today is giving something back to the community in balance with their outstanding research mission," Russek said. "That's behind a lot of what my family believes in and why we started this endowment 29 years ago."
The event also began with remarks from Associate Provost and Dean of Graduate Medical Sciences C. James McKnight, PhD, who applauded the presenting students on the caliber of their research within GMS.
"My job is to make sure that all you students get the best experience you can have while you're on campus learning science," McKnight said. "Hopefully, we're imparting the joy of science. That's our goal."
The keynote speaker for this year's event was David Housman, PhD, a Virginia and D.K. Ludwig Professor for Cancer Research at the Koch Institute for Integrative Cancer Research at Massachusetts Institute of Technology. Housman is credited for his contribution to discovering the HTT gene, which causes Huntington's disease, the role of p53 in cancer, WT1 in Wilms Tumor and was a co-founder of Genzyme .
The Housman Lab uses genetic approaches to identify the molecular bases of human disease pathology, specifically in diseases like Huntington's, cancer and cardiovascular disease. His lab works to develop effective intervention strategies for fighting trinucleotide repeat disorders.
Shoumita Dasgupta, PhD, introduced Housman to the audience. Dasgupta, an MIT alumna, is a former undergraduate Housman lab member and described her time in the Housman lab as her "origin story in genetics."
Dasgupta, a professor of medicine in the Biomedical Genetics Section, is now the founding director of the Genetics and Genomics Graduate Program and the assistant dean for diversity & inclusion at Chobanian & Avedisian SOM.
During his presentation, Housman drew from his expertise in genetics and human disease and his team's lab work to present "Treating Multiple Sclerosis: An MD/PhD Student Teaches Us."
Following Housman's address, students presented their research during a lunchtime poster presentation session. Prior to the event, departments selected award winners, who displayed stickers on their posters and nametags.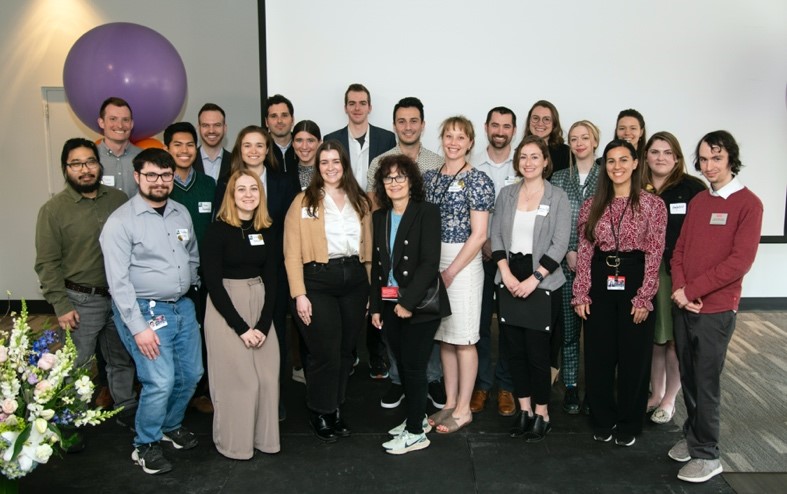 First-prize recipients delivered oral presentations of their research in the afternoon. This year's recipients were:
Guillermo Arroyo Ataz, Department of Pathology & Laboratory Medicine
Anne Billot, Behavioral Neuroscience Program
Morgane Butler, Department of Anatomy & Neurobiology
Andrew Chang, Department of Physiology & Biophysics
Jenna Libera, Department of Pharmacology & Experimental Therapeutics
Liang (Martin) Ma, Graduate Program in Molecular & Translational Medicine
Adeline Matschulat, Department of Biochemistry & Cell Biology
Devin Kenney, Department of Virology, Immunology & Microbiology
Gian Sepulveda, Program in Genetics & Genomics
Beverly Setzer, Graduate Program for Neuroscience
Ioanna Yiannakou, Nutrition & Metabolism Program
Each winner received a certificate, which Russek presented to the winners on stage toward the end of the event. There were 11 first prizes of $1500 each, eight second award prizes of $500 and five third prizes of $350.
Russek Day's success comes from the research accomplishments of GMS students and the dedication that they show to their projects, their peers and their departments each year. It also counts on the Russek family and the Russek Foundation's consistent support of these students' research and service endeavors.
Additionally, GMS Administrative Coordinator James Mazarakis, Chobanian & Avedisian SOM student Alison Tipton; Pharmacology, Physiology, and Biophysics Administrator Sara Johnson and several other GMS staff and students made the 29th year of this event successful.
View an archive of past Russek Student Achievement Days.