Aram Kaligian, MD, MPH, Named Director, BU-Armenia Medical Partnership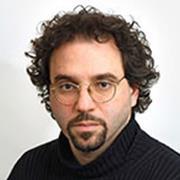 Aram Kaligian, MD, MPH, assistant professor of family medicine, has accepted the position as director of the BU-Armenia Medical Partnership, succeeding Richard Babayan, MD, professor and chairman emeritus of urology.
The Partnership was formed in 1991 by then Dean and now President Emeritus Aram Chobanian, MD, to help improve medical care and education in the Republic of Armenia. The primary activities include facilitating medical school faculty exchanges and a fourth-year medical student elective rotation in Armenia, and helping develop medical school curricula in Armenia.
Kaligian's primary care practice is at South Boston Community Health Center. Formerly the Director of the Family Medicine Inpatient Service at Boston Medical Center, his activities in Armenia have included retraining physicians in primary care as part of a USAID program and conducting a public health study in Nagorno-Karabagh. He received his bachelor's degree in biochemistry and English from the University of Massachusetts Amherst and his MD and MPH from Tufts University School of Medicine.