Venetia Zachariou, PhD, Appointed Chair, Pharmacology & Physiology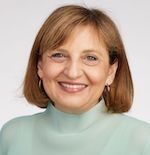 Venetia (Vanna) Zachariou, PhD, has accepted the position of chair of pharmacology & experimental therapeutics and physiology & biophysics, effective Dec. 1, 2022, replacing David Farb, PhD, who announced his intention to step down last year, and William Lehman, PhD, who was appointed ad interim chair upon David Atkinson's announcement last year. The name of the combined department will be chosen after discussions with the faculty, students and other stakeholders.
Zachariou is professor of neuroscience and pharmacological sciences at the Icahn School of Medicine at Mount Sinai. She studies signal transduction and epigenetic mechanisms of neurological disorders and their treatment using genetic mouse models, genomic assays and brain biochemistry. Current projects investigate transcriptional and epigenetic mechanisms of chronic pain with emphasis on the identification and validation of novel treatments for the management of peripheral neuropathy and other chronic pain conditions. Another line of research in her laboratory investigates the role of G protein signal transduction complexes in drug addiction, opioid analgesia and physical dependence. By understanding intracellular adaptations to peripheral nerve injury and/or prolonged opioid exposure she aims develop novel therapeutics for chronic pain conditions and pain/addiction comorbidities. Her team has identified several intracellular pathways that control the perception and the maintenance of chronic pain states. They also have developed novel interventions in epigenetic pathways that allow transitioning to non-opioid analgesics while preventing the development of physical dependence.
Zachariou received her BSc in pharmacy from the University of Patras, Greece, and her PhD in pharmacology from the Medical College of Georgia. Following a postdoctoral fellowship in the department of psychiatry at Yale University and a junior faculty position at UT Southwestern Medical Center in Dallas, she established her laboratory at the University of Crete School of Medicine. In 2012, she joined the departments of neuroscience and pharmacological sciences at the Icahn School of Medicine at Mount Sinai in New York as an associate professor (with tenure since 2016), and as full professor (since 2018).
Zachariou is a member of the editorial boards of Biological Psychiatry, Molecular Pain, Science Signaling, Neurobiology of Pain, section editor for European Journal of Neuroscience, and member of the NIH MCNP study section. She is a Fellow in the American College of Neuropsychopharmacology and Chair elect for the ASPET Neuropharmacology Division.