BUSM Education, Advising & Mentoring in STEM-M (BEAMS) is an initiative of the Department of Medical Sciences & Education (MSE) at BUSM.
It was created in 2017 by Drs. Hee-Young Park, Maura Kelley and Elaine Lee in MSE to provide exposure and enrichment in biomedical research and health care professions for students attending any Boston public high school, it seeks to increase engagement and enrollment of these high-school students in post-graduate science, technology, engineering, mathematics and medicine (STEM-M)-related studies and careers.
BEAMS has delivered in-person and virtual programs covering various topics in the health sciences via the Med-Sci Program (MSP). During the pandemic, virtual programming was provided in five six-week sessions that covered topics in medicine, basic science research, genetic counseling, pathology and global health for 20-30 BPS students in each session. This summer BEAMS returned to an in-person format with a two-week program on the Medical Campus.
In July, nine Boston-area high-school students participated in its return to in-person teaching. The majority of MSP students (75 percent) were rising sophomores and rising seniors. The students represented a diverse group with 62.5 percent self-identifying as Black or African American, 25 percent as Asian, and 12.5 percent as Hispanic or Latino. In addition, the MSP students represented a variety of Boston public high schools, including Charlestown High School, Boston Latin School, Boston Latin Academy, John D. O'Bryant School of Math & Science and Edward M. Kennedy Academy for Heath Careers.
During the first week, the students learned about issues related to genetic counseling with instructors from the Master's Program in Genetic Counseling as well as topics related to pathology taught by members of the Department of Pathology & Laboratory Medicine.
During the second week, the students participated in a variety of hands-on activities. They learned about physical exam skills with second-year BUSM medical students. MSP students received their own stethoscopes and pen lights.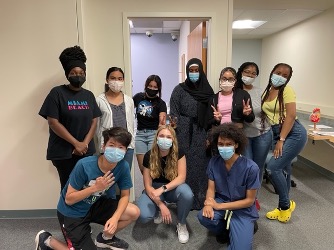 Graduate students from the Department of Anatomy & Neurobiology, led by Katharine Babcock, taught the students about brain anatomy and brain function.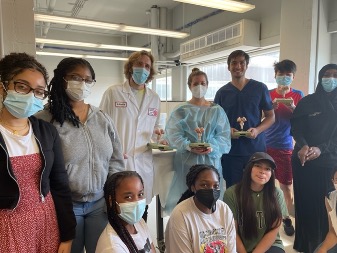 Boston Medical Center surgical residents provided instruction on suturing skills for the students using sponges and bananas. MSP students received their own surgical kits.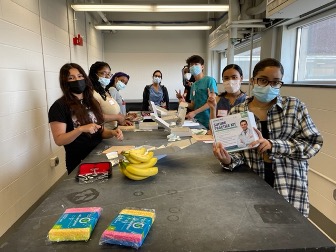 One of the MSP students highlighted one of the major goals of BEAMS, concluding in her exit survey that she "learned a tremendous amount of knowledge that intrigued me more into the medical field."
BEAMS will continue with both virtual and in-person sessions over the academic year with a goal to further expand the scope of instruction and exposure for BPS students. Virtual programming will take place during the fall and spring semesters with in-person programming during the summer. For more information, please visit the MSE website.