Tony Hollenberg, MD, to join BMC/BUSM as Chief and Chair, Department of Medicine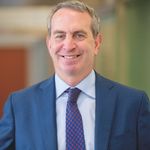 Anthony "Tony" Hollenberg, MD, has accepted the position as John Wade Professor and Chair of the Department of Medicine (DOM) at Boston University School of Medicine (BUSM), and Physician-in-Chief at Boston Medical Center (BMC). Hollenberg will join BUSM/BMC this fall when current Chief and Chair David Coleman, MD, steps down, per his announcement last year.
Currently, Hollenberg is chair of the Joan and Sanford I. Weill Department of Medicine at Weill Cornell Medicine and physician-in-chief at New York-Presbyterian/Weill Cornell Medical Center in New York City. Prior to this role, he served as chief of the Division of Endocrinology, Diabetes and Metabolism and vice chair for mentoring at Beth Israel Deaconess Medical Center and professor of medicine at Harvard Medical School.
A native of Toronto, Hollenberg received his bachelor's degree from Harvard College and his medical degree from the University of Calgary. He completed his residency in internal medicine at Beth Israel Deaconess Medical Center, followed by a clinical and research fellowship at Massachusetts General Hospital.
A leading physician-scientist specializing in endocrinology, Hollenberg's work focuses on thyroid disorders, investigating the physiological and molecular mechanisms by which thyroid hormones regulate metabolism, including body weight. Additionally, his laboratory explores the underpinnings of thyroid gland development. He has published more than 98 original studies in journals and contributed 31 book chapters and reviews. Hollenberg's extensive research expertise will enhance pre- clinical, translational and clinical research across the Department.
Under his leadership, the Department will cultivate and attract top talent in academic medicine and research while also fostering and mentoring emerging talent, advancing our core missions and raising BUSM/BMC's national profile even further.
Coleman has served as chief and chair of the Department since 2006. During his 16-year tenure he has made many lasting contributions, including the recruitment of outstanding faculty, increasing the Department's research programs in size and scope, and for his exceptional leadership and contributions to the health system, faculty practice, medical school and professional community.