Sabrina Assoumou Named Louis W. Sullivan, MD, Professor of Medicine
Sabrina Assoumou, MD, MPH, was installed as the inaugural Louis W. Sullivan, MD, Professor of Medicine in a ceremony held Sept. 29. Colleagues, friends and family gathered in person and virtually to witness the installation and celebrate her contributions to the field of medicine.
The installation was held in conjunction with a Race and Medicine symposium.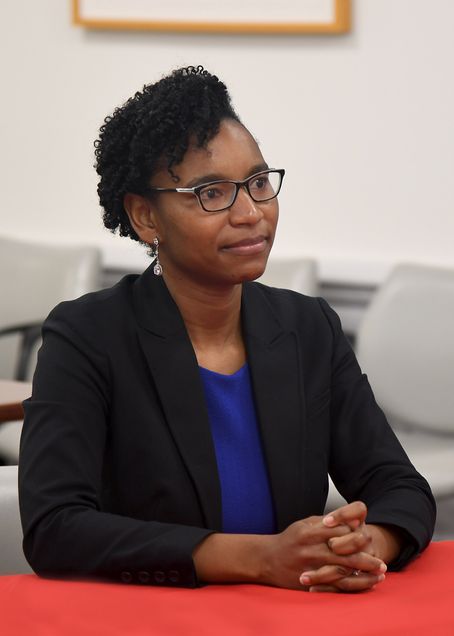 Assoumou, an assistant professor of medicine at BUSM as well as an attending physician in the section of infectious diseases at Boston Medical Center (BMC), is a clinician-investigator who cares for human immunodeficiency virus (HIV)-infected patients at BMC's Centers for Infectious Diseases. Assoumou's research focuses on medical complications of substance use, including HIV and Hepatitis C virus (HCV).
This professorship honors Louis W. Sullivan, MD, former secretary of the United States Department of Health and Human Services and president of Morehouse School of Medicine. In 1966, he became the co-director of hematology at Boston University Medical Center and founded the Boston University Hematology Service at Boston City Hospital one year later. Sullivan remained at Boston University until 1975, holding positions as assistant, associate and professor of medicine.
David Coleman, MD, FACP, Wade Professor and chair of Medicine, highlighted Assoumou's achievements in medicine and emphasized the significance of professorship installations.
"Today we celebrate the establishment of a new professorship. We do so as part of a number of efforts to concretely and specifically value the need to become a more diverse and just profession, institution and department," he said.
Two guest speakers joined the installation to share remarks on Sullivan and Assoumou's transformative work. Edgar Smith, PhD, BUSM professor of biochemistry, spoke first about Sullivan's legacy.
"It is with a great sense of pride that I accept the honor and the challenge of introducing my friend and former colleague, Dr. Louis W. Sullivan," Smith said. "The honor derives from a relationship spanning a period of more than 50 years. The challenge stems from an attempt to do justice to his enormous list of accomplishments."
Smith detailed Sullivan's long and impressive career journey, from becoming a BUSM professor to establishing the Office of Research and Minority Health (now the National Institute of Minority Health and Disparities) at the National Institutes of Health and organizing the Sullivan Alliance in 2005 to increase diversity and transform health professions education.
"Won't you please join me in welcoming my friend, a true hero of American medicine, and an untiring warrior for health equity," Smith concluded.
Sullivan then remarked on his experience moving to Boston for medical school. He mentioned his excitement at the learning opportunities before him, as well as his trepidation for his first time living in a non-segregated environment.
He said that luckily his classmates were welcoming, the faculty members were supportive and he was able to immerse himself in the rich history of medicine in Boston.
Next, Benjamin Linas, MD, MPH, professor of medicine/infectious diseases, discussed Assoumou's passion and positivity as her mentor and colleague.
"As you know, mentoring is a two-way street, and you inspire me in all you do," he said.
Assoumou then thanked her supporters and shared the many lessons she has learned along her career journey. These lessons spanned from finding your passion to honing your craft and appreciating what you have.
Her father, who tuned in over Zoom from Abidjan, West Africa, then praised his daughter and all she has achieved.
"The whole extended family is proud of you. The village is proud of you. Keep up the excellent work," he said.