Race & Medicine Symposium Asks: Where Do We Go from Here?
With the goal of understanding the health values of our country and how those values are expressed in our health systems, BUSM recently hosted a Race and Medicine Symposium. On Sept. 29, Louis W. Sullivan, MD (BUSM'58), moderated a panel on the challenges facing our health care system and what solutions are possible on both the individual and institutional level. The symposium was held in conjunction with the installation of Sabrina Assoumou, MD, MPH, assistant professor of medicine, as the inaugural Louis Sullivan, MD, Professor of Medicine.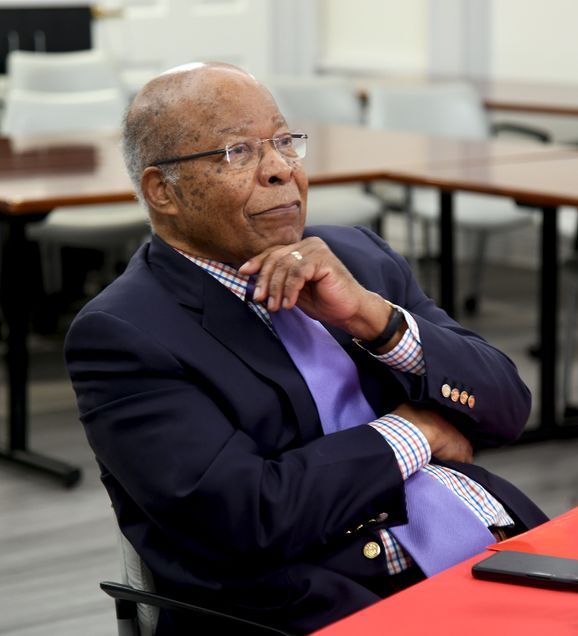 Sullivan is the former secretary of the United States Department of Health and Human Services and president emeritus of the Morehouse School of Medicine. He previously served as an instructor of medicine at Harvard Medical School and assistant professor of medicine at Seton Hall College of Medicine. In 1966, he became the co-director of hematology at Boston University Medical Center and founded the Boston University Hematology Service at Boston City Hospital one year later. Sullivan remained at Boston University until 1975, holding positions as assistant, associate and professor of medicine.
"He has touched so many lives and has brought so much distinction and honor to all the institutions and organizations with which he has been affiliated," said David Coleman, MD, FACP, Wade Professor and chair of Medicine, as he introduced Dr. Sullivan to the virtual group.
Sullivan began by addressing the history of racism in our national health care system. He discussed the shorter life expectancy of African Americans, underutilization of medical services by minority populations due to poverty and lack of insurance, and other issues of necessary health care access.
The first panel member, August A. White, MD, PhD, Evelyn and Melvin Gordon Distinguished Professor of Medical Education and professor of orthopedic surgery at Harvard Medical School, presented on "What Dr. Martin Luther King Jr. Would Want Us to Know About Health Care Disparities."
White noted the individuals that are most affected by national health disparities, including people with disabilities, women and prisoners. He detailed solutions such as improving health literacy, educating caregivers and patients and increasing the diversity of caregivers.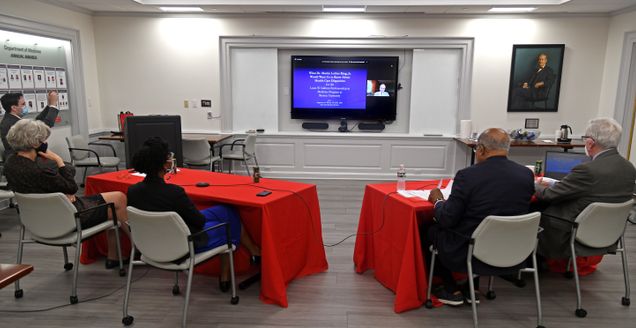 Next, Vivian W. Pinn, MD, director emeritus of the Office of Research on Women's Health through the National Institutes of Health, shared her perspective on "Increasing Racial and Gender Diversity in Medical Research & Among Medical Researchers." She discussed how the definition and practice of women's health has changed and undergone significant progress since 1990.
"As women and minorities increase in the general population, and in entry into medical science and research careers, their potential for contributions to advancements in science and medicine becomes even more valuable for our nation," she said.
She also noted that women are not underrepresented in science due to any lack of aptitude – rather, the three major barriers are related to bias, discrimination and sexual harassment. Additionally, women of color are more affected by these barriers.
Pinn offered solutions to combating this issue, including commitment from leadership at all levels, investing in financial and human resources and enforcing accountability.
Ronny Lancaster, JD, former senior vice president of Morehouse School of Medicine, presented on the Association of Minority Health Professionals Schools (AMHPS). He spoke about a 1983 report issued by the AMHPS that was the catalyst for HHS Secretary Margaret Heckler assembling a panel of experts to address the issue of minority health. This led to the report, Black and Minority Health, commonly referred to as the Heckler Report, which in turn led to many changes in the department to address minority health issues.
Lancaster also detailed the principal role of the AMHPS in initiatives like Title III, Sec. 326 of the Higher Education Act, the National Center for Minority Health and Health Disparities, the Disadvantaged Minority Improvement Act and more.
The symposium's final panelist was Wayne Riley, MD, MPH, MBA, president of Downstate Health Sciences University. Riley emphasized the dire need for more minority representation in the health care workforce, as 13 percent of the U.S. population is African American while only 4 percent of doctors are African American.
"People think that diversifying the health professions is rocket science. Colleagues, it's not," he said. "You have to be intentional." He added that mentorship and sponsorship were vital in getting him to where he is now in his career.
Sullivan then thanked the panelists and concluded the symposium, reemphasizing the need to collectively work toward a better and more equitable society.
"Although much has been accomplished in improving the health of our citizens, including citizens of color and those who are poor, there still remain challenges to be met by today's health professionals and for those to come in the future," said Sullivan.