Summer Brings Opportunities for Youth STEM Engagement
If you close your eyes and think about summer, you likely picture lazy days at the beach, rope swings over rivers, kayaks and canoes. For many high school students, summer is also a time to explore interests that may aid in decisions about college majors and career paths. This summer, Boston University has engaged in a number of activities aimed at helping young people from across the city and beyond explore science, technology, engineering and math (STEM) fields.
The University's "Summer Pathways" program is a week-long residential program for teenage girls run by Cynthia Brossman, Director of the Learning Resource Network, and Elise Morgan, PhD, Professor in Mechanical Engineering. The program includes visits to BU labs, opportunities to interact with female STEM professionals, and hands-on science experiments, intermingled with team building activities such as ropes courses and rock climbing. One recent afternoon, program participants visited the medical campus for lab tours and presentations, including a visit to the Laboratory of Zebrafish Genetics and Cancer Therapeutics with Hui Feng, MD, PhD, a presentation by forensic chemist Sabra Botch-Jones, MS, MA and a program with Associate Professor of Neurology Anna Hohler, MD.
Hohler was accompanied by her Parkinson's Disease patient who has undergone surgery for Deep Brain Stimulation. Hohler talked with the students about her research on Parkinson's Disease and how that research translates into patient treatments.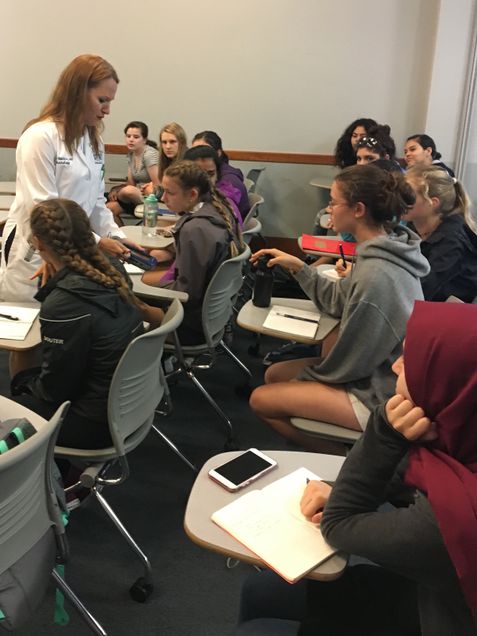 "It was really interesting to have both perspectives – the patient's and the doctor's," commented one student.  Another observed, "I had never heard about this kind of surgery before. It sounded like science fiction, but we were talking with them and looking at the x-rays and it was all real!"
Another initiative called BU Most (Boston University Museum of Science Together) provides opportunities for teen interns from the Museum of Science to visit with BU faculty for demonstrations, presentations, and tours. One group visited the College of Engineering, where Joyce Wong, PhD talked with them about her own career pathway.
"Dr. Wong was an incredibly dynamic speaker who really connected with our interns," said Elizabeth Kong, PhD, the Program Manager from the Museum of Science who participated in the tour. "The program the College of Engineering arranged for the teens was phenomenal. They had an opportunity to do hands-on activities, such as extracting DNA from strawberries and building nanotubes, and they also had great conversations with the graduate students, whose enthusiasm was totally infectious."
Another group from the BU Most program visited the VA-BU-CLF  Brain Bank, where Assistant Professor of Neurology Victor Alvarez, MD, and Assistant Professor of Neurology Bertrand Huber, MD, PhD, discussed Chronic Traumatic Encephalopathy (CTE), Post Traumatic Stress Disorder (PTSD), and other brain injuries and diseases. Huber worked with a donated brain as he described the physical signs that neuropathologists look for to detect disease. Alvarez showed the students how researchers use brain images to identify disease. Using current events, such as Senator John McCain's recent diagnosis of brain cancer,  Alvarez was able to connect what the students were seeing on the screen to real-life examples. One of the teens had recently lost her mother to epilepsy, and was very grateful to have an opportunity to understand more about that disease and how it manifests.
"I was blown away when the neuropathologist began cutting and showing us parts of the brain. Afterwards, we got to see pictures of the slides that were being used for research. This part was especially interesting because we got to see what happens to the brain when someone is afflicted with diseases like Alzheimer's, Parkinson's, and CTE," said Pedro Castro, a teen who attended the tour.
In another initiative aimed at youth engagement, Boston University partnered with the Boston Health Commission on its Boston Area Health Education Center summer program, which is aimed at increasing diversity among Boston's healthcare workers. Approximately 80 students from the program attended a health expo at the BU School of Medicine, where they had opportunities to engage in hands-on activities and interview health professionals about their backgrounds and skills.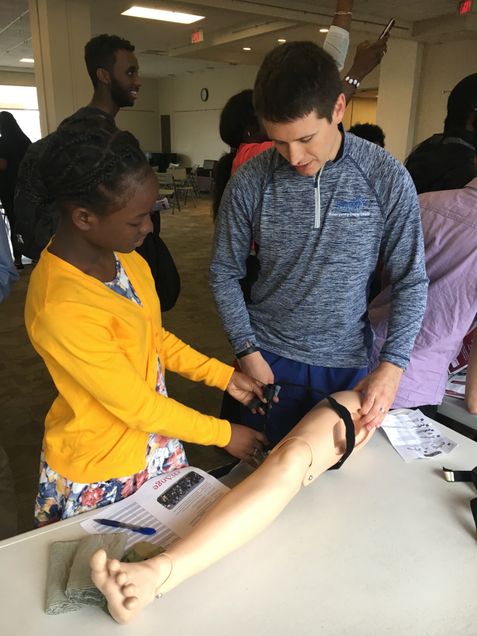 At one table, BU alum Yevgeniy Maksimenko, MD, a captain in the US Air Force and intern in emergency medicine at Boston Medical Center, taught the students military tourniquet skills.
"Opportunites for this type of teaching are so important," said Maksimenko. "When you think about things like the Boston Marathon bombing, you realize how critical it is for people to have these skills."
At another station, BU medical students Daniella Sisniega and Steve Han, who are both members of the BUSM neurology interest group CORTEX, taught students the basics of giving a neurological exam, and then let the students practice the skills for themselves.
"This was a great event. I enjoy mentoring almost as much as I enjoy neurology," joked Han.
After the activities fair, the students had an opportunity to sit in small groups and engage one on one with health professionals. One student was especially moved by a conversation he had with Adam Johnson, a fourth year medical student and former BAHEC program participant.
"My aunt had breast cancer. I never thought about being able to do something to help people like her," the student remarked after talking with Johnson.
Boston University's efforts toward youth STEM engagement echo a broader national movement aimed at developing stronger pathways for high school students, decreasing disparities related to STEM education, and increasing the United States' ability to compete in a global market. For the students who participated in BU youth programs this summer, STEM opportunities can have a transformative impact.
"My experience at the brain bank made me so fascinated in learning about the brain that I'm now considering changing my major to neuroscience," commented Castro. "This fall, I hope to sign up for a neuroscience course and see if it's what I want to do in the future."

Submitted by Monica Parker-James