BUMC Teams with BAHEC's Youth to Health Careers (Y2HC) Summer Program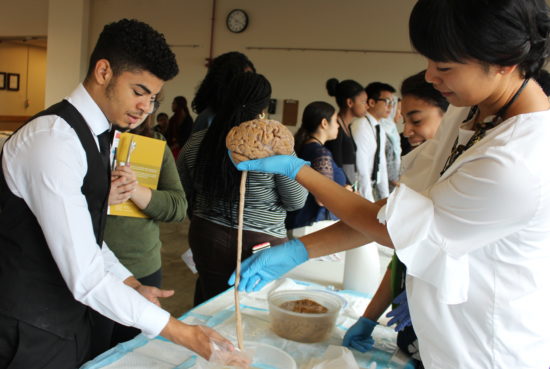 In an effort to introduce Boston students entering grades 9-12 to the various pathways in medicine, dental medicine, biomedical research, public health and other allied health careers, Boston University (BU) is partnering with the Boston Area Health Education Center (BAHEC) for an intensive six-week summer enrichment program. BAHEC is the Youth to Health Careers Program of the Boston Public Health Commission's Child Adolescent Health Division (CAHD) and is further supported by the Massachusetts AHEC Network, a statewide system to address health disparities with a focus on workforce development. The Boston University Medical Campus (BUMC) is leading the collaborative partnership effort by serving as a host site for the program and has arranged for a wide range of health sciences related activities in labs and classrooms across the Charles River and Medical campuses.
"We hope this partnership will expand and improve the racial, ethnic and linguistic diversity of healthcare professionals across the city of Boston through increased mentorship opportunities, academic enrichment and college preparation, as well as exposure to and engagement in the health sciences, biomedical and scientific disciplines," said BUMC Provost and BUSM Dean Karen H. Antman, MD. Beginning Monday, July 10, approximately 85 students will spend their mornings immersed in math and science courses including algebra, chemistry, calculus, biology and physics. Faculty, staff and students from the university designed hands-on participatory activities and lessons that cover brain anatomy and dissection, genetic counseling, mental health counseling, dental medicine, human physiology, nutrition, public health, occupational therapy and college preparedness.
Afternoon activities include campus tours including the College of Engineering EPIC (Product Innovation Center) and the Photonics Center. BAHEC students will attend biomedical research related seminars, measure the PH of their own saliva and learn about the biology of Sickle Cell Disease. They also will learn about cutting-edge research to develop vaccines and therapies to fight against pathogens.
The outreach efforts between BAHEC and BUMC are led by an interdisciplinary team, including Hee-Young Park, PhD, Professor and Chair of Medical Sciences & Education and Assistant Dean of the Division of Graduate Medical Sciences; Valeda Britton, JD, Executive Director of Community Relations; and Lynese Wallace, MPH, Manager of Diversity & Inclusion for Division of Graduate Medical Sciences. This team works very closely with Anthony Crosson (BAHEC Director) and Dr. Philomena Asante (CAHD Director) to support its mission of diversifying the pool of health professionals.
"Boston University is committed to providing educational and experiential opportunities, particularly in the areas of health sciences and biomedical research, to pre-college students from the surrounding communities. As a part of this mission, BUSM historically has donated its teaching classrooms for the Youth to Health Careers (Y2 HC) Summer Enrichment Program managed and overseen by BAHEC. This year members of the Charles River and Medical Campus communities worked-together to implement a program that would allow BAHEC students to be exposed and experience a wide range of health sciences and biomedical research career opportunities," added Park.
Learn more.