Jean-Bosco Tagne, Ph.D.
Faculty and Fellows
---
Assistant Professor of Medicine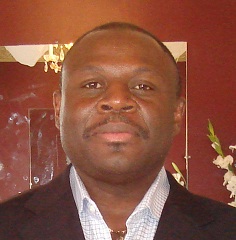 Undergraduate Education: University of Yaounde, Cameroon, Associate in Biology
University of Ouagadougou, Burkina Faso (BF), B.Sc Biochemistry & General Microbiology
Graduate School Master Program: University of Ouagadougou, BF, M.Sc Biochemistry and Applied Microbiology, University of Massachusetts, M.Sc Biotechnology and Biomedical Science
Graduate School PhD Program: University of Massachusetts
Post-doctoral Fellowship: Boston University School of Medicine, Department of Medicine, Pulmonary Center.
Special Interests:
Research:
Targets of the transcription factor Titf1 and other lung regulators in lung development and diseases
We are currently using genome-wide approaches to identify target genes of activating chromatin remodeling protein Brg1 and also targets of the key lung epithelial transcription factor Titf1. The cooperation between chromatin remodeling proteins and tissue specific transcription factors is critical in many systems for cell lineage determination and cell differentiation. These factors have been also shown to be altered in lung diseases such as in cancer. Potential links between development and cancer will be evaluated.
Role of Titf1-regulated miRNAs in mouse lung development and diseases.
Many miRNAs may be important in modulating lung gene expression and differentiation of progenitor cell populations. We are currently evaluating potential Titf1-regulated miRs identified in microRNA arrays by determining their patterns of expression by in situ hybridization in lung development. We are also manipulating their expression in cell lines to validate their role in regulating lung genes. We will try to correlate expression patterns of Titf1 and downstream miRNAs in development.
Use of novel nano-emulsion technology for drug and miRNA delivery.
Major challenges for development of a delivery system for miRs are the instability and their short biological half life. To overcome this, one needs to optimize the formulation with smart drug delivery systems to make them suitable for the treatment of patients.
During my graduate training I participated in the development of a novel nanoemulsion technology Drug Delivery platform which can deliver an anticancer drug contained within these compositions into a biological system for instant when administered. Our composition is a non-liposomal, stable oil water lipid nanoemulsion (that mean non-toxic) selectively taken up by cells by exploiting the aspect that the nano-delivery system is made of natural substances such as oil, surfactants and water. These compositions have been evaluated in cell biology applications, where a nano manufactured formulations are reported to be taken up by cells efficiently.
We plan to extend this approach and demonstrate that our nanoemulsion based technology is capable of selectively targeting the cells/organ and delivering a combination of active miR molecules tagged with fluorescent reporter or imaging agent(s). We have chosen cell culture as our model first system for proof-of-principal studies follow by a mouse model. If successful, the proposed nanoemulsion based drug delivery system could have wide range application in treating various fields from lung cancer to other lung diseases.
Selected peer-reviewed publications:
Lee TI, Rinaldi NJ, Robert F, Odom DT, Bar-Joseph Z, Gerber GK, Hannett NM, Harbison CT, Thompson CM, Simon I, Zeitlinger J, Jennings EG, Murray HL, Gordon DB, Ren B, Wyrick JJ, Tagne JB, Volkert TL, Fraenkel E, Gifford DK, Young RA. Transcriptional regulatory networks in Saccharomyces cerevisiae Science. 2002 298 (5594):799-804.
Kleene KC, Cataldo L, Mastrangelo MA, Tagne JB. Alternative patterns of transcription and translation of the ribosomal protein L32 mRNA in somatic and spermatogenic cells in mice. Exp Cell Res. 2003 291(1):101-10.
Harbison CT, Gordon DB, Lee TI, Rinaldi NJ, Macisaac KD, Danford TW, Hannett NM, Tagne JB, Reynolds DB, Yoo J, Jennings EG, Zeitlinger J, Pokholok DK, Kellis M, Rolfe PA, Takusagawa KT, Lander ES, Gifford DK, Fraenkel E, Young RA; Transcriptional regulatory code of a eukaryotic genome Nature. 2004 431(7004):99-104.
Tachibana C, Yoo JY, Tagne JB, Kacherovsky N, Lee TI, Young ET. Combined global localization analysis and transcriptome data identify genes that are directly coregulated by Adr1 and Cat8. Mol Cell Biol. 2005 25(6):2138-46.
Workman C, Mak HC, McCuine S, Tagne JB, Ozier O, Begley T, Samson L, and Ideker T. A systems approach to mapping DNA damage response pathways Science 2006 312 :1054 – 1059.
Kuo F, Kotyla T, Wilson T, Kifle L, Panagiotou T, Gruverman I, Tagne JB, Shea T, Nicolosi R.
A nanoemulsion of an anti-oxidant synergy formulation reduces tumor growth rate in neuroblastoma-bearing nude mice. J Exp Ther Oncol. 2007 6(2):129-35.
Tagne JB, Kakumanu S, Gupta S, Volkert T, Young AR and Nicolosi RJ. Nanoformulation and Cancer Therapy: Study of DNA Damage and repair Pathway by Expression and Genome Wide Location Analysis (GWLA) The FASEB Journal. 2007; 21:lb158.
Tagne JB, Kakumanu S, Ortiz D, Shea T and Nicolosi RJ. A Nano-emulsion formulation of Tamoxifen Increases its Efficacy in a Breast Cancer Cell Line. Mol Pharm. 2008 5(2):280-6.
Tagne JB, Kakumanu S, Nicolosi RJ. Nanoemulsion Preparations of the Anticancer Drug Dacarbazine Significantly Increase Its Efficacy in a Xenograft Mouse Melanoma Model. Mol Pharm. 2008 5(6):1055-63.
Tagne JB, Gupta S, Vo T, Cao Y, Volkert T, Ramirez MI. Identification of Titf1 target genes in the developing lung Am J Respir Crit Care Med 2009 179: A 1870
Cao, Y, Vo, T, Millien, G, Tagne, JB, Kotton, D, Mason, RJ, Williams, MC, Ramirez, MI. Epigenetic mechanisms modulate thyroid transcription factor 1-mediated transcription of the surfactant protein b gene. J Biol Chem. 2010 285(3):2152-64.
Tagne JB, Gupta S, Gower C.A, Shen, SS, Varma S, Lakshminarayanan, M, Cao, Y, Spira A, Volkert, T, Ramirez, MI. Genomic analyses of Nkx2-1 transcriptional targets in mouse lung development uncover regulatory patterns conserved in human lung tumors (Manuscript submitted)
Patents
Nicolosi, R, Tagne, JB, University of Massachusetts Lowell (WO/2008/016664) Compositions and methods for treating cancer with dacarbazine nanoemulsions.