Asthma, Allergy, and Immunology
Translational-Clinical Research
---
Mission Statement: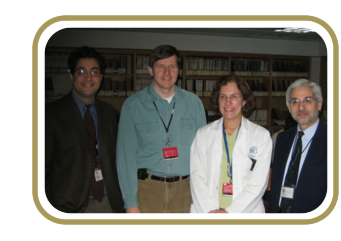 The Asthma/Allergy Translational-Clinical research group has two main objectives central to our mission of impacting the care of patients with asthma and atopy:
Apply novel research methods to improve our understanding of the clinical immunopathology of allergic airway disease (including asthma and allergic rhinosinusitis)
Actively collaborate with the therapeutics sector to study the clinical effectiveness of new asthma/allergy therapies.
Background:
Atopic asthma and allergic rhinosinusitis are the result of a dysregulated immune response to essentially harmless antigens in dust mites, animal dander, molds, and pollens. In susceptible individuals, this dysregulated immune response elicits systemic sensitization to these allergens (atopy) and local effector responses that lead to the symptoms of allergic rhinosinusitis (rhinorrhea, congestion, sinusitis) and asthma (episodic dyspnea, wheeze, and cough).
Current trends in translational research in asthma and allergy have sought to provide insight into the mechanisms of exacerbation through non-invasive means (e.g. sputum induction/nasal secretion analysis for cytokine and cells and measurement of exhaled NO). Additionally, there is a significant emerging effort in the study of the role and function of factors that a) regulate/dampen the immune response in infancy and adulthood and b) control resolution of exacerbated asthma/allergic rhinitis (e.g. circulating T-regulatory cells and airway dendritic cells).
Current trends in clinical asthma/allergy research continue with focusing on medications that are not only effective but have optimal patient compliance (e.g. determining the benefit of regular vs. as-needed inhaled steroids for mild asthma and the development of more 'patient-friendly', patient actuated inhaler devices).
Translational and clinical research projects run by investigators in the Boston University Pulmonary Asthma/Allergy Translational-Clinical research group:
Study Site, Urban Environment and Childhood Asthma (URECA), a project of the Inner City Asthma Consortium (ICAC) (Principal Investigator: Dr. O'Connor)
Efficacy of anti-IgE therapy in childhood asthma (ICATA) (Principle Investigator: Dr. O'Connor)
Rapid Saliva Diagnostics in Asthma Exacerbations (Principal Investigator: Dr. Little)
Immune markers of patients undergoing sublingual immunotherapy to cockroach allergen (ICAC) (Drs. Little and O'Connor)
Impact of Pulmicort Turbuhaler on Health Outcomes in an Inner City Managed Care Asthma Patient Population (Principal Investigator: Dr. Hollingsworth)
Inhaled Steroid as Regular Therapy in Early Asthma. 5 year study. Published study: START (Principal Investigator: Dr. Hollingsworth)
Relationship of Interleukin-16 promoter/ORF Single Nucleotide Polymorphisms (SNPs) and Asthma Severity (Drs. Center, Little, and O'Connor)
Expertise and Novel Approaches Applied by Group Members:
Our translational research is focused on understanding the interaction between the allergic diathesis and pulmonary disease manifestation. Two specific examples are i) a multi-center longitudinal birth cohort study of the interaction between heredity,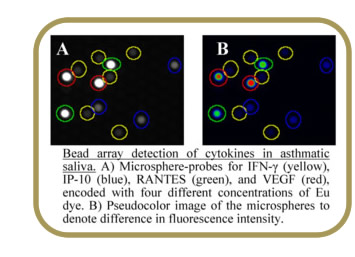 immune cell phenotype, and environment (including respiratory infections) on the development of symptomatic wheeze and asthma ii) applying a novel bead-based proteomic/microarray platform to rapidly analyze saliva and nasal secretions in patients with acute asthma exacerbations to determine etiology (viral, bacterial, allergen, or irritant). This latter project is the result of a recent fruitful collaboration between Investigators in the Pulmonary Center , the BU Goldman School of Dental Medicine, and the Department of Chemistry at Tufts University . In addition, BU is a study site in multiple NIH and industry sponsored clinical/translational studies of asthma pathogenesis in children and adults as well as clinical trials of new asthma therapies (as outlined above).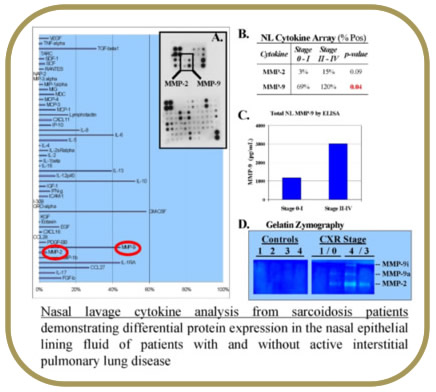 Principal Investigators:
David M. Center, M.D., Gordon and Ruth Snider Professor of Pulmonary Medicine
Professor of Medicine and Biochemistry
Section Chief, Pulmonary, Allergy, and Critical Care Medicine, Boston Medical Center
Assistant Provost for Translational Research and PI, BUMC Clinical and Translational Science Institute (CTSI).
George T. O'Connor, M.D. , Professor of Medicine, Director of the Adult Asthma Program at Boston Medical Center
William Cruikshank, Ph.D. , Professor of Medicine
Frédéric F. Little, M.D. , Assistant Professor of Medicine
Helen Hollingsworth, M.D. , Associate Professor of Medicine
Research Fellows:
Philip J. Wexler, M.D. – Asthma Salivary Diagnostics (Little)
Mark J. Granada, M.D. – Genetic Epidemiology of Atopy (O'Connor)
Study Coordinators:
Carolina Jordan , MPH , Research Coordinator – URECA Study (O'Connor)
Diana Delgado, B.A. , Study Coordinator, Asthma Salivary Diagnostics (Little)
Lisa M. Gagalis, R.N. Research Coordinator – ICATA Study (O'Connor)
Edlira Gjerasi, R.N., Research Nurse – URECA (O'Connor)
Tiffany Broadway , R.N., Research Nurse – ICATA (O'Connor)
Paula Goncalves, R.N. , Study Coordinator, Asthma/Allergy Trials (Hollingsworth)
Laboratory and Research Staff:
Marina Tuzova , URECA
Linqui Luo, Asthma Salivary Diagnostics
Sabrina Khouri , URECA
Kathryn Pollenz , URECA
Sara Lynn Dorans , ICATA
Ashley Brennan-McBride , ICATA
Selected Publications:
Ly NP, Ruiz-Perez B, McLoughlin RM, Visness CM, Wallace PK, Cruikshank WW, Tzianabos AO, O'Connor GT, Gold DR, Gern JE. Characterization of Regulatory T cells in Urban Newborns. Clin Mol Allergy. 7, 2009 (epub).
Himes BE, Hunninghake GM, Baurley JW, Rafaels NM, Sleiman P, Strachan DP, Wilk JB, Willis-Owen SA, Klanderman B, Lasky-Su J, Lazarus R, Murphy AJ, Soto-Quiros ME, Avila L, Beaty T, Mathias RA, Ruczinski I, Barnes KC, Celedón JC, Cookson WO, Gauderman WJ, Gilliland FD, Hakonarson H, Lange C, Moffatt MF, O'Connor GT, Raby BA, Silverman EK, Weiss ST. Genome-wide association analysis identifies PDE4D as an asthma-susceptibility gene. Am J Hum Genet. 84:581-93, 2009.
Szefler SJ, Mitchell H, Sorkness CA, Gergen PJ, O'Connor GT, Morgan WJ, Kattan M, Pongracic JA, Teach SJ, Bloomberg GR, Eggleston PA, Gruchalla RS, Kercsmar CM, Liu AH, Wildfire JJ, Curry MD, Busse WW. Management of asthma based on exhaled nitric oxide in addition to guideline-based treatment for inner-city adolescents and young adults: a randomised controlled trial. Lancet 372: 1065-72, 2008.
Barton, S.J., Holloway, J.W., Yang, I.A., Cakebread, J.A., Cruikshank, W.W., Little, F.F., Jin, X., Farrer, L.A. , Clough, J.B., Keith, T.P., Holgate, S., Center, D.M., and O'Connor, G.T. Association of asthma with a functional promoter polymorphism in the Interleukin-16 gene. J Allergy and Clin Immunol. 117(1): 86-91, 2006.
Kattan M, Stearns SC, Crain EF, Stout JW, Gergen PJ, Evans R 3rd, Visness CM, Gruchalla RS, Morgan WJ, O'Connor GT, Mastin JP, Mitchell HE. Cost-effectiveness of a home-based environmental intervention for inner-city children with asthma. J Allergy Clin Immunol 116(5):1058-63, 2005.
Morgan WJ, Crain EF, Gruchalla RS, O'Connor GT, Kattan M, Evans R 3rd, Stout J, Malindzak G, Smartt E, Plaut M, Walter M, Vaughn B, Mitchell H; Inner-City Asthma Study Group.Results of a home-based environmental intervention among urban children with asthma. N Engl J Med. 9;351(11):1068-80, 2004.
Little FF, Center DM. Induced Sputum Analysis for T Helper type 2 Cell Regulation. Closing the Loop. Chest 123: 00-00, 2003.
Joost O, Wilk JB, Cupples A, Harmon M, Shearman AM, Baldwin CT, O'Connor GT, Myers RH, Gottlieb DJ. Genetic Loci Influencing Lung Function. A Genomewide Scan in the Framingham Study. Am J Respir Crit Care Med 165: 795-799, 2002.
Crain EF, Walter M, O'Connor GT, Mitchell H, Gruchalla RS, Kattan M, Malindzak GS, Enright P, Evans R, Morgan W, Stout J. Home and allergic characteristics of children with asthma in seven US urban communities and design of an environmental intervention: The Inner-City Asthma Study. Environmental Health Perspectives 110: 939-945, 2002.
Vojta PJ, Randels SP, Stout J, Muilenberg M, Burge HA, Lynn H, Mitchell H, O'Connor GT, Zeldin DC. Effects of physical interventions on house dust mite allergen levels in carpet, bed, and upholstery dust in low-income, urban homes. Environ Health Perspect 109: 815-819, 2001.
O'Connor GT, Sparrow D, Demolles D, Dockery D, Raizenne M, Fay M, Ingram RH, Speizer FE. Maximal and partial expiratory flow rates in a population sample of 10- to 11-yr-old schoolchildren. Effect of volume history and relation to asthma and maternal smoking. Am J Respir Crit Care Med 162: 436-439, 2000.
Selected Reprints:
Links: