Jerome S. Brody, M.D.
Faculty and Fellows
---
jbrody@bu.edu
Emeritus Professor of Medicine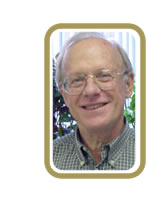 Medical School: University of Illinois
Internship: Michael Reese Hospital
Residency: Michael Reese Hospital and University of Oklahoma
Fellowship: University of Pennsylvania
Special Interests:
Research:
Genomics of smoking-related lung diseases
Lung cancer diagnostic/prognostic tools
Genomics and the pathogenesis of COPD
Developmental biology of the lung
Relation of lung cancer to lung development
Cigarette smoking is the major cause of the two most costly and lethal pulmonary diseases, lung cancer and COPD. However, only 10-20% of smokers develop lung cancer; an equal number develop COPD. Thus, the majority of smokers develop neither disease. Our laboratory is using a variety of genomic tools to determine: 1) how the lung protects itself from the toxic effects of cigarette smoke; 2) why some smokers develop COPD and/or lung cancer while others are disease-free; 3) how we can use these new tools to define molecular pathways leading to each disease; 4) develop tests for the early diagnosis of lung cancer and for assessing a smokers' risk of developing lung cancer5) and develop new approaches to therapy.
Our growing knowledge of the human genome and of the mechanisms regulating the transcription and translation of human genes coupled with the statistical and computational sciences that form the basis of bioinformatics (see Pulmonomics site) provides an opportunity to develop new insights into the biologic and molecular processes associated with cigarette smoke-related lung disease.
Our present studies are based on the premise that smoking affects all of the epithelial cells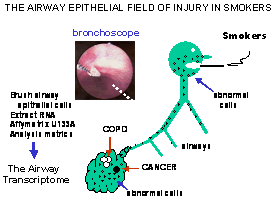 of the respiratory tract and that measuring expression levels and mechanisms of regulating the levels of most of the genes in the human genome in easily accessible airway epithelial cells will provide new diagnostic and risk- assessment tools for the lung cancer as well as information about pathways leading to disease that might identify new pharmacologic targets for treating and preventing lung cancer and COPD. Most of our studies have utilized airway epithelial cells obtained by brushing a major bronchus during bronchoscopy (see Figure above). However, we are in the process of determining whether the airway field of smoking-induced injury extends to more accessible airway epithelial cells in the mouth or nose.

The Figure on the left illustrates the surprising power of this approach. It shows the relative expression levels of over 600 genes that are affected by smoking (current and past) and by the presence of lung cancer. While smoking affects gene expression in airway epithelial cells, there clearly are genes that signal the presence of lung cancer, independent of the current smoking status of the subject.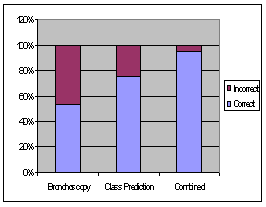 The figure on the right demonstrates the potential value of the gene expression class prediction model we have built. Relying on bronchoscopy alone we are able to diagnose about 50% of lung cancers. Our class prediction model correctly diagnoses lung cancer 78% of the time. The combination of bronchoscopy and gene expression correctly diagnoses lung cancer 98% of the time. Class prediction in contrast to bronchoscopy, is particularly accurate (>95%) in diagnosing Stage I and II disease.
Preliminary studies of airway epithelial cell gene expression in smokers with COPD suggest that these cells reflect a different type of injury in smokers with COPD than is the case with lung cancer. In COPD, genes associated with inflammation predominate and genes associated with oxidant stress and NF?B pathways are altered.
Our interest in cancer intersects with a long-standing interest in lung development. This is based on the concept that the very processes that are involved in controlling lung cell proliferation and differentiation during development are deregulated in lung cancer. Thus information about the mechanisms regulating lung development may provide insights into pathogenesis and treatment of lung cancer.
Selected Publications:
Please see BU Profile for complete Publications list
Representative Reprints
Links