Revolutionizing Equal Access to Care and Health (REACH) for ADHD
The REACH for ADHD lab at BMC investigates the barriers and stigmas socioeconomically disadvantaged and minority families experience when seeking care for children with ADHD. Additionally, we gather resources and tools to best equip parents, guardians, and care-providers with the appropriate treatment their children and patients with ADHD need.
To learn more about all of our research projects and resources, please visit our website: http://www.bumc.bu.edu/reach4adhd/
---
Director:
Andrea Spencer, MD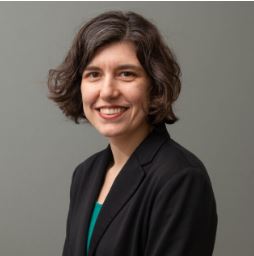 Dr. Andrea Spencer is a child, adolescent and adult psychiatrist at Boston Medical Center, where she is also Associate Director for Integrated Pediatric Behavioral Healthcare. She has both clinical and research expertise in primary care consultation child psychiatry and ADHD. Dr. Spencer's clinical research program, REACH for ADHD (Revolutionizing Equal Access to Care and Health for ADHD), currently focuses on developing and testing innovative methods to improve and reduce disparities in ADHD treatment.
Dr. Spencer's research is currently supported by multiple grants, including the Gordon and Betty Moore Foundation and the National Institute of Mental Health. Dr. Spencer received her Bachelor's Degree in Music from Yale College in 2003 and her Medical Degree from Harvard Medical School in 2008. She graduated from the 5-year combined MGH/McLean Adult and Child Psychiatry Residency in 2013 and is Board Certified in both Adult Psychiatry and in Child & Adolescent Psychiatry. In the past, Dr. Spencer worked with Dr. Joseph Biederman in the Pediatric Psychopharmacology and Adult ADHD Program and the Bressler Program for Autism at MGH.
Dr. Spencer plays viola with the Longwood Symphony Orchestra (LSO), the orchestra of Boston's Medical Community, whose concerts all benefit local, medically affiliated non-profit organizations. Dr. Spencer is also a founding member of the psychologically-minded, Boston-based String Quartet, "Folie A Quatre," highlighting the music of composers who have struggled with mental illness.
---
Current Research Projects:
Psychometric Validation of Revised ADHD Stigma Questionnaire in English and Spanish
Although ADHD is very common, the culture of stigma surrounding the 
diagnosis and treatment options often incites criticism resulting in lack of diagnosis or treatment. Stigma refers to negative attitudes about a person just because they have a condition, or because they are affiliated with someone who has a condition. Stigma surrounding Attention-Deficit/Hyperactivity Disorder (ADHD) diagnosis and treatment is common in many societal contexts, and is perpetuated in the popular media. Stigma may lead to concerning delays in treatment, as well as shame and isolation of those who are affected.
The ADHD Stigma Questionnaire (ASQ, developed in 2009 by Regina Bussing, MD and colleagues) can be used to assess perceived stigma associated with ADHD. The questionnaire focuses on capturing worries about disclosing an ADHD diagnosis, negative self-image related to the diagnosis or symptoms, and concerns with public attitudes about ADHD.
In order to broaden its applicability, REACH 4 ADHD has worked with the original developers and an expert panel to address some  limitations of the questionnaire. A Revised-ADHD Stigma Questionnaire (R-ASQ) contains new items in relation to courtesy stigma (the extension of stigma to family members of diagnosed individuals) and medication stigma (stigma about taking ADHD medication), and has been adapted into the Spanish language. In this study, we are evaluating the factor structure of the new R-ASQ by inviting English or Spanish speaking legal guardians of children age 6-17 to complete the questionnaire while they wait for medical visits at BMC.
To participate in the study, please click the link.
Barriers to ADHD Treatment
ADHD is common and treatable, but persistent and complex. It can be hard for many families to access all of the treatment that can be helpful, and to stick with ADHD treatment plans. Other life stressors such as lack of time or money, other health conditions, shame, stigma, discrimination, and  not knowing where to turn for help, all impact families' ability to get complete care.
The REACH 4 ADHD lab investigates the barriers families experience when seeking care for children with ADHD in order to develop solutions. In order to systematically determine these barriers, we are conducting a mixed methods study, collecting data through in depth interviews and surveys from diverse parents of children with ADHD about their experiences seeking care. These results are informing the development of our intervention to address barriers to engagement in ADHD care.
This study is generously funded by the Gordon and Betty Moore Foundation.
Pediatric Social Needs Intervention
Social and environmental factors play a significant role in the development and expression of ADHD symptoms in young children. Socioeconomic disadvantage and associated social adversities emerge as strong risk factors for ADHD and associated future problems as early as the preschool years. Thus, we hypothesize that addressing adverse social determinants of health (SDoH) such as food insecurity, housing instability, and lack of access to quality child care early and intensively in young children with ADHD symptoms could alter the course of this chronic condition. To test this hypothesis, we are conducting a series of interrelated studies with the ultimate goal of adapting a pediatrics-based social needs screening and referral intervention for high-need families of preschool-aged children with emerging ADHD symptoms.
This study is funded by the National Institutes of Mental Health through a K23 grant to Dr. Andrea Spencer.
Social Determinants of Mental Health in School Age Children
We conducted a cross-sectional study in an urban safety-net hospital-based pediatric clinic, measuring the association between cumulative and individual adverse social determinants of health (SDoH) and psychiatric symptoms in school age children. Psychiatric symptoms were measured using the Pediatric Symptom Checklist-17 (PSC-17)1 and adverse SDoH were measured using WE CARE (Well Child Care, Evaluation, Community Resources, Advocacy, Referral, Education)2, which assesses 6 unmet basic needs, both administered at well visits for children age 6-11 from September 1, 2016 to August 31, 2017. Findings suggest that children with food insecurity or at least 3 unmet basic needs had over twice the rate of positive psychiatric screens as their peers. Attention and internalizing problems were more strongly associated with unmet needs than externalizing problems.
---
Gardner W, Murphy M, Childs G, et al. The PSC-17: A brief pediatric symptom checklist with psychosocial problem subscales. A report from PROS and ASPN.

 

Ambul Child Health. 1999;5(3):225-236.
Garg A, Butz AM, Dworkin PH, Lewis RA, Thompson RE, Serwint JR. Improving the management of family psychosocial problems at low-income children's well-child care visits: the WE CARE Project.

 

Pediatrics. 2007;120(3):547-558. doi:10.1542/peds.2007-0398