3rd African Diaspora Global Mental Health Conference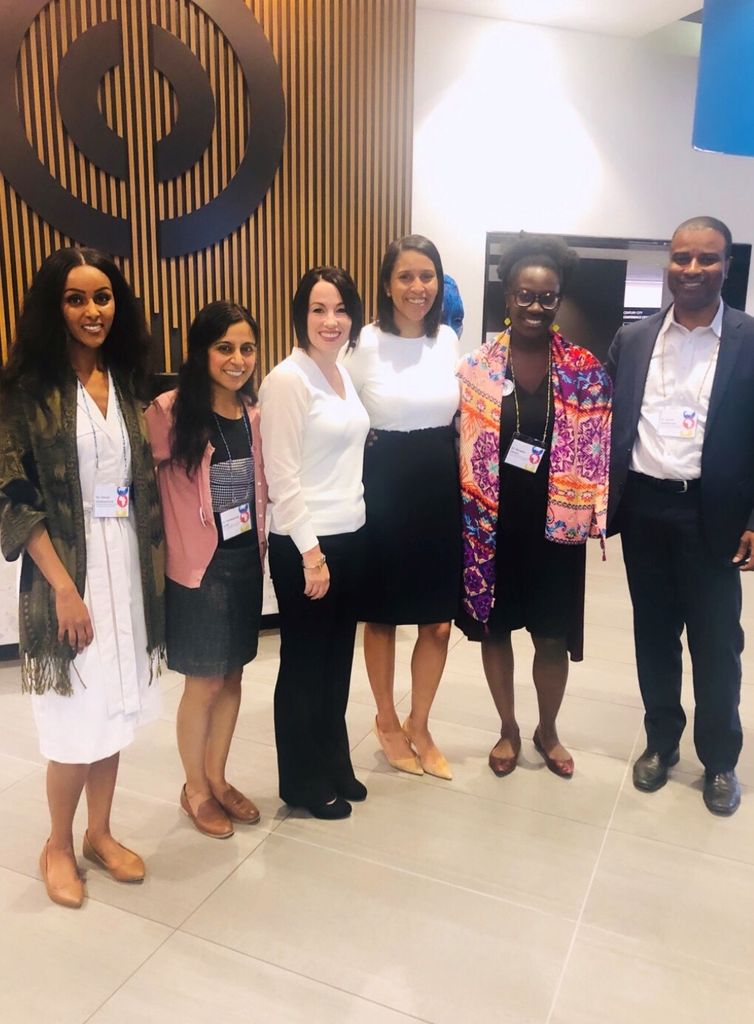 Pictured (L to R): Senait Ghebrehiwet, Dr. Tamkeenat Syed, Dr. Christina Borba, Dr. Michelle Durham, Dr. Micaela Owusu, Dr. David Henderson
3rd African Diaspora Global Mental Health Conference
At the end of intern year, I set two intentions for my PGY-2 year: 1) to be challenged and grow within the horizontal dimensions of the psychiatry residency program; and 2) to push myself to move beyond the borders of beautiful Boston to set out and discover the vastness of mental health on a global level. In addition to adding a global perspective to my training as a psychiatrist, this year I intend to delve deeper into my public health interests, which largely comprise of looking at trauma, systemic racism, structural barriers to care, turning inequity in access to health to finding the realization of health promotion for all peoples. When I heard about the 3rd African Diaspora Global Mental Health Conference, I immediately launched at the opportunity to attend and be an active participant because I saw it as an inviting and open door to meet notable psychiatrists and mental health professionals from all over the world who are working to address ongoing global mental health challenges.
The 3rd African Diaspora Global Mental Health Conference – dedicated to the late Chester M Pierce, MD who organized the first African Diaspora Conference in 2002 with the vision of uniting psychiatrists to address pressing mental health concerns for people of African descent – took place in Cape Town, South Africa on September 18-19, 2019. The goal of the meeting was to engage in workshops and in-depth discussions on mental health in the sectors of research, training and education, clinical services, and policy. The meeting also served as the official launch of the Africa Global Mental Health Institute (AGMHI), aimed to accelerate the development of solutions for Africa and the diaspora. The conference began with keynote speaker Denese Shervington, MD, MPH from Charles Drew University and New Orleans, LA who set the theme of the conference on trauma – her keynote address was entitled, "Towards a Global Agenda for Addressing Adverse Childhood Experiences in People of Color." She touched upon the repercussions of young people exposed to community violence, the shared trauma between apartheid and colonialism, the neurobiological changes that may be observed under chronic stress and the various sources of trauma. Dr. Shervington's address laid a foundation for the rest of the meeting, where many questions were posed keeping the subject of trauma in mind.
Major themes also discussed in great detail included capacity building and global collaborative efforts. I learned about ongoing genomics research and efforts in Africa: NeuroGap (Neuropsychiatric Genetics in African Populations), GINGER (the Global Initiative for Neuropsychiatric Genetics Education in Research), and KRISP (a platform to help build an institute that produces high-level science in Africa). To accelerate the idea of capacity-building for mental health care in Africa, the second day largely consisted of three breakaway sessions envisioned to initiate grants proposals. I found these sessions particularly galvanizing for the active exchange of ideas aimed towards sustainable development.
Participating in the 3rd African Diaspora Global Mental Health Conference gave me a glimpse of the beautiful transcontinental collaboration and genuine comradery that exists and flourishes between the administration of BUMC's Psychiatry Residency Program and notable psychiatrists and mental health workers across the world. My visit was brief, and I have so much left to explore of the lovely city of Cape Town, however, I am so grateful for the insight, resources, and connections made and hope that I can cultivate these further when I return to extend and deepen a global perspective to my training as a psychiatrist. Thank you to Dr. Henderson, Dr. Durham, Dr. Borba, Dr. Owusu, and Senait for the incredible opportunity!
Tamkeenat Syed
PGY-2 Psychiatry Resident