Zhuo Geng MD
Adjunct Clinical Assistant Professor, General Internal Medicine
72 East Concord Street, L-315 | (617) 562-5432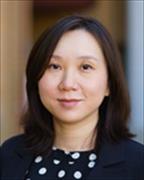 Sections
General Internal Medicine
Publications
Published on 4/25/2019
Teigen LM, Geng Z, Sadowsky MJ, Vaughn BP, Hamilton MJ, Khoruts A. Dietary Factors in Sulfur Metabolism and Pathogenesis of Ulcerative Colitis. Nutrients. 2019 Apr 25; 11(4). PMID: 31027194.
Published on 3/26/2019
Jager M, Demb J, Asghar A, Selby K, Mello EM, Heskett KM, Lieberman AJ, Geng Z, Bharti B, Singh S, Gupta S. Mailed Outreach Is Superior to Usual Care Alone for Colorectal Cancer Screening in the USA: A Systematic Review and Meta-analysis. Dig Dis Sci. 2019 09; 64(9):2489-2496. PMID: 30915656.
Published on 11/1/2017
George NS, Rangan V, Geng Z, Khan F, Kichler A, Gabbard S, Ganocy S, Fass R. Distribution of Esophageal Motor Disorders in Diabetic Patients With Dysphagia. J Clin Gastroenterol. 2017 Nov/Dec; 51(10):890-895. PMID: 28746079.
Published on 3/21/2016
Geng Z, Agrawal D, Singal AG, Kircher S, Gupta S. Contained colonic perforation due to cecal retroflexion. World J Gastroenterol. 2016 Mar 21; 22(11):3285-8. PMID: 27004007.
Published on 3/28/2014
Gupta S, Sussman DA, Doubeni CA, Anderson DS, Day L, Deshpande AR, Elmunzer BJ, Laiyemo AO, Mendez J, Somsouk M, Allison J, Bhuket T, Geng Z, Green BB, Itzkowitz SH, Martinez ME. Challenges and possible solutions to colorectal cancer screening for the underserved. J Natl Cancer Inst. 2014 Apr; 106(4):dju032. PMID: 24681602.
Published on 10/14/2013
Gupta S, Halm EA, Rockey DC, Hammons M, Koch M, Carter E, Valdez L, Tong L, Ahn C, Kashner M, Argenbright K, Tiro J, Geng Z, Pruitt S, Skinner CS. Comparative effectiveness of fecal immunochemical test outreach, colonoscopy outreach, and usual care for boosting colorectal cancer screening among the underserved: a randomized clinical trial. JAMA Intern Med. 2013 Oct 14; 173(18):1725-32. PMID: 23921906.
Published on 4/18/2013
Marquez E, Geng Z, Pass S, Summerour P, Robinson L, Sarode V, Gupta S. Implementation of routine screening for Lynch syndrome in university and safety-net health system settings: successes and challenges. Genet Med. 2013 Dec; 15(12):925-32. PMID: 23598716.
View full list of 7 publications.