Yves-Martine Dumas MSN, MPH
Assistant Professor, Hematology & Medical Oncology
830 Harrison Ave | (617) 638-5723

ymdumas@bu.edu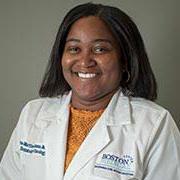 Sections
Hematology & Medical Oncology
Biography
Yves-Martine Dumas, NP is an Instructor of Medicine in the Department of Medicine at Chobanian and Avedisian School of Medicine. She has interest in Hematology and Medical Oncology and is board certified as a Adult Gerontology Primary Care Nurse Practitioner and Hematology/Oncology.
Education
Nursing, MSN, Northwestern University, 2014
Epidemiology, MPH, Boston University School of Public Health, 2005
Nursing, BSN, Northeastern University, 2011
Publications
Published on 12/11/2019
Duclos GE, Teixeira VH, Autissier P, Gesthalter YB, Reinders-Luinge MA, Terrano R, Dumas YM, Liu G, Mazzilli SA, Brandsma CA, van den Berge M, Janes SM, Timens W, Lenburg ME, Spira A, Campbell JD, Beane J. Characterizing smoking-induced transcriptional heterogeneity in the human bronchial epithelium at single-cell resolution. Sci Adv. 2019 12; 5(12):eaaw3413. PMID: 31844660.
Published on 5/6/2019
Hijazi K, Malyszko B, Steiling K, Xiao X, Liu G, Alekseyev YO, Dumas YM, Hertsgaard L, Jensen J, Hatsukami D, Brooks DR, O'Connor G, Beane J, Lenburg ME, Spira A. Tobacco-Related Alterations in Airway Gene Expression are Rapidly Reversed Within Weeks Following Smoking-Cessation. Sci Rep. 2019 05 06; 9(1):6978. PMID: 31061400.
Published on 12/1/2009
Zhang X, Sebastiani P, Liu G, Schembri F, Zhang X, Dumas YM, Langer EM, Alekseyev Y, O'Connor GT, Brooks DR, Lenburg ME, Spira A. Similarities and differences between smoking-related gene expression in nasal and bronchial epithelium. Physiol Genomics. 2010 Mar 3; 41(1):1-8. PMID: 19952278.
Published on 5/30/2008
Sridhar S, Schembri F, Zeskind J, Shah V, Gustafson AM, Steiling K, Liu G, Dumas YM, Zhang X, Brody JS, Lenburg ME, Spira A. Smoking-induced gene expression changes in the bronchial airway are reflected in nasal and buccal epithelium. BMC Genomics. 2008; 9:259. PMID: 18513428.
Published on 3/31/2008
Beane J, Sebastiani P, Whitfield TH, Steiling K, Dumas YM, Lenburg ME, Spira A. A prediction model for lung cancer diagnosis that integrates genomic and clinical features. Cancer Prev Res (Phila). 2008 Jun; 1(1):56-64. PMID: 19138936.
Published on 3/4/2007
Spira A, Beane JE, Shah V, Steiling K, Liu G, Schembri F, Gilman S, Dumas YM, Calner P, Sebastiani P, Sridhar S, Beamis J, Lamb C, Anderson T, Gerry N, Keane J, Lenburg ME, Brody JS. Airway epithelial gene expression in the diagnostic evaluation of smokers with suspect lung cancer. Nat Med. 2007 Mar; 13(3):361-6. PMID: 17334370.
View full list of 6 publications.