Yang Jin MD., PhD
Professor, Pulmonary, Allergy, Sleep & Critical Care Medicine
72 E. Concord Street | (617) 638-4860

yjin1@bu.edu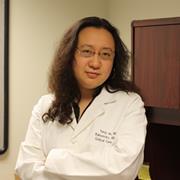 Sections
Pulmonary, Allergy, Sleep & Critical Care Medicine
Centers
Pulmonary Center
Evans Center for Interdisciplinary Biomedical Research
Biography
Critical Care Medicine, chronic respiratory failure, acute lung injury/ARDS
Education
Medicine, MD, Beijing Medical University, 1992
Toxicology, PhD, Rutgers University New Brunswick, 1997
Publications
Published on 1/13/2021
Lee H, He X, Ni K, Carnino JM, Jin Y. Low concentration of polyethylene glycol facilitates separation of extracellular vesicles from bronchoalveolar lavage fluid. Am J Physiol Lung Cell Mol Physiol. 2021 Jan 13. PMID: 33438468.
Published on 1/7/2021
Li L, Liu Y, Chiu C, Jin Y, Zhou W, Peng M, Chen LC, Sun Q, Gao J. A Regulatory Role of Chemokine Receptor CXCR3 in the Pathogenesis of Chronic Obstructive Pulmonary Disease and Emphysema. Inflammation. 2021 Jan 07. PMID: 33415536.
Published on 12/1/2020
Carnino JM, Jin Y. Intercellular Communication via Extracellular Vesicle Cargo MicroRNAs: Challenges for Experimental Design. Crit Care Med. 2020 Dec; 48(12):e1364-e1365. PMID: 33255130.
Published on 11/4/2020
Ni K, Wang C, Carnino JM, Jin Y. The Evolving Role of Caveolin-1: A Critical Regulator of Extracellular Vesicles. Med Sci (Basel). 2020 Nov 04; 8(4). PMID: 33158117.
Published on 9/10/2020
Carnino JM, Lee H, He X, Groot M, Jin Y. Extracellular vesicle-cargo miR-185-5p reflects type II alveolar cell death after oxidative stress. Cell Death Discov. 2020; 6:82. PMID: 32963810.
Published on 9/4/2020
Xiao J, Zhang B, Su Z, Liu Y, Shelite TR, Chang Q, Wang P, Bukreyev A, Soong L, Jin Y, Ksiazek T, Gaitas A, Rossi SL, Zhou J, Laposata M, Saito TB, Gong B. EPAC regulates von Willebrand factor secretion from endothelial cells in a PI3K/eNOS-dependent manner during inflammation. bioRxiv. 2020 Sep 04. PMID: 32908983.
Published on 7/20/2020
Su Z, Chang Q, Drelich A, Shelite T, Judy B, Liu Y, Xiao J, Zhou C, He X, Jin Y, Saito T, Tang S, Soong L, Wakamiya M, Fang X, Bukreyev A, Ksiazek T, Russell WK, Gong B. Annexin A2 depletion exacerbates the intracerebral microhemorrhage induced by acute rickettsia and Ebola virus infections. PLoS Negl Trop Dis. 2020 07; 14(7):e0007960. PMID: 32687500.
Published on 5/25/2020
Carnino JM, Ryu S, Ni K, Jin Y. Pretreated household materials carry similar filtration protection against pathogens when compared with surgical masks. Am J Infect Control. 2020 08; 48(8):883-889. PMID: 32464294.
Published on 5/22/2020
Carnino JM, Ni K, Jin Y. Post-translational Modification Regulates Formation and Cargo-Loading of Extracellular Vesicles. Front Immunol. 2020; 11:948. PMID: 32528471.
Published on 4/1/2020
Liu Y, Xiao J, Zhang B, Shelite TR, Su Z, Chang Q, Judy B, Li X, Drelich A, Bei J, Zhou Y, Zheng J, Jin Y, Rossi SL, Tang SJ, Wakamiya M, Saito T, Ksiazek T, Kaphalia B, Gong B. Increased talin-vinculin spatial proximities in livers in response to spotted fever group rickettsial and Ebola virus infections. Lab Invest. 2020 08; 100(8):1030-1041. PMID: 32238906.
View full list of 67 publications.