Yang Jin MD., PhD
Professor, Pulmonary, Allergy, Sleep & Critical Care Medicine
72 E. Concord Street | (617) 638-4860

yjin1@bu.edu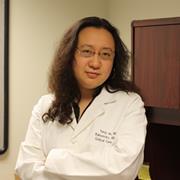 Sections
Pulmonary, Allergy, Sleep & Critical Care Medicine
Centers
Pulmonary Center
Evans Center for Interdisciplinary Biomedical Research
Biography
Critical Care Medicine, chronic respiratory failure, acute lung injury/ARDS
Websites
Education
Medicine, MD, Beijing Medical University, 1992
Toxicology, PhD, Rutgers University New Brunswick, 1997
Publications
Published on 2/15/2023
Ryu S, Ni K, Wang C, Sivanantham A, Carnino JM, Ji HL, Jin Y. Bacterial Outer Membrane Vesicles Promote Lung Inflammatory Responses and Macrophage Activation via Multi-Signaling Pathways. Biomedicines. 2023 Feb 15; 11(2). PMID: 36831104.
Published on 2/2/2023
Sivanantham A, Alktaish W, Murugeasan S, Gong B, Lee H, Jin Y. Caveolin-1 regulates OMV-induced macrophage pro-inflammatory activation and multiple Toll-like receptors. Front Immunol. 2023; 14:1044834. PMID: 36817491.
Published on 1/7/2023
Bei J, Qiu Y, Cockrell D, Chang Q, Husseinzadeh S, Zhou C, Gaitas A, Fang X, Jin Y, Khanipov K, Saito TB, Gong B. Identification of common sequence motifs shared exclusively among selectively packed exosomal pathogenic microRNAs during rickettsial infections. bioRxiv. 2023 Jan 07. PMID: 36712112.
Published on 11/24/2022
Park S, Kim M, Park M, Jin Y, Lee SJ, Lee H. Specific upregulation of extracellular miR-6238 in particulate matter-induced acute lung injury and its immunomodulation. J Hazard Mater. 2023 Mar 05; 445:130466. PMID: 36455323.
Published on 6/23/2022
Zhou C, Bei J, Qiu Y, Chang Q, Nyong E, Vasilakis N, Yang J, Krishnan B, Khanipov K, Jin Y, Fang X, Gaitas A, Gong B. Exosomally Targeting microRNA23a Ameliorates Microvascular Endothelial Barrier Dysfunction Following Rickettsial Infection. Front Immunol. 2022; 13:904679. PMID: 35812423.
Published on 5/7/2022
Sivanantham A, Jin Y. Impact of Storage Conditions on EV Integrity/Surface Markers and Cargos. Life (Basel). 2022 May 07; 12(5). PMID: 35629364.
Published on 4/26/2022
Sivanantham A., Lee H., Jin Y. . Extracellular Vesicles in Diagnosis and Therapy. Methods in Molecular Biology, vol 2504. Humana, New York, NY. https://doi.org/10.1007/978-1-0716-2341-1_10 Federico M., Ridolfi B. (editors). Direct Detection of Extracellular Vesicle miRNAs Using a Single-Step RT-qPCR Assay. Humana, New York, NY. New York. 2022; vol 2504:137-145.
Published on 4/26/2022
Carnino JM, Lee H, Smith LC, Sunil VR, Rancourt RC, Vayas K, Cervelli J, Kwok ZH, Ni K, Laskin JD, Jin Y, Laskin DL. Microvesicle-Derived miRNAs Regulate Proinflammatory Macrophage Activation in the Lung Following Ozone Exposure. Toxicol Sci. 2022 Apr 26; 187(1):162-174. PMID: 35201360.
Published on 7/23/2021
Carnino JM, Hao Kwok Z, Jin Y. Extracellular Vesicles: A Novel Opportunity for Precision Medicine in Respiratory Diseases. Front Med (Lausanne). 2021; 8:661679. PMID: 34368181.
Published on 5/11/2021
Liu Y, Zhou C, Su Z, Chang Q, Qiu Y, Bei J, Gaitas A, Xiao J, Drelich A, Khanipov K, Jin Y, Golovko G, Saito TB, Gong B. Endothelial Exosome Plays a Functional Role during Rickettsial Infection. mBio. 2021 05 11; 12(3). PMID: 33975935.
View full list of 82 publications.