Westyn Branch-Elliman MD, MMSc
Adjunct Instructor, General Internal Medicine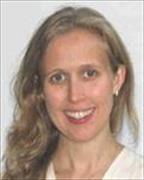 Sections
General Internal Medicine
Biography
I am a physician investigator who focuses on optimizing healthcare resource utilization and expanding infection prevention programs beyond traditional boundaries. My research projects include epidemiologic and economic evaluations of postpartum breast infections, comparative and cost-effectiveness evaluations of preventions designed to reduce healthcare-associated infections (HAI), and development of novel electronic tools for improved HAI detection. The majority of my time is dedicated to clinical research. I also see patients and teach medical students, residents and infectious diseases fellows. In my previous role as the Medical Director of Infection Prevention at the Eastern Colorado VA Healthcare System, I dedicated significant effort to administrative responsibilities, including healthcare epidemiology and antimicrobial stewardship.
Education
Medicine, MD, Northwestern University School of Medicine, 2006
Clinical Evaluation/Research, MMS/MMSc, Harvard Medical School, 2012
Cell & Molecular Biology, BA, University of California, Berkeley, 2002
Publications
Published on 4/29/2023
Branch-Elliman W, Monach PA. Moving towards a precision approach for prevention of severe COVID-19. Lancet. 2023 Apr 29; 401(10386):1423-1424. PMID: 37120280.
Published on 4/26/2023
Monach PA, Branch-Elliman W. More data needed on efficacy and safety of monovalent vaccines against SARS-CoV-2 omicron variants. Lancet Infect Dis. 2023 Apr 26. PMID: 37119830.
Published on 4/19/2023
Ertem Z, Nelson RE, Schechter-Perkins EM, Al-Amery A, Zhang X, Branch-Elliman W. Condition-Dependent and Dynamic Impacts of Indoor Masking Policies for COVID-19 Mitigation: A Nationwide, Interrupted Time-Series Analysis. Clin Infect Dis. 2023 Apr 19. PMID: 37072937.
Published on 4/18/2023
Shenoy ES, Babcock HM, Brust KB, Calderwood MS, Doron S, Malani AN, Wright SB, Branch-Elliman W. Universal Masking in Health Care Settings: A Pandemic Strategy Whose Time Has Come and Gone, For Now. Ann Intern Med. 2023 Apr 18. PMID: 37068281.
Published on 4/10/2023
Beaudette-Zlatanova B, Lew RA, Otis JD, Branch-Elliman W, Bacorro E, Dubreuil M, Eyvazzadeh C, Kaur M, Lazzari AA, Libbey C, Monach PA. Pilot Study of Low-Dose Naltrexone for the Treatment of Chronic Pain Due to Arthritis: A Randomized, Double-blind, Placebo-Controlled, Crossover Clinical Trial. Clin Ther. 2023 Apr 10. PMID: 37045708.
Published on 4/3/2023
Schrank GM, Branch-Elliman W, Leekha S, Baghdadi J, Pineles L, Harris AD, Morgan DJ. Perceptions of Health Care-Associated Infection Metrics by Infection Control Experts. JAMA Netw Open. 2023 Apr 03; 6(4):e238952. PMID: 37074719.
Published on 3/1/2023
Larnard J, Stead W, Branch-Elliman W. Considering Patient, Family, and Provider Goals and Expectations in a Rapidly Changing Clinical Context: A Framework for Antimicrobial Stewardship at the End of Life. Infect Dis Clin North Am. 2023 Mar; 37(1):139-151. PMID: 36805010.
Published on 2/25/2023
Bart N, Mull HJ, Higgins M, Sturgeon D, Hederstedt K, Lamkin R, Sullivan B, Branch-Elliman W, Foster M. Development of a Periprocedure Trigger for Outpatient Interventional Radiology Procedures in the Veterans Health Administration. J Patient Saf. 2023 Apr 01; 19(3):185-192. PMID: 36849447.
Published on 2/21/2023
Higgins MCSS, Seren A, Foster MV, Sturgeon DJ, Bart N, Hederstedt K, Friefeld A, Lamkin RP, Sullivan BA, Branch-Elliman W, Mull HJ. Arteriovenous Graft Failure in the Veterans Health Administration: Outcome Disparities Associated with Race. Radiology. 2023 May; 307(3):e220619. PMID: 36809217.
Published on 2/10/2023
Branch-Elliman W, Sundermann AJ, Wiens J, Shenoy ES. The future of automated infection detection: Innovation to transform practice (Part III/III). Antimicrob Steward Healthc Epidemiol. 2023; 3(1):e26. PMID: 36865708.
View full list of 101 publications.