Westyn Branch-Elliman MD, MMSc
Adjunct Instructor, General Internal Medicine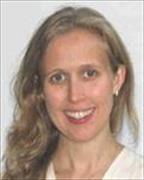 Sections
General Internal Medicine
Biography
I am a physician investigator who focuses on optimizing healthcare resource utilization and expanding infection prevention programs beyond traditional boundaries. My research projects include epidemiologic and economic evaluations of postpartum breast infections, comparative and cost-effectiveness evaluations of preventions designed to reduce healthcare-associated infections (HAI), and development of novel electronic tools for improved HAI detection. The majority of my time is dedicated to clinical research. I also see patients and teach medical students, residents and infectious diseases fellows. In my previous role as the Medical Director of Infection Prevention at the Eastern Colorado VA Healthcare System, I dedicated significant effort to administrative responsibilities, including healthcare epidemiology and antimicrobial stewardship.
Education
Medicine, MD, Northwestern University School of Medicine, 2006
Clinical Evaluation/Research, MMS/MMSc, Harvard Medical School, 2012
Cell & Molecular Biology, BA, University of California, Berkeley, 2002
Publications
Published on 9/15/2021
Branch-Elliman W, Schechter-Perkins EM, Jack RS, van den Berg P, Epshtein I, Nelson R, Oster E. Reply to Authors. Clin Infect Dis. 2021 09 15; 73(6):e1405-e1407. PMID: 33895805.
Published on 9/14/2021
Monach PA, Branch-Elliman W. Reconsidering 'minimal risk' to expand the repertoire of trials with waiver of informed consent for research. BMJ Open. 2021 Sep 14; 11(9):e048534. PMID: 34521663.
Published on 8/19/2021
Monach PA, Branch-Elliman W. Aspirin Dosing in Cardiovascular Disease. N Engl J Med. 2021 Aug 19; 385(8):764. PMID: 34407351.
Published on 8/19/2021
Earle W, Bonegio RGB, Smith DB, Branch-Elliman W. Plazomicin for the treatment of multidrug-resistant Klebsiella bacteraemia in a patient with underlying chronic kidney disease and acute renal failure requiring renal replacement therapy. BMJ Case Rep. 2021 Aug 19; 14(8). PMID: 34413038.
Published on 7/15/2021
Ertem Z, Schechter-Perkins E, Oster E, van den Berg P, Epshtein I, Chaiyakunapruk N, Wilson F, Perenchevich E, Pettey W, Branch-Elliman W, Nelson R. The Impact of School Opening Model on SARS-CoV-2 Community Incidence and Mortality: A Nationwide Cohort Study. Res Sq. 2021 Jul 15. PMID: 34282412.
Published on 6/26/2021
Woods P, Flynn M, Monach P, Visnaw K, Schiller S, Holmberg E, Leatherman S, Ferguson R, Branch-Elliman W. Implementation of documented and written informed consent for clinical trials of communicable diseases: Lessons learned, barriers, solutions, future directions identified during the conduct of a COVID-19 clinical trial. Contemp Clin Trials Commun. 2021 Sep; 23:100804. PMID: 34222708.
Published on 5/14/2021
Branch-Elliman W, Jack RS, Schechter-Perkins EM, van den Berg P, Epshtein I, Oster E, Nelson R. Reply to Author. Clin Infect Dis. 2021 May 14. PMID: 33988221.
Published on 4/7/2021
Asundi A, Resnik J, Benedict PA, Shin M, Rani Elwy A, Branch-Elliman W. How Are Emerging Data Translated Into Clinical Practice? A Mixed Methods Investigation of Coronavirus Disease 2019 Institutional Treatment Protocols. Open Forum Infect Dis. 2021 Apr; 8(4):ofab072. PMID: 33855102.
Published on 3/10/2021
van den Berg P, Schechter-Perkins EM, Jack RS, Epshtein I, Nelson R, Oster E, Branch-Elliman W. Effectiveness of three versus six feet of physical distancing for controlling spread of COVID-19 among primary and secondary students and staff: A retrospective, state-wide cohort study. Clin Infect Dis. 2021 Mar 10. PMID: 33704422.
Published on 2/23/2021
Suzuki H, Clore GS, Perencevich EN, Hockett-Sherlock SM, Goto M, Nair R, Branch-Elliman W, Richardson KK, Gupta K, Beck BF, Alexander B, Balkenende EC, Schweizer ML. Development of a fully automated surgical site infection detection algorithm for use in cardiac and orthopedic surgery research. Infect Control Hosp Epidemiol. 2021 Oct; 42(10):1215-1220. PMID: 33618788.
View full list of 62 publications.