Vijaya B. Kolachalama PhD, FAHA
Assistant Professor, Computational Biomedicine
Founding Assistant Professor, Computing & Data Sciences Administration
72 East Concord Street | (617) 358-7253

vkola@bu.edu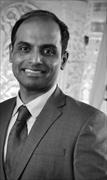 Sections
Computational Biomedicine
Centers
Whitaker Cardiovascular Institute
Evans Center for Interdisciplinary Biomedical Research
Biography
The Kolachalama laboratory is broadly focused on developing advanced machine learning algorithms to tackle complex biomedical datasets, with particular emphasis on medical imaging.

Phenotyping neurodegeneration using machine learning: We build machine learning frameworks to process multimodal data and identify specific signatures of neurodegeneration. We have experience in dealing with large data cohorts such as the Framingham Heart Study and established several computational pipelines to efficiently process volumetric images of the brain, neuropathology and other modes of data and use them for further analysis.

Digital pathology: We develop computational frameworks based on deep learning to assist the pathologist. Our current application areas include kidney disease, lung cancer and colorectal cancer. 

Machine learning for musculoskeletal diseases: We develop machine learning frameworks to bring efficiency to the analysis of large-scale studies such as Osteoarthritis Initiative (OAI) and Multicenter osteoarthritis (MOST) study. We are particularly interested to quantify structures that are responsible for pain and factors that contribute to the progression of knee osteoarthritis.

Devices, drugs and interfaces: We use a multidisciplinary approach to quantify device-artery interactions and the interfacial mechanisms driving the performance of endovascular devices. Previous studies by us and our collaborators have explained the role of physiologic factors in modulating spatiotemporal arterial distribution patterns for drug-eluting devices as a function of intrinsic device design, relative device position and pulsatile nature of blood flow. We have extended models simulating idealized settings of physiology to real world issues and further examine arterial tissue response that varies due to procedural settings, device composition, arterial wall ultrastructure and disease, physiologic changes within complex vascular anatomies, vascular injury and the mode of drug delivery.
Websites
Education
BS, Indian Institute of Technology, Kharagpur, India
PhD, University of Southampton, UK
Publications
Published on 8/31/2021
Xue C, Karjadi C, Paschalidis IC, Au R, Kolachalama VB. Detection of dementia on voice recordings using deep learning: a Framingham Heart Study. Alzheimers Res Ther. 2021 08 31; 13(1):146. PMID: 34465384.
Published on 7/28/2021
Zhang JD, Baker MJ, Liu Z, Kabir KMM, Kolachalama VB, Yates DH, Donald WA. Medical diagnosis at the point-of-care by portable high-field asymmetric waveform ion mobility spectrometry: a systematic review and meta-analysis. J Breath Res. 2021 Jul 28; 15(4). PMID: 34252887.
Published on 7/1/2021
Xu D, Zhou F, Sun W, Chen L, Lan L, Li H, Xiao F, Li Y, Kolachalama VB, Li Y, Wang X, Xu H. Relationship Between Serum Severe Acute Respiratory Syndrome Coronavirus 2 Nucleic Acid and Organ Damage in Coronavirus 2019 Patients: A Cohort Study. Clin Infect Dis. 2021 07 01; 73(1):68-75. PMID: 32720678.
Published on 5/23/2021
Zheng Y, Cassol CA, Jung S, Veerapaneni D, Chitalia VC, Ren KYM, Bellur SS, Boor P, Barisoni LM, Waikar SS, Betke M, Kolachalama VB. Deep-Learning-Driven Quantification of Interstitial Fibrosis in Digitized Kidney Biopsies. Am J Pathol. 2021 08; 191(8):1442-1453. PMID: 34033750.
Published on 5/17/2021
Weizenbaum EL, Fulford D, Torous J, Pinsky E, Kolachalama VB, Cronin-Golomb A. Smartphone-Based Neuropsychological Assessment in Parkinson's Disease: Feasibility, Validity, and Contextually Driven Variability in Cognition. J Int Neuropsychol Soc. 2021 May 17; 1-13. PMID: 33998438.
Published on 5/11/2021
Chang GH, Park LK, Le NA, Jhun RS, Surendran T, Lai J, Seo H, Promchotichai N, Yoon G, Scalera J, Capellini TD, Felson DT, Kolachalama VB. Subchondral bone length in knee osteoarthritis: A deep learning derived imaging measure and its association with radiographic and clinical outcomes. Arthritis Rheumatol. 2021 May 11. PMID: 33973737.
Published on 3/14/2021
Zhou X, Qiu S, Joshi PS, Xue C, Killiany RJ, Mian AZ, Chin SP, Au R, Kolachalama VB. Enhancing magnetic resonance imaging-driven Alzheimer's disease classification performance using generative adversarial learning. Alzheimers Res Ther. 2021 03 14; 13(1):60. PMID: 33715635.
Published on 1/1/2021
Amini S, Zhang L, Hao B, Gupta A, Song M, Karjadi C, Lin H, Kolachalama VB, Au R, Paschalidis IC. An Artificial Intelligence-Assisted Method for Dementia Detection Using Images from the Clock Drawing Test. J Alzheimers Dis. 2021; 83(2):581-589. PMID: 34334396.
Published on 12/1/2020
Chang GH, Felson DT, Qiu S, Guermazi A, Capellini TD, Kolachalama VB. Correction to: Assessment of knee pain from MR imaging using a convolutional Siamese network. Eur Radiol. 2020 Dec; 30(12):6968. PMID: 32700018.
Published on 6/1/2020
Qiu S, Joshi PS, Miller MI, Xue C, Zhou X, Karjadi C, Chang GH, Joshi AS, Dwyer B, Zhu S, Kaku M, Zhou Y, Alderazi YJ, Swaminathan A, Kedar S, Saint-Hilaire MH, Auerbach SH, Yuan J, Sartor EA, Au R, Kolachalama VB. Development and validation of an interpretable deep learning framework for Alzheimer's disease classification. Brain. 2020 06 01; 143(6):1920-1933. PMID: 32357201.
View full list of 52 publications.