Vijaya B. Kolachalama PhD, FAHA
Associate Professor, Computational Biomedicine
Assistant Professor, Computing & Data Sciences Administration
72 East Concord Street | (617) 358-7253

vkola@bu.edu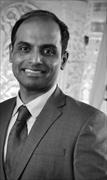 Sections
Computational Biomedicine
Centers
Whitaker Cardiovascular Institute
Evans Center for Interdisciplinary Biomedical Research
Biography
Our mission is to create methods to fit the science and not make science fit the methods.

Specifically, we are interested in the following questions that have clinical relevance:
Neurodegeneration – How can we develop software frameworks that can assist dementia screening in various settings?
Digital pathology – How can we build clinical-grade software tools to complement the pathologist workflow?

We are also interested in the following frameworks that have computational relevance:
Domain generalization – Development of deep neural networks that can generalize well across multiple data cohorts
Representation learning – Construction of efficient neural models on high resolution data to process local and contextual information
Websites
Education
BS, Indian Institute of Technology, Kharagpur, India
PhD, University of Southampton, UK
Publications
Published on 10/27/2022
Zheng Y, Gindra RH, Green EJ, Burks EJ, Betke M, Beane JE, Kolachalama VB. A Graph-Transformer for Whole Slide Image Classification. IEEE Trans Med Imaging. 2022 Nov; 41(11):3003-3015. PMID: 35594209.
Published on 7/7/2022
Amini S, Hao B, Zhang L, Song M, Gupta A, Karjadi C, Kolachalama VB, Au R, Paschalidis IC. Automated detection of mild cognitive impairment and dementia from voice recordings: A natural language processing approach. Alzheimers Dement. 2022 Jul 07. PMID: 35796399.
Published on 7/1/2022
Griffith KN, Schwartzman DA, Pizer SD, Bor J, Kolachalama VB, Jack B, Garrido MM. Local Supply Of Postdischarge Care Options Tied To Hospital Readmission Rates. Health Aff (Millwood). 2022 Jul; 41(7):1036-1044. PMID: 35787076.
Published on 6/20/2022
Qiu S, Miller MI, Joshi PS, Lee JC, Xue C, Ni Y, Wang Y, De Anda-Duran I, Hwang PH, Cramer JA, Dwyer BC, Hao H, Kaku MC, Kedar S, Lee PH, Mian AZ, Murman DL, O'Shea S, Paul AB, Saint-Hilaire MH, Alton Sartor E, Saxena AR, Shih LC, Small JE, Smith MJ, Swaminathan A, Takahashi CE, Taraschenko O, You H, Yuan J, Zhou Y, Zhu S, Alosco ML, Mez J, Stein TD, Poston KL, Au R, Kolachalama VB. Multimodal deep learning for Alzheimer's disease dementia assessment. Nat Commun. 2022 Jun 20; 13(1):3404. PMID: 35725739.
Published on 5/4/2022
Kolachalama VB. Machine learning and pre-medical education. Artif Intell Med. 2022 Jul; 129:102313. PMID: 35659392.
Published on 2/28/2022
De Anda-Duran I, Alonso CF, Libon DJ, Carmichael OT, Kolachalama VB, Suglia SF, Au R, Bazzano LA. Carotid Intima-Media Thickness and Midlife Cognitive Function: Impact of Race and Social Disparities in the Bogalusa Heart Study. Neurology. 2022 May 03; 98(18):e1828-e1836. PMID: 35228334.
Published on 1/13/2022
Au R, Kolachalama VB, Paschalidis IC. Redefining and Validating Digital Biomarkers as Fluid, Dynamic Multi-Dimensional Digital Signal Patterns. Front Digit Health. 2021; 3:751629. PMID: 35146485.
Published on 1/4/2022
Romano MF, Kolachalama VB. Deep learning for subtyping the Alzheimer's disease spectrum. Trends Mol Med. 2022 02; 28(2):81-83. PMID: 34996710.
Published on 10/29/2021
Chang GH, Park LK, Le NA, Jhun RS, Surendran T, Lai J, Seo H, Promchotichai N, Yoon G, Scalera J, Capellini TD, Felson DT, Kolachalama VB. Subchondral Bone Length in Knee Osteoarthritis: A Deep Learning-Derived Imaging Measure and Its Association With Radiographic and Clinical Outcomes. Arthritis Rheumatol. 2021 12; 73(12):2240-2248. PMID: 33973737.
Published on 8/31/2021
Xue C, Karjadi C, Paschalidis IC, Au R, Kolachalama VB. Detection of dementia on voice recordings using deep learning: a Framingham Heart Study. Alzheimers Res Ther. 2021 08 31; 13(1):146. PMID: 34465384.
View full list of 61 publications.