Vasan S. Ramachandran MD
Section Chief, Preventive Medicine & Epidemiology
Professor, Preventive Medicine & Epidemiology
72 E. Concord Street | (617) 358-1310

vasan@bu.edu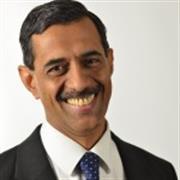 Sections
Preventive Medicine & Epidemiology
Centers
Whitaker Cardiovascular Institute
Framingham Heart Study
Evans Center for Interdisciplinary Biomedical Research
Biography
Vasan S. Ramachandran, M.D., Principal Investigator and Director of the FHS, and Director of the FHS fellowship program in cardiovascular epidemiology for the last 25 years.

Dr. Ramachandran is a Professor of Medicine and Epidemiology at BUSM/BUSPH, and Chief, Section of Preventive Medicine and Epidemiology, Department of Medicine, BUSM. He is the Jay & Louis Coffman Professor of Vascular Medicine at BUSM. Dr. Ramachandran is a trained cardiologist with subspecialty training in echocardiography. He is a fellow of the AHA Councils on Epidemiology and Prevention and Functional Genomics and Translational Biology, and a fellow of the American College of Cardiology (ACC). He has extensive experience in supervising trainees at many levels and has taught the foundational core course on Cardiovascular Epidemiology at BUSPH (EP751). He has several active R01 grants from the NHLBI/NIDDK and received two K24 Mid-Career Investigator mentoring grants from the NHLBI. He has mentored several K23 awardees, and is currently the Principal Investigator of a post-doctoral training program (T32) in cardiovascular epidemiology. Overall, he has supervised over 70 trainees during the past 20 years; most are in key positions in academia. He received the Outstanding Mentor awards from the Department of Medicine, BUSM, and the AHA Council on Epidemiology and Prevention, and the prestigious AHA Population Science Award in 2014.

Importantly, Dr. Ramachandran's own peer-reviewed funding spans thematic areas of genetics and genomics, cardiac and vascular remodeling, novel biomarkers, systems biology including proteomics and metabolomics, and stem cell biology. He has a 25-year history in research in cardiovascular epidemiology, including the two years he trained as a FHS fellow (1993-1995). He established the first School of Public Health in India between 1996-1998, serving as its inaugural director and the coordinator of its MPH program. He is the founding member and leader of the international EchoGen consortium, and chairs the Steering Committee of the Chronic Kidney Disease Biomarker Consortium funded by the NIDDK (U01DK085689). He is recognized internationally for translational research in cardiovascular epidemiology and lectures regularly at the AHA early career session on "how to develop a career in translational research and epidemiology/genetics." He is well equipped to mentor trainees about grant writing having been a member of the Cardiovascular and Sleep (CASE) SRG, and an active reviewer of grants for national and international funding agencies. He served for many years on the NHLBI panel for reviewing K23-K24-K25 career development grants. He is well qualified to mentor trainees in best publication practices and has served until recently as an Associate Editor for Circulation, and the Editor-in-Chief of Circulation: Cardiovascular Genetics. He works directs the Center for Integrative Transdisciplinary Epidemiology within BUSM, that hosts multiple epidemiological datasets, including from multiple cohort studies, national surveys (NHANES), administrative databases and electronic health records; this center will be a valuable data source for trainees.

For the last 20 years, Dr. Ramachandran has focused his research on A) the genetic and non-genetic epidemiology of congestive heart failure, including identifying risk factors for the disease, characterizing the subgroups with diastolic heart failure, asymptomatic LV systolic and diastolic dysfunction, and evaluating the role of LV remodeling; B) population-based vascular testing and echocardiography, including identifying biological, environmental, and genetic determinants (correlates) of cardiac structure and function; normative standards; detailed assessment of biomarkers of the process of LV remodeling, including but not limited to role of natriuretic peptides, insulin resistance, cardiac extracellular matrix markers, oxidative stress, inflammation, growth factors; genetics of LV remodeling, LA and aortic structure and gene-environment interactions; brachial artery endothelial function, its correlates and tonometric assessment of large artery function; C) genetic and non-genetic epidemiology of high blood pressure, including characterizing the lifetime risk, rates of progression and risks associated with various degrees of elevation; large artery stiffness and function and role in systolic hypertension in the elderly; genetics of high blood pressure and large artery function; and D) CVD risk estimation in the short, medium- and long-term, with novel biomarkers including genomic biomarkers.
Other Positions
Jay & Louis Coffman Professor of Vascular Medicine, Medicine
Websites
Education
Medicine-Internal, MD, All India Institute of Medical Science (AIIMS), 1986
Medicine, MBBS, All India Institute of Medical Science (AIIMS), 1982
Medicine, DM, All India Institute of Medical Science (AIIMS), 1990
Publications
Published on 1/6/2021
Lin BM, Grinde KE, Brody JA, Breeze CE, Raffield LM, Mychaleckyj JC, Thornton TA, Perry JA, Baier LJ, de Las Fuentes L, Guo X, Heavner BD, Hanson RL, Hung YJ, Qian H, Hsiung CA, Hwang SJ, Irvin MR, Jain D, Kelly TN, Kobes S, Lange L, Lash JP, Li Y, Liu X, Mi X, Musani SK, Papanicolaou GJ, Parsa A, Reiner AP, Salimi S, Sheu WH, Shuldiner AR, Taylor KD, Smith AV, Smith JA, Tin A, Vaidya D, Wallace RB, Yamamoto K, Sakaue S, Matsuda K, Kamatani Y, Momozawa Y, Yanek LR, Young BA, Zhao W, Okada Y, Abecasis G, Psaty BM, Arnett DK, Boerwinkle E, Cai J, Yii-Der Chen I, Correa A, Cupples LA, He J, Kardia SL, Kooperberg C, Mathias RA, Mitchell BD, Nickerson DA, Turner ST, Vasan RS, Rotter JI, Levy D, Kramer HJ, Köttgen A, Nhlbi Trans-Omics For Precision Medicine TOPMed Consortium, TOPMed Kidney Working Group, Rich SS, Lin DY, Browning SR, Franceschini N. Whole genome sequence analyses of eGFR in 23,732 people representing multiple ancestries in the NHLBI trans-omics for precision medicine (TOPMed) consortium. EBioMedicine. 2021 Jan; 63:103157. PMID: 33418499.
Published on 12/8/2020
Vasan RS, Zachariah JP, Xanthakis V. Life Course Developmental Approach to Cardiovascular Health and Cardiovascular Disease Prevention: Opportunities and Unanswered Questions. J Am Coll Cardiol. 2020 12 08; 76(23):2708-2711. PMID: 33272364.
Published on 11/23/2020
Surendran P, Feofanova EV, Lahrouchi N, Ntalla I, Karthikeyan S, Cook J, Chen L, Mifsud B, Yao C, Kraja AT, Cartwright JH, Hellwege JN, Giri A, Tragante V, Thorleifsson G, Liu DJ, Prins BP, Stewart ID, Cabrera CP, Eales JM, Akbarov A, Auer PL, Bielak LF, Bis JC, Braithwaite VS, Brody JA, Daw EW, Warren HR, Drenos F, Nielsen SF, Faul JD, Fauman EB, Fava C, Ferreira T, Foley CN, Franceschini N, Gao H, Giannakopoulou O, Giulianini F, Gudbjartsson DF, Guo X, Harris SE, Havulinna AS, Helgadottir A, Huffman JE, Hwang SJ, Kanoni S, Kontto J, Larson MG, Li-Gao R, Lindström J, Lotta LA, Lu Y, Luan J, Mahajan A, Malerba G, Masca NGD, Mei H, Menni C, Mook-Kanamori DO, Mosen-Ansorena D, Müller-Nurasyid M, Paré G, Paul DS, Perola M, Poveda A, Rauramaa R, Richard M, Richardson TG, Sepúlveda N, Sim X, Smith AV, Smith JA, Staley JR, Stanáková A, Sulem P, Thériault S, Thorsteinsdottir U, Trompet S, Varga TV, Velez Edwards DR, Veronesi G, Weiss S, Willems SM, Yao J, Young R, Yu B, Zhang W, Zhao JH, Zhao W, Zhao W, Evangelou E, Aeschbacher S, Asllanaj E, Blankenberg S, Bonnycastle LL, Bork-Jensen J, Brandslund I, Braund PS, Burgess S, Cho K, Christensen C, Connell J, Mutsert R, Dominiczak AF, Dörr M, Eiriksdottir G, Farmaki AE, Gaziano JM, Grarup N, Grove ML, Hallmans G, Hansen T, Have CT, Heiss G, Jørgensen ME, Jousilahti P, Kajantie E, Kamat M, Käräjämäki A, Karpe F, Koistinen HA, Kovesdy CP, Kuulasmaa K, Laatikainen T, Lannfelt L, Lee IT, Lee WJ, Linneberg A, Martin LW, Moitry M, Nadkarni G, Neville MJ, Palmer CNA, Papanicolaou GJ, Pedersen O, Peters J, Poulter N, Rasheed A, Rasmussen KL, Rayner NW, Mägi R, Renström F, Rettig R, Rossouw J, Schreiner PJ, Sever PS, Sigurdsson EL, Skaaby T, Sun YV, Sundstrom J, Thorgeirsson G, Esko T, Trabetti E, Tsao PS, Tuomi T, Turner ST, Tzoulaki I, Vaartjes I, Vergnaud AC, Willer CJ, Wilson PWF, Witte DR, Yonova-Doing E, Zhang H, Aliya N, Almgren P, Amouyel P, Asselbergs FW, Barnes MR, Blakemore AI, Boehnke M, Bots ML, Bottinger EP, Buring JE, Chambers JC, Chen YI, Chowdhury R, Conen D, Correa A, Davey Smith G, Boer RA, Deary IJ, Dedoussis G, Deloukas P, Di Angelantonio E, Elliott P, Felix SB, Ferrières J, Ford I, Fornage M, Franks PW, Franks S, Frossard P, Gambaro G, Gaunt TR, Groop L, Gudnason V, Harris TB, Hayward C, Hennig BJ, Herzig KH, Ingelsson E, Tuomilehto J, Järvelin MR, Jukema JW, Kardia SLR, Kee F, Kooner JS, Kooperberg C, Launer LJ, Lind L, Loos RJF, Majumder AAS, Laakso M, McCarthy MI, Melander O, Mohlke KL, Murray AD, Nordestgaard BG, Orho-Melander M, Packard CJ, Padmanabhan S, Palmas W, Polasek O, Porteous DJ, Prentice AM, Province MA, Relton CL, Rice K, Ridker PM, Rolandsson O, Rosendaal FR, Rotter JI, Rudan I, Salomaa V, Samani NJ, Sattar N, Sheu WH, Smith BH, Soranzo N, Spector TD, Starr JM, Sebert S, Taylor KD, Lakka TA, Timpson NJ, Tobin MD, van der Harst P, van der Meer P, Ramachandran VS, Verweij N, Virtamo J, Völker U, Weir DR, Zeggini E, Charchar FJ, Wareham NJ, Langenberg C, Tomaszewski M, Butterworth AS, Caulfield MJ, Danesh J, Edwards TL, Holm H, Hung AM, Lindgren CM, Liu C, Manning AK, Morris AP, Morrison AC, O'Donnell CJ, Psaty BM, Saleheen D, Stefansson K, Boerwinkle E, Chasman DI, Levy D, Newton-Cheh C, Munroe PB, Howson JMM. Discovery of rare variants associated with blood pressure regulation through meta-analysis of 1.3 million individuals. Nat Genet. 2020 12; 52(12):1314-1332. PMID: 33230300.
Published on 10/20/2020
Sanders JL, Putman RK, Dupuis J, Xu H, Murabito JM, Araki T, Nishino M, Benjamin EJ, Levy DL, Vasan RS, Washko GR, Curtis JL, Freeman CM, Bowler R, Hatabu H, O'Connor GT, Hunninghake GM. The Association of Aging Biomarkers, Interstitial Lung Abnormalities, and Mortality. Am J Respir Crit Care Med. 2020 Oct 20. PMID: 33080140.
Published on 10/1/2020
Khera R, Pandey A, Ayers CR, Carnethon MR, Greenland P, Ndumele CE, Nambi V, Seliger SL, Chaves PHM, Safford MM, Cushman M, Xanthakis V, Vasan RS, Mentz RJ, Correa A, Lloyd-Jones DM, Berry JD, de Lemos JA, Neeland IJ. Performance of the Pooled Cohort Equations to Estimate Atherosclerotic Cardiovascular Disease Risk by Body Mass Index. JAMA Netw Open. 2020 10 01; 3(10):e2023242. PMID: 33119108.
Published on 9/2/2020
Cooper LL, Musani SK, Moore JA, Clarke VA, Yano Y, Cobbs K, Tsao CW, Butler J, Hall ME, Hamburg NM, Benjamin EJ, Vasan RS, Mitchell GF, Fox ER. Clinical Associations of Vascular Stiffness, Microvascular Dysfunction, and Prevalent Cardiovascular Disease in a Black Cohort: The Jackson Heart Study. J Am Heart Assoc. 2020 09 15; 9(18):e017018. PMID: 32873113.
Published on 3/31/2020
Greenberg JH, Abraham AG, Xu Y, Schelling JR, Feldman HI, Sabbisetti VS, Gonzalez MC, Coca S, Schrauben SJ, Waikar SS, Ramachandran VS, Shlipak MG, Warady B, Kimmel PL, Bonventre JV, Denburg M, Parikh CR, Furth S. Plasma Biomarkers of Tubular Injury and Inflammation Are Associated with CKD Progression in Children. J Am Soc Nephrol. 2020 05; 31(5):1067-1077. PMID: 32234829.
Published on 2/15/2020
So-Armah KA, Lim JK, Lo Re V, Tate JP, Chang CH, Butt AA, Gibert CL, Rimland D, Marconi VC, Goetz MB, Ramachandran V, Brittain E, Long M, Nguyen KL, Rodriguez-Barradas MC, Budoff MJ, Tindle HA, Samet JH, Justice AC, Freiberg MS. FIB-4 stage of liver fibrosis is associated with incident heart failure with preserved, but not reduced, ejection fraction among people with and without HIV or hepatitis C. Prog Cardiovasc Dis. 2020 Mar - Apr; 63(2):184-191. PMID: 32068085.
Published on 3/1/2019
Xu J, Gaddis NC, Bartz TM, Hou R, Manichaikul AW, Pankratz N, Smith AV, Sun F, Terzikhan N, Markunas CA, Patchen BK, Schu M, Beydoun MA, Brusselle GG, Eiriksdottir G, Zhou X, Wood AC, Graff M, Harris TB, Ikram MA, Jacobs DR, Launer LJ, Lemaitre RN, O'Connor GT, Oelsner EC, Psaty BM, Vasan RS, Rohde RR, Rich SS, Rotter JI, Seshadri S, Smith LJ, Tiemeier H, Tsai MY, Uitterlinden AG, Voruganti VS, Xu H, Zilhão NR, Fornage M, Zillikens MC, London SJ, Barr RG, Dupuis J, Gharib SA, Gudnason V, Lahousse L, North KE, Steffen LM, Cassano PA, Hancock DB. Omega-3 Fatty Acids and Genome-Wide Interaction Analyses Reveal DPP10-Pulmonary Function Association. Am J Respir Crit Care Med. 2019 03 01; 199(5):631-642. PMID: 30199657.
Published on 12/19/2018
Harris WS, Tintle NL, Ramachandran VS. Erythrocyte n-6 Fatty Acids and Risk for Cardiovascular Outcomes and Total Mortality in the Framingham Heart Study. Nutrients. 2018 Dec 19; 10(12). PMID: 30572606.
View full list of 797 publications.