Varalakshmi Bandaru MBBS
Instructor, General Internal Medicine
72 E. Concord Street | (408) 800-7831

vbandaru@bu.edu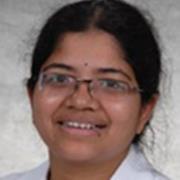 Sections
General Internal Medicine
Websites
Publications
Published on 12/1/2010
Garcia C, Bandaru V, Van Nostrand D, Chennupati S, Atkins F, Acio E, Kulkarni K, Majd M. Effective reduction of brown fat FDG uptake by controlling environmental temperature prior to PET scan: an expanded case series. Mol Imaging Biol. 2010 Dec; 12(6):652-6. PMID: 20237858.
Published on 10/1/2010
Van Nostrand D, Bandaru V, Chennupati S, Wexler J, Kulkarni K, Atkins F, Mete M, Gadwale G. Radiopharmacokinetics of radioiodine in the parotid glands after the administration of lemon juice. Thyroid. 2010 Oct; 20(10):1113-9. PMID: 20883172.
Published on 8/1/2010
Van Nostrand D, Moreau S, Bandaru VV, Atkins F, Chennupati S, Mete M, Burman K, Wartofsky L. (124)I positron emission tomography versus (131)I planar imaging in the identification of residual thyroid tissue and/or metastasis in patients who have well-differentiated thyroid cancer. Thyroid. 2010 Aug; 20(8):879-83. PMID: 20615132.
Published on 9/1/2009
Van Nostrand D, Atkins F, Bandaru VV, Chennupati SP, Moreau S, Burman K, Wartofsky L. Salivary gland protection with sialagogues: a case study. Thyroid. 2009 Sep; 19(9):1005-8. PMID: 19500022.
View full list of 4 publications.