Vaishali Sanchorawala MD
Professor, Hematology & Medical Oncology
Associate Director, Amyloidosis Center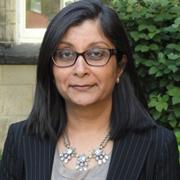 Sections
Hematology & Medical Oncology
Centers
BU-BMC Cancer Center
Amyloidosis Center
Biography
72 East Concord Street, K-503, Boston, MA 02118
820 Harrison Avenue, Boston, MA 02118 (clinic address)

Expertise includes: AL amyloidosis - clinical trials, treatment; Amyloidosis; Stem cell transplantation; Myeloma.

Dr Vaishali Sanchorawala is the Director of Stem Cell Transplantation program at Boston Medical Center; Director of Amyloidosis Center at Chobanian and Avedisian School of Medicine; Skinner Professor of Amyloidosis Research in the Department of Medicine; Associate Editor of Amyloid: The Journal of Protein Folding Disorders and Secretary of the International Society of Amyloidosis for the term 2020-2022.

Her research has led and defined the field in AL amyloidosis. She is recognized as one of the leading international experts and a key opinion leader in amyloidosis. With numerous publications and meeting presentations, she is one of the pioneers in the field of clinical research in AL amyloidosis. Her work in the treatment of AL amyloidosis has resulted in the evolution of the standard of care for these patients. I am currently heading several clinical trials in the treatment of AL amyloidosis, two of which were conducted nationally through the Southwest Oncology Group (SWOG0115 and SWOG1702), completed accrual in a timely fashion and led to publications in a peer-reviewed journals.

Dr Sanchorawala is part of the faculty at major international conferences in amyloidosis and has given many invited talks at national and international meetings. She is active in various non-profit organizations, regulatory authorities, and funding bodies as an expert on amyloidosis. She is at present a member of the Executive Steering Committee of Amyloidosis Research Consortium which is developing pathways to education, patient voice, development of treatment and access to novel therapies. She has participated in meetings with the FDA for enhancing the amyloidosis drug development pathway, guidance for more efficient and successful programs. She serves on the advisory board of number of leading pharmaceutical partners for drugs in AL amyloidosis.

She has helped to create and cultivate the next generation of physician-scientists in the area of clinical research in amyloidosis. She regularly attends a number of patient information seminars and support group meetings in the US. She also created the first "live tweet event" for patients and care givers to ask questions via social media.

Outside of roles of direct research and clinical care, she has an interest inworking in charity organizations. She helps cook meals for ~300 underserved individuals at a meal center in Massachusetts (1-2 times a month) and volunteers regularly at "Cradles to Crayons" charity, non-profit organization.
Other Positions
Websites
Education
MBBS, Seth G.S. Medical College
Publications
Published on 10/24/2023
Gustine JN, Staron A, Mendelson L, Joshi T, Gopal DM, Siddiqi OK, Ruberg FL, Sanchorawala V. Predictors of treatment response and survival outcomes in patients with advanced cardiac AL amyloidosis. Blood Adv. 2023 Oct 24; 7(20):6080-6091. PMID: 37581513.
Published on 10/5/2023
Gertz MA, Cohen AD, Comenzo RL, Kastritis E, Landau HJ, Libby EN, Liedtke M, Sanchorawala V, Schönland S, Wechalekar A, Zonder JA, Palladini G, Walling J, Guthrie S, Nie C, Karp C, Jin Y, Kinney GG, Merlini G. Birtamimab plus standard of care in light-chain amyloidosis: the phase 3 randomized placebo-controlled VITAL trial. Blood. 2023 Oct 05; 142(14):1208-1218. PMID: 37366170.
Published on 8/20/2023
Sarosiek S, Lee MH, Doros G, Edwards CV, Quillen K, Brauneis D, Shelton AC, Sanchorawala V, Sloan JM. Safety and Efficacy of Propylene Glycol-Free Melphalan in Patients with AL Amyloidosis Undergoing Autologous Stem Cell Transplantation: Results of a Phase II Study. Transplant Cell Ther. 2023 Nov; 29(11):695.e1-695.e7. PMID: 37607644.
Published on 7/13/2023
Ghosh S, Villacorta-Martin C, Lindstrom-Vautrin J, Kenney D, Golden CS, Edwards CV, Sanchorawala V, Connors LH, Giadone RM, Murphy GJ. Mapping cellular response to destabilized transthyretin reveals cell- and amyloidogenic protein-specific signatures. Amyloid. 2023 Dec; 30(4):379-393. PMID: 37439769.
Published on 6/28/2023
Adebayo AL, Rowan KE, Sanchorawala V, Boedicker MN, Boedicker DD. Evaluating the Amyloidosis Speakers Bureau: the influence of amyloidosis patients' narratives on medical students' knowledge, attitudes, and behavioral intent. MedEdPublish (2016). 2023; 13:32. PMID: 37753389.
Published on 6/1/2023
Gustine JN, Szalat RE, Staron A, Joshi T, Mendelson L, Sloan JM, Sanchorawala V. Light chain amyloidosis associated with Waldenström macroglobulinemia: treatment and survival outcomes. Haematologica. 2023 Jun 01; 108(6):1680-1684. PMID: 36546447.
Published on 5/18/2023
Rizio AA, White MK, D'Souza A, Hsu K, Schmitt P, Quock TP, Signorovitch J, Lousada I, Sanchorawala V. Health-Related Quality of Life Instruments for Clinical Trials in AL Amyloidosis: Report from the Amyloidosis Forum HRQOL Working Group. Patient Relat Outcome Meas. 2023; 14:153-169. PMID: 37229285.
Published on 5/4/2023
Mendelson L, Prokaeva T, Lau KHV, Sanchorawala V, McCausland K, Spencer B, Dasari S, McPhail ED, Kaku MC. Hereditary gelsolin amyloidosis: a rare cause of cranial, peripheral and autonomic neuropathies linked to D187N and Y447H substitutions. Amyloid. 2023 Dec; 30(4):357-363. PMID: 37140928.
Published on 4/18/2023
Nau A, Shen Y, Sanchorawala V, Prokaeva T, Morgan GJ. Complete variable domain sequences of monoclonal antibody light chains identified from untargeted RNA sequencing data. Front Immunol. 2023; 14:1167235. PMID: 37143670.
Published on 2/28/2023
Sanchorawala V. Eureka Moment-Innovation Comes of an Age in Light Chain Amyloidosis. JCO Oncol Pract. 2023 May; 19(5):276-277. PMID: 36854072.
View full list of 236 publications.