Vaishali Sanchorawala MD
Professor, Hematology & Medical Oncology
Associate Director, Amyloidosis Center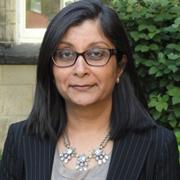 Sections
Hematology & Medical Oncology
Centers
BU-BMC Cancer Center
Amyloidosis Center
Biography
72 East Concord Street, K-503, Boston, MA 02118
820 Harrison Avenue, Boston, MA 02118 (clinic address)

Expertise includes: AL amyloidosis - clinical trials, treatment; Amyloidosis; Stem cell transplantation; Myeloma.

Dr Vaishali Sanchorawala is the Director of Stem Cell Transplantation program at Boston Medical Center; Director of Amyloidosis Center at Boston University School of Medicine; Skinner Professor of Amyloidosis Research in the Department of Medicine; Associate Editor of Amyloid: The Journal of Protein Folding Disorders and Secretary of the International Society of Amyloidosis for the term 2020-2022.

Her research has led and defined the field in AL amyloidosis. She is recognized as one of the leading international experts and a key opinion leader in amyloidosis. With numerous publications and meeting presentations, she is one of the pioneers in the field of clinical research in AL amyloidosis. Her work in the treatment of AL amyloidosis has resulted in the evolution of the standard of care for these patients. I am currently heading several clinical trials in the treatment of AL amyloidosis, two of which were conducted nationally through the Southwest Oncology Group (SWOG0115 and SWOG1702), completed accrual in a timely fashion and led to publications in a peer-reviewed journals.

Dr Sanchorawala is part of the faculty at major international conferences in amyloidosis and has given many invited talks at national and international meetings. She is active in various non-profit organizations, regulatory authorities, and funding bodies as an expert on amyloidosis. She is at present a member of the Executive Steering Committee of Amyloidosis Research Consortium which is developing pathways to education, patient voice, development of treatment and access to novel therapies. She has participated in meetings with the FDA for enhancing the amyloidosis drug development pathway, guidance for more efficient and successful programs. She serves on the advisory board of number of leading pharmaceutical partners for drugs in AL amyloidosis.

She has helped to create and cultivate the next generation of physician-scientists in the area of clinical research in amyloidosis. She regularly attends a number of patient information seminars and support group meetings in the US. She also created the first "live tweet event" for patients and care givers to ask questions via social media.

Outside of roles of direct research and clinical care, she has an interest inworking in charity organizations. She helps cook meals for ~300 underserved individuals at a meal center in Massachusetts (1-2 times a month) and volunteers regularly at "Cradles to Crayons" charity, non-profit organization.
Other Positions
Websites
Education
MBBS, Seth G.S. Medical College, 1988
Publications
Published on 8/4/2021
Staron A, Zheng L, Doros G, Connors LH, Mendelson LM, Joshi T, Sanchorawala V. Marked progress in AL amyloidosis survival: a 40-year longitudinal natural history study. Blood Cancer J. 2021 Aug 04; 11(8):139. PMID: 34349108.
Published on 7/1/2021
Kastritis E, Palladini G, Minnema MC, Wechalekar AD, Jaccard A, Lee HC, Sanchorawala V, Gibbs S, Mollee P, Venner CP, Lu J, Schönland S, Gatt ME, Suzuki K, Kim K, Cibeira MT, Beksac M, Libby E, Valent J, Hungria V, Wong SW, Rosenzweig M, Bumma N, Huart A, Dimopoulos MA, Bhutani D, Waxman AJ, Goodman SA, Zonder JA, Lam S, Song K, Hansen T, Manier S, Roeloffzen W, Jamroziak K, Kwok F, Shimazaki C, Kim JS, Crusoe E, Ahmadi T, Tran N, Qin X, Vasey SY, Tromp B, Schecter JM, Weiss BM, Zhuang SH, Vermeulen J, Merlini G, Comenzo RL. Daratumumab-Based Treatment for Immunoglobulin Light-Chain Amyloidosis. N Engl J Med. 2021 07 01; 385(1):46-58. PMID: 34192431.
Published on 6/24/2021
Dispenzieri A, Kastritis E, Wechalekar AD, Schönland SO, Kim K, Sanchorawala V, Landau HJ, Kwok F, Suzuki K, Comenzo RL, Berg D, Liu G, Kumar A, Faller DV, Merlini G. A randomized phase 3 study of ixazomib-dexamethasone versus physician's choice in relapsed or refractory AL amyloidosis. Leukemia. 2021 Jun 24. PMID: 34168284.
Published on 6/21/2021
Sarosiek S, Varga C, Jacob A, Fulciniti MT, Munshi N, Sanchorawala V. Detection of minimal residual disease by next generation sequencing in AL amyloidosis. Blood Cancer J. 2021 Jun 21; 11(6):117. PMID: 34155198.
Published on 5/27/2021
Milrod CJ, Blevins F, Hughes D, Lerner A, Sarosiek S, Sanchorawala V, Sloan JM. Incidence of skin hyperpigmentation in Black patients receiving treatment with immunomodulatory drugs. Blood. 2021 May 27; 137(21):2987-2989. PMID: 33728443.
Published on 5/27/2021
Nader R, Zhen A, Angel-Korman A, Pavlovich SS, Pogrebinsky A, Doros G, Menn-Josephy H, Stern L, Sanchorawala V, Havasi A. Predictors and outcomes of acute kidney injury during autologous stem cell transplantation in AL amyloidosis. Nephrol Dial Transplant. 2021 May 27. PMID: 34043009.
Published on 5/1/2021
Benbrahim M, Norman K, Sanchorawala V, Siddiqi OK, Hughes D. A Review of Novel Agents and Clinical Considerations in Patients With ATTR Cardiac Amyloidosis. J Cardiovasc Pharmacol. 2021 05 01; 77(5):544-548. PMID: 33657048.
Published on 2/2/2021
Acevedo J, Doros G, Szalat R, Sanchorawala V. Clinical Characteristics, Treatment Regimens, and Survival in Elderly Patients with AL Amyloidosis. Clin Lymphoma Myeloma Leuk. 2021 06; 21(6):425-426. PMID: 33622658.
Published on 1/11/2021
Premkumar VJ, Lentzsch S, Pan S, Bhutani D, Richter J, Jagannath S, Liedtke M, Jaccard A, Wechalekar AD, Comenzo R, Sanchorawala V, Royer B, Rosenzweig M, Valent J, Schönland S, Fonseca R, Wong S, Kapoor P. Venetoclax induces deep hematologic remissions in t(11;14) relapsed/refractory AL amyloidosis. Blood Cancer J. 2021 01 11; 11(1):10. PMID: 33431806.
Published on 1/7/2021
Palladini G, Schönland SO, Sanchorawala V, Kumar S, Wechalekar A, Hegenbart U, Milani P, Ando Y, Westermark P, Dispenzieri A, Merlini G. Clarification on the definition of complete haematologic response in light-chain (AL) amyloidosis. Amyloid. 2021 Mar; 28(1):1-2. PMID: 33410355.
View full list of 200 publications.