Uri Avissar MD
Assistant Professor, Gastroenterology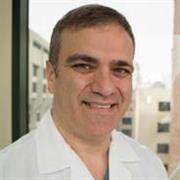 Centers
Evans Center for Interdisciplinary Biomedical Research
Biography
I have trained and am board certified in transplant hepatology. I have an interest in medical education and formulation and standardization of trainee evaluations
Education
MD, University of Rochester School of Medicine & Dentistry, 2001
Chemistry, BS, Yale University, 1996
Publications
Published on 12/30/2020
Mohanty A, Eshein A, Kamineni P, Avissar U, Bliss CM, Long MT, Lowe RC, Moore TC, Nunes DP, Backman V, Roy HK. Quantification of gastric mucosal microcirculation as a surrogate marker of portal hypertension by spatially resolved subdiffuse reflectance spectroscopy in diagnosis of cirrhosis: a proof-of-concept study. Gastrointest Endosc. 2021 07; 94(1):60-67.e1. PMID: 33385462.
Published on 9/17/2015
Zucker SD, Vogel ME, Kindel TL, Smith DL, Idelman G, Avissar U, Kakarlapudi G, Masnovi ME. Bilirubin prevents acute DSS-induced colitis by inhibiting leukocyte infiltration and suppressing upregulation of inducible nitric oxide synthase. Am J Physiol Gastrointest Liver Physiol. 2015 Nov 15; 309(10):G841-54. PMID: 26381705.
Published on 3/1/2010
Smith DL, Keshavan P, Avissar U, Ahmed K, Zucker SD. Sodium taurocholate inhibits intestinal adenoma formation in APCMin/+ mice, potentially through activation of the farnesoid X receptor. Carcinogenesis. 2010 Jun; 31(6):1100-9. PMID: 20194350.
Published on 3/1/2010
Barry CT, Avissar U, Asebrook M, Sostok MA, Sherman KE, Zucker SD. Use of a standardized patient exercise to assess core competencies during fellowship training. J Grad Med Educ. 2010 Mar; 2(1):111-7. PMID: 21975896.
View full list of 4 publications.