Umit Tapan MD
Assistant Professor, Hematology & Medical Oncology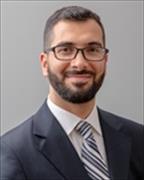 Centers
BU-BMC Cancer Center
Evans Center for Interdisciplinary Biomedical Research
Biography
Dr. Umit Tapan is an Assistant Professor of Medicine at Boston University School of Medicine and practicing Thoracic Oncologist at Boston Medical Center. His clinical interests are Non-small cell lung cancer, Small cell lung cancer, Mesothelioma, Immunotherapy, Targeted therapy/Precision Medicine. His research interests include Circulating tumor DNA, Gut microbiome and Cancer Immunotherapy, Racial Disparities in Cancer Care and Outcomes.

Dr. Tapan completed his fellowship in Hematology & Oncology at Boston Univesity Medical Center, in which he was Chief Fellow in Hematology & Oncology. Dr. Tapan completed his internship and residency at Steward Carney Hospital. He earned his medical degree from Hacettepe University School of Medicine, Ankara, Turkey.
Publications
Published on 5/22/2021
Annesi CA, Poulson M, Mak KS, Tapan U, Dechert TA, Litle VR, Suzuki K. The Impact of Residential Racial Segregation on Non-Small Cell Lung Cancer Treatment and Outcomes. Ann Thorac Surg. 2021 May 22. PMID: 34033745.
Published on 10/20/2020
Tapan U, Furtado VF, Qureshi MM, Everett P, Suzuki K, Mak KS. Racial and Other Healthcare Disparities in Patients With Extensive-Stage SCLC. JTO Clin Res Rep. 2021 Jan; 2(1):100109. PMID: 34589974.
Published on 10/20/2020
Umit Tapan, MD, Vanessa Fiorini Furtado, MD, Muhammad Mustafa Qureshi, M.B.B.S., Peter Everett, MD, Kei Suzuki, MD, Kimberley S. Mak, MD, MPH. Racial and Other Healthcare Disparities in Patients With Extensive-Stage SCLC. JTO Clinical and Research Reports. 2020; 2(1).
Published on 7/17/2018
Kumaradevan S, Lee SY, Richards S, Lyle C, Zhao Q, Tapan U, Jiangliu Y, Ghumman S, Walker J, Belghasem M, Arinze N, Kuhnen A, Weinberg J, Francis J, Hartshorn K, Kolachalama VB, Cifuentes D, Rahimi N, Chitalia VC. c-Cbl Expression Correlates with Human Colorectal Cancer Survival and Its Wnt/ß-Catenin Suppressor Function Is Regulated by Tyr371 Phosphorylation. Am J Pathol. 2018 08; 188(8):1921-1933. PMID: 30029779.
Published on 5/21/2017
Tapan U, Lee SY, Weinberg J, Kolachalama VB, Francis J, Charlot M, Hartshorn K, Chitalia V. Racial differences in colorectal cancer survival at a safety net hospital. Cancer Epidemiol. 2017 08; 49:30-37. PMID: 28538169.
Published on 11/1/2016
Shashar M, Siwak J, Tapan U, Lee SY, Meyer RD, Parrack P, Tan J, Khatami F, Francis J, Zhao Q, Hartshorn K, Kolachalama VB, Rahimi N, Chitalia V. c-Cbl mediates the degradation of tumorigenic nuclear ß-catenin contributing to the heterogeneity in Wnt activity in colorectal tumors. Oncotarget. 2016 11 01; 7(44):71136-71150. PMID: 27661103.
Published on 12/1/2015
Yuksel M, Yildiz A, Tapan U, Ertas F, Alan S. Resolution of Extensive Coronary Thrombosis under Rivaroxaban Treatment. Arq Bras Cardiol. 2015 Dec; 105(6):642-6. PMID: 26761372.
Published on 3/11/2015
Eliacik E, Yildirim T, Sahin U, Kizilarslanoglu C, Tapan U, Aybal-Kutlugun A, Hascelik G, Arici M. Potassium abnormalities in current clinical practice: frequency, causes, severity and management. Med Princ Pract. 2015; 24(3):271-5. PMID: 25766276.
Published on 1/1/2015
Pamuk GE, Uyanik MS, Top MS, Tapan U, Ak R, Uyanik V. Gastrointestinal symptoms are closely associated with depression in iron deficiency anemia: a comparative study. Ann Saudi Med. 2015 Jan-Feb; 35(1):31-5. PMID: 26142935.
Published on 11/10/2014
Tapan U, Bolla S, Daglilar ES, Chang S, Kozyreva O. Outcome of patients with positive heparin-platelet factor-4 antibodies: A retrospective multi-institutional observational study. Platelets. 2015; 26(7):661-4. PMID: 25383658.
View full list of 22 publications.