Umit Tapan MD
Assistant Professor, Hematology & Medical Oncology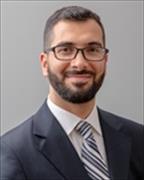 Sections
Hematology & Medical Oncology
Centers
BU-BMC Cancer Center
Evans Center for Interdisciplinary Biomedical Research
Biography
Dr. Umit Tapan is an Assistant Professor of Medicine at Chobanian and Avedisian School of Medicine and practicing Thoracic Oncologist at Boston Medical Center. His clinical interests are Non-small cell lung cancer, Small cell lung cancer, Mesothelioma, Immunotherapy, Targeted therapy/Precision Medicine. His research interests include Circulating tumor DNA, Gut microbiome and Cancer Immunotherapy, Racial Disparities in Cancer Care and Outcomes.

Dr. Tapan completed his fellowship in Hematology & Oncology at Boston Univesity Medical Center, in which he was Chief Fellow in Hematology & Oncology. Dr. Tapan completed his internship and residency at Steward Carney Hospital. He earned his medical degree from Hacettepe University School of Medicine, Ankara, Turkey.
Publications
Published on 4/1/2023
Al Omari O, Jani C, Ahmed A, Singh H, Radwan A, Bhatt P, Walker A, Agarwal L, Goodall R, Shalhoub J, Marshall DC, Thomson CC, Salciccioli JD, Tapan U. Lung Cancer Mortality in the United States between 1999 and 2019: An Observational Analysis of Disparities by Sex and Race. Ann Am Thorac Soc. 2023 Apr; 20(4):612-616. PMID: 36476451.
Published on 2/10/2023
Qureshi MM, Kam A, Suzuki K, Litle V, Tapan U, Balasubramaniyan R, Dyer MA, Truong MT, Mak KS. Association between hospital safety-net burden and receipt of trimodality therapy and survival for patients with esophageal cancer. Surgery. 2023 May; 173(5):1153-1161. PMID: 36774317.
Published on 12/25/2022
Siddiqi N, Pan G, Liu A, Lin Y, Jenkins K, Zhao J, Mak K, Tapan U, Suzuki K. Timeliness of Lung Cancer Care From the Point of Suspicious Image at an Urban Safety Net Hospital. Clin Lung Cancer. 2023 Mar; 24(2):e87-e93. PMID: 36642641.
Published on 11/28/2022
Liu A, Siddiqi N, Tapan U, Mak KS, Steiling KA, Suzuki K. Black Race Remains Associated with Lower Eligibility for Screening Using 2021 US Preventive Services Task Force Recommendations Among Lung Cancer Patients at an Urban Safety Net Hospital. J Racial Ethn Health Disparities. 2022 Nov 28. PMID: 36441493.
Published on 11/11/2022
Burns L, Jani C, Radwan A, Omari OA, Patel M, Oxnard GR, Tapan U. Implementation Challenges and Disparities in Molecular Testing for Patients With Stage IV NSCLC: Perspectives from an Urban Safety-Net Hospital. Clin Lung Cancer. 2023 Mar; 24(2):e69-e77. PMID: 36464575.
Published on 10/1/2022
Edwards CV, Sheikh AR, Dennis MJ, Hunter A, Mackay ZP, Catudal EC, Elias R, Cabral HJ, Sarosiek SR, Tapan U. The impact of substance use on health care utilization, treatment, and outcomes in patients with non-small cell lung cancer. J Thorac Dis. 2022 Oct; 14(10):3865-3875. PMID: 36389291.
Published on 8/1/2022
Lee MH, Qureshi MM, Suzuki K, Everett P, Tapan U, Mak KS. Small cell lung cancer in young patients: trends in sociodemographic factors, diagnosis, treatment, and survival. J Thorac Dis. 2022 Aug; 14(8):2880-2893. PMID: 36071763.
Published on 2/1/2022
Whisenant JG, Baena J, Cortellini A, Huang LC, Lo Russo G, Porcu L, Wong SK, Bestvina CM, Hellmann MD, Roca E, Rizvi H, Monnet I, Boudjemaa A, Rogado J, Pasello G, Leighl NB, Arrieta O, Aujayeb A, Batra U, Azzam AY, Unk M, Azab MA, Zhumagaliyeva AN, Gomez-Martin C, Blaquier JB, Geraedts E, Mountzios G, Serrano-Montero G, Reinmuth N, Coate L, Marmarelis M, Presley CJ, Hirsch FR, Garrido P, Khan H, Baggi A, Mascaux C, Halmos B, Ceresoli GL, Fidler MJ, Scotti V, Métivier AC, Falchero L, Felip E, Genova C, Mazieres J, Tapan U, Brahmer J, Bria E, Puri S, Popat S, Reckamp KL, Morgillo F, Nadal E, Mazzoni F, Agustoni F, Bar J, Grosso F, Avrillon V, Patel JD, Gomes F, Ibrahim E, Trama A, Bettini AC, Barlesi F, Dingemans AM, Wakelee H, Peters S, Horn L, Garassino MC, Torri V. A Definitive Prognostication System for Patients With Thoracic Malignancies Diagnosed With Coronavirus Disease 2019: An Update From the TERAVOLT Registry. J Thorac Oncol. 2022 May; 17(5):661-674. PMID: 35121086.
Published on 12/20/2021
Jani C, Al Omari O, Singh H, Walker A, Patel K, Mouchati C, Radwan A, Pandit Z, Hanbury G, Crowley C, Marshall DC, Goodall R, Shalhoub J, Salciccioli JD, Tapan U. Trends of HIV-Related Cancer Mortality between 2001 and 2018: An Observational Analysis. Trop Med Infect Dis. 2021 Dec 20; 6(4). PMID: 34941669.
Published on 5/23/2021
Annesi CA, Poulson MR, Mak KS, Tapan U, Dechert TA, Litle VR, Suzuki K. The Impact of Residential Racial Segregation on Non-Small Cell Lung Cancer Treatment and Outcomes. Ann Thorac Surg. 2022 04; 113(4):1291-1298. PMID: 34033745.
View full list of 30 publications.