Tuhina Neogi MD, PhD
Section Chief of Rheumatology, Rheumatology
Professor, Rheumatology
650 Albany St | (617) 358-9650

tneogi@bu.edu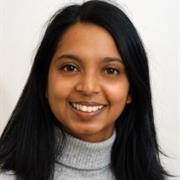 Centers
Arthritis & Autoimmune Diseases Research Center
Framingham Heart Study
Evans Center for Interdisciplinary Biomedical Research
Biography
I am a rheumatologist and epidemiologist whose research has focused primarily on risk factors for knee osteoarthritis and gout, pain mechanisms in knee osteoarthritis, as well as methodologic issues of relevance for rheumatic diseases. I have had continuous peer-reviewed foundation and NIH funding since 2003, and have over 300 peer-reviewed publications to date. I am a past chair of the FDA Arthritis Advisory Committee, serve(d) on the boards two international societies: Osteoarthritis Research Society International (OARSI) and Gout, Hyperuricemia, and Crystal-Associated Diseases Network (G-CAN), and on committees for the American College of Rheumatology (ACR) and International Association for the Study Pain (IASP), among others. My work has been recognized with the prestigious 2014 ACR Henry Kunkel Young Investigator Award for outstanding and promising independent contributions to rheumatology research (awarded to no more than one clinical researcher and/or one basic science researcher each year), and the 2022 OARSI Clinical Research Award (in recognition of important contributions to OA research). I have also engaged in developing new classification criteria for a number of rheumatic diseases. In addition to research, clinical work, and teaching, one of my key roles is to mentor trainees and junior faculty in musculoskeletal disease-related research. To that end, I was awarded the 2016 Robert Dawson Evans Research Mentoring Award. I also developed and led the new CTSI Research Career Support Program initiative, PRIME (Pathways to Research Independence and Mentoring Excellence), which aims to support early career mentored researchers to successfully transition to becoming independent researchers.

Expertise includes:
- Osteoarthritis: epidemiology; risk factors; mechanisms of osteoarthritis-related pain; the role of bone in the pathophysiology of osteoarthritis
- Gout: epidemiology; risk factors and triggers for gout attacks; management of gout; consequences of gout and hyperuricemia
- Classification criteria and outcome measures in rheumatic diseases.
- Novel methodology to address challenging epidemiologic issues
Other Positions
Websites
Education
Medicine, MD, University of Toronto, 1998
Epidemiology, PhD, Boston University School of Public Health, 2009
Biochemistry, BS, McMaster University, 1994
Publications
Published on 4/22/2023
Jarraya M, Guermazi A, Liew JW, Tolstykh I, Lynch JA, Aliabadi P, Felson DT, Clancy M, Nevitt M, Lewis CE, Torner J, Neogi T. Prevalence of intra-articular mineralization on knee computed tomography: the multicenter osteoarthritis study. Osteoarthritis Cartilage. 2023 Apr 22. PMID: 37088266.
Published on 3/31/2023
Corrigan P, Neogi T, Frey-Law L, Jafarzadeh SR, Segal N, Nevitt MC, Lewis CE, Stefanik JJ. Relation of pain sensitization to self-reported and performance-based measures of physical functioning: the Multicenter Osteoarthritis (MOST) study. Osteoarthritis Cartilage. 2023 Mar 31. PMID: 37003421.
Published on 2/23/2023
Kumar D, Neogi T, Peloquin C, Marinko L, Camarinos J, Aoyagi K, Felson DT, Dubreuil M. Delayed timing of physical therapy initiation increases the risk of future opioid use in individuals with knee osteoarthritis: a real-world cohort study. Br J Sports Med. 2023 Feb 23. PMID: 36822841.
Published on 2/3/2023
Rose MJ, Neogi T, Friscia B, Torabian KA, LaValley MP, Gheller M, Adamowicz L, Georgiev P, Viktrup L, Demanuele C, Wacnik PW, Kumar D. Reliability of Wearable Sensors for Assessing Gait and Chair Stand Function at Home in People With Knee Osteoarthritis. Arthritis Care Res (Hoboken). 2023 Feb 03. PMID: 36734316.
Published on 2/2/2023
Felson D, Neogi T. A clinician's perspective on the role of imaging in knee osteoarthritis in clinical practice. Skeletal Radiol. 2023 Feb 02. PMID: 36729209.
Published on 1/18/2023
Aoyagi K, Law LF, Carlesso L, Nevitt M, Lewis CE, Wang N, Neogi T. Post-surgical contributors to persistent knee pain following knee replacement: The Multicenter Osteoarthritis Study (MOST). Osteoarthr Cartil Open. 2023 Mar; 5(1):100335. PMID: 36798734.
Published on 12/15/2022
Gorzewski AM, Heisler AC, Neogi T, Muhammad LN, Song J, Dunlop D, Bingham CO, Bolster MB, Clauw DJ, Marder W, Lee YC. Predicting Disease Activity in Rheumatoid Arthritis With the Fibromyalgia Survey Questionnaire: Does the Severity of Fibromyalgia Symptoms Matter? J Rheumatol. 2023 May; 50(5):684-689. PMID: 36521924.
Published on 12/8/2022
Quinn KA, Ahlman MA, Alessi HD, LaValley MP, Neogi T, Marko J, Novakovich E, Grayson PC. Association of 18 F-Fluorodeoxyglucose-Positron Emission Tomography Activity With Angiographic Progression of Disease in Large Vessel Vasculitis. Arthritis Rheumatol. 2023 Jan; 75(1):98-107. PMID: 35792044.
Published on 11/28/2022
Baker JF, Weber DR, Neogi T, George MD, Long J, Helget LN, England BR, Mikuls TR. Associations Between Low Serum Urate, Body Composition, and Mortality. Arthritis Rheumatol. 2023 Jan; 75(1):133-140. PMID: 35974440.
Published on 11/17/2022
Kostic AM, Leifer VP, Gong Y, Robinson MK, Collins JE, Neogi T, Messier SP, Hunter DJ, Selzer F, Suter LG, Katz JN, Losina E. Cost-Effectiveness of Surgical Weight-Loss Interventions for Patients With Knee Osteoarthritis and Class III Obesity. Arthritis Care Res (Hoboken). 2023 Mar; 75(3):491-500. PMID: 35657632.
View full list of 330 publications.