Tuhina Neogi MD, PhD
Section Chief of Rheumatology, Rheumatology
Professor, Rheumatology
650 Albany St | (617) 358-9650

tneogi@bu.edu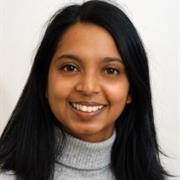 Centers
Arthritis & Autoimmune Diseases Research Center
Framingham Heart Study
Evans Center for Interdisciplinary Biomedical Research
Biography
I am a rheumatologist and epidemiologist whose research has focused primarily on risk factors for knee osteoarthritis and gout, pain mechanisms in knee osteoarthritis, as well as methodologic issues of relevance for rheumatic diseases. I have had continuous peer-reviewed foundation and NIH funding since 2003, and have over 250 peer-reviewed publications to date. I am a past chair of the FDA Arthritis Advisory Committee, serve(d) on the boards two international societies: Osteoarthritis Research Society International (OARSI) and Gout, Hyperuricemia, and Crystal-Associated Diseases Network (G-CAN), and on committees for the American College of Rheumatology (ACR) and International Association for the Study Pain (IASP), among others. My work has been recognized with the prestigious 2014 ACR Henry Kunkel Young Investigator Award for outstanding and promising independent contributions to rheumatology research (awarded to no more than one clinical researcher and/or one basic science researcher each year). I have also engaged in developing new classification criteria for a number of rheumatic diseases. In addition to research, clinical work, and teaching, one of my key roles is to mentor trainees and junior faculty in musculoskeletal disease-related research. To that end, I was awarded the 2016 Robert Dawson Evans Research Mentoring Award. I also developed and led the new CTSI Research Career Support Program initiative, PRIME (Pathways to Research Independence and Mentoring Excellence), which aims to support early career mentored researchers to successfully transition to becoming independent researchers.

Expertise includes:
- Osteoarthritis: epidemiology; risk factors; mechanisms of osteoarthritis-related pain; the role of bone in the pathophysiology of osteoarthritis
- Gout: epidemiology; risk factors and triggers for gout attacks; management of gout; consequences of gout and hyperuricemia
- Classification criteria and outcome measures in rheumatic diseases.
- Novel methodology to address challenging epidemiologic issues
Other Positions
Websites
Education
Medicine, MD, University of Toronto, 1998
Epidemiology, PhD, Boston University School of Public Health, 2009
Biochemistry, BS, McMaster University, 1994
Publications
Published on 9/24/2021
Steen Pettersen P, Neogi T, Magnusson K, Mathiessen A, Hammer HB, Uhlig T, Kvien TK, Haugen IK. Associations between joint pathologies and central sensitization in persons with hand osteoarthritis: results from the Nor-Hand study. Rheumatology (Oxford). 2021 Sep 24. PMID: 34559196.
Published on 9/1/2021
Hart HF, Neogi T, LaValley M, White D, Zhang Y, Nevitt MC, Torner J, Lewis CE, Stefanik JJ. Relationship of Patellofemoral Osteoarthritis to Changes in Performance-Based Physical Function Over 7 Years: The Multicenter Osteoarthritis Study. J Rheumatol. 2021 Sep 01. PMID: 34470797.
Published on 8/28/2021
Robinson PC, Frampton C, Phipps-Green A, Neogi T, Stamp L, Taylor W, Merriman TR, Dalbeth N. Longitudinal development of incident gout from low-normal baseline serum urate concentrations: individual participant data analysis. BMC Rheumatol. 2021 Aug 28; 5(1):33. PMID: 34452645.
Published on 8/27/2021
Greco CM, Gaylord SA, Faurot K, Weinberg JM, Gardiner P, Roth MI, Barnhill JL, Thomas HN, Dhamne SC, Lathren C, Baez JE, Lawrence S, Neogi T, Lasser KE, Castro MG, White AM, Simmons SJ, Ferrao C, Binda DD, Elhadidy N, Eason KM, McTigue KM, Morone NE. The design and methods of the OPTIMUM study: A multisite pragmatic randomized clinical trial of a Telehealth group mindfulness program for persons with chronic low back pain. Contemp Clin Trials. 2021 Aug 27; 109:106545. PMID: 34455111.
Published on 7/29/2021
Stovall R, Peloquin C, Felson D, Neogi T, Dubreuil M. Relation of therapies for ankylosing spondylitis and psoriatic arthritis to risk of myocardial infarction: a nested case control study. BMC Rheumatol. 2021 Jul 29; 5(1):36. PMID: 34321112.
Published on 7/27/2021
Collins JE, Neogi T, Losina E. Trajectories of Structural Disease Progression in Knee Osteoarthritis. Arthritis Care Res (Hoboken). 2021 09; 73(9):1354-1362. PMID: 32491247.
Published on 7/22/2021
Wallace BI, Moore MN, Heisler AC, Muhammad LN, Song J, Clauw DJ, Bingham CO, Bolster MB, Marder W, Neogi T, Wohlfahrt A, Dunlop DD, Lee YC. Fibromyalgianess and glucocorticoid persistence among patients with rheumatoid arthritis. Rheumatology (Oxford). 2021 Jul 22. PMID: 34293092.
Published on 7/20/2021
Caricchio R, Abbate A, Gordeev I, Meng J, Hsue PY, Neogi T, Arduino R, Fomina D, Bogdanov R, Stepanenko T, Ruiz-Seco P, Gónzalez-García A, Chen Y, Li Y, Whelan S, Noviello S. Effect of Canakinumab vs Placebo on Survival Without Invasive Mechanical Ventilation in Patients Hospitalized With Severe COVID-19: A Randomized Clinical Trial. JAMA. 2021 07 20; 326(3):230-239. PMID: 34283183.
Published on 7/20/2021
Zeng L, Neogi T, Fitzgerald JD, Dalbeth N, Mikuls TR, Brignardello-Petersen R. Reply. Arthritis Care Res (Hoboken). 2021 Jul 20. PMID: 34288544.
Published on 6/24/2021
Master H, Thoma LM, Neogi T, Dunlop DD, LaValley M, Christiansen MB, Voinier D, White DK. Daily Walking and the Risk of Knee Replacement Over 5 Years Among Adults With Advanced Knee Osteoarthritis in the United States. Arch Phys Med Rehabil. 2021 10; 102(10):1888-1894. PMID: 34175271.
View full list of 283 publications.