Todd A. Kerensky
Voluntary Instructor, General Internal Medicine
72 E. Concord Street | (617) 414-5013

kerensky@bu.edu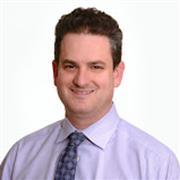 Sections
General Internal Medicine
Biography
Dr. Todd Kerensky is an Instructor of Medicine in General Internal Medicine with the Chobanian and Avedisian School of Medicine and a staff member of Boston Medical Center. He is also affiliated with South Shore Hospital and Beth Israel Deaconess Medical Center, where he completed is residency. He received his MD in Internal Medicine from the University of Florida College of Medicine and also completed his internship and post residency there. Dr. Kerensky received his BA in Economics from Washington University in St. Louis, is certified by the American Board of Internal Medicine and a Fellow with the BUSM Clinical Addiction Research & Education Unit.
Websites
Education
Medicine-Internal, MD, University of Florida, 2008
Economics/Finance, BA, Washington University in St. Louis, 2003
Publications
Published on 4/1/2021
Kerensky T, LaRochelle M, Fan SL, Kosakowski S, Wason K, Walley AY. Non-prescription Fentanyl Positive Toxicology: Prevalence, Positive Predictive Value of Fentanyl Immunoassay Screening, and Description of Co-substance Use. J Addict Med. 2021 04 01; 15(2):150-154. PMID: 32909981.
Published on 5/11/2017
Trowbridge P, Weinstein ZM, Kerensky T, Roy P, Regan D, Samet JH, Walley AY. Addiction consultation services - Linking hospitalized patients to outpatient addiction treatment. J Subst Abuse Treat. 2017 Aug; 79:1-5. PMID: 28673521.
Published on 1/7/2017
Kerensky T, Walley AY. Opioid overdose prevention and naloxone rescue kits: what we know and what we don't know. Addict Sci Clin Pract. 2017 01 07; 12(1):4. PMID: 28061909.
Published on 9/9/2013
Goldminz AM, Buzney CD, Kim N, Au SC, Levine DE, Wang AC, Volf EM, Yaniv SS, Kerensky TA, Bhandarkar M, Dumont NM, Lizzul PF, Loo DS, Kulig JW, Brown ME, Lopez-Benitez JM, Miller LC, Gottlieb AB. Prevalence of the metabolic syndrome in children with psoriatic disease. Pediatr Dermatol. 2013 Nov-Dec; 30(6):700-5. PMID: 24016334.
Published on 9/19/2012
Kerensky T, Hasan A, Schain D, Trikha G, Liu C, Rand K, Soldevila-Pico C, Gupte A. Histopathologic resolution of adult liver transplantation adenovirus hepatitis with cidofovir and intravenous immunoglobulin: a case report. Transplant Proc. 2013 Jan-Feb; 45(1):293-6. PMID: 23267812.
Published on 6/1/2012
Au SC, Goldminz AM, Loo DS, Dumont N, Levine D, Volf E, Michelon M, Wang A, Kim N, Yaniv S, Lizzul PF, Kerensky T, Lopez-Benitez JM, Natter M, Miller L, Pelajo CF, Davis T, Gottlieb AB. Association between pediatric psoriasis and the metabolic syndrome. J Am Acad Dermatol. 2012 Jun; 66(6):1012-3. PMID: 22583717.
Published on 5/8/2012
Au SC, Goldminz AM, Kim N, Dumont N, Michelon M, Volf E, Hession M, Lizzul PF, Andrews ID, Kerensky T, Wang A, Yaniv S, Gottlieb AB. Investigator-initiated, open-label trial of ustekinumab for the treatment of moderate-to-severe palmoplantar psoriasis. J Dermatolog Treat. 2013 Jun; 24(3):179-87. PMID: 22390688.
Published on 11/11/2011
Kerensky TA, Gottlieb AB, Yaniv S, Au SC. Etanercept: efficacy and safety for approved indications. Expert Opin Drug Saf. 2012 Jan; 11(1):121-39. PMID: 22074366.
View full list of 8 publications.