Titilayo Ilori MD, MSc
Assistant Professor, Nephrology
650 Albany St | (617) 638-7307

tilori1@bu.edu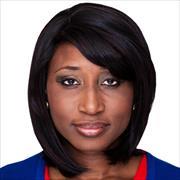 Biography
My various experiences and training have resulted in a strong desire to improve outcomes and survival of individuals with chronic kidney disease (CKD), particularly in disadvantaged populations. I am interested in the effect of diet and lifestyle in the development and progression of CKD and ApolipoproteinL1 Nephropathy. I started in research as a research assistant in the United Kingdom where I learned the fundamentals of population-based research in nutritional epidemiology in the department of Public Health at the University of Manchester.

I then formal training in basic science during my nephrology fellowship at Emory University. There, I worked on a translational project looking at the role of calcineurin inhibitors in the phosphorylation of the urea transporter. I decided to pursue a clinical research career after my fellowship training and completed the Master of Science in Clinical Research degree at Emory in 2015. I am a co-investigator in the H3Africa Kidney Disease Research Network and this has equipped me with on-ground training of staff in Africa, protocol development and execution, and data management and analysis with the Bioinformatics Core. I was also a co-investigator in the All of Us Research Program (AoURP), a part of the NIH-supported Precision Medicine Initiative. I gained hands-on experience in building clinical research infrastructure and high-volume recruitment and enrollment in a large clinical research enterprise. I was the Associate Director of Clinical Research and Global Health Initiatives and played an integral role in recruiting >30,000 research participants for the AoURP recorded in a recent article in the Journal of Clinical and Translational Science (PMID: 32004412).

I was awarded a K23 grant from the NIDDK in 2020 to study Diet, CKD and ApolipoproteinL1 Nephropathy (DK119542). I am looking at diet and CKD progression as well as gene x environment interactions in APOL1 nephropathy in sub-Saharan Africa. I have a commitment to mentoring and training in research. I have mentored three fellows one who is an Assistant Professor at Emory University and multiple masters' level students.
Education
MBBS, University of Lagos, 2002
Clinical Research, MSc, Emory University, 2015
Publications
Published on 5/1/2022
Lasser KE, Ilori TO, Dedier JJ. Kidney Disease Mortality in the USA: a Call for Eliminating Inequities. J Gen Intern Med. 2022 May; 37(6):1349-1350. PMID: 35266126.
Published on 1/1/2022
Liu J, Tio MC, Verma A, Schmidt IM, Ilori TO, Knauf F, Mc Causland FR, Waikar SS. Determinants and Outcomes Associated With Urinary Calcium Excretion in Chronic Kidney Disease. J Clin Endocrinol Metab. 2022 01 01; 107(1):e281-e292. PMID: 34390334.
Published on 6/7/2021
Charoenngam N, Ilori TO, Holick MF, Hochberg NS, Apovian CM. Self-identified Race and COVID-19-Associated Acute Kidney Injury and Inflammation: a Retrospective Cohort Study of Hospitalized Inner-City COVID-19 Patients. J Gen Intern Med. 2021 11; 36(11):3487-3496. PMID: 34100227.
Published on 6/4/2021
Kamel MH, Mahmoud H, Zhen A, Liu J, Bielick CG, Mostaghim A, Lin N, Chitalia V, Ilori T, Waikar SS, Upadhyay A. End-stage kidney disease and COVID-19 in an urban safety-net hospital in Boston, Massachusetts. PLoS One. 2021; 16(6):e0252679. PMID: 34086775.
Published on 3/17/2020
Ilori TO, Viera E, Wilson J, Moreno F, Menon U, Ehiri J, Peterson R, Vemulapalli T, StimsonRiahi SC, Rosales C, Calhoun E, Sokan A, Karnes JH, Reiman E, Ojo A, Theodorou A, Ojo T. Approach to High Volume Enrollment in Clinical Research: Experiences from an All of Us Research Program Site. Clin Transl Sci. 2020 07; 13(4):685-692. PMID: 32004412.
Published on 8/22/2019
Bayliss GP, Cobb J, Decker B, Hellman R, Vasavada N, Mackelaite L, Shadur C, Ilori T, Ibrahim T, Leight K, Hsiao LL, Molitoris BA, Okusa MD, Parker MG. Kidney Mentoring and Assessment Program for Students: a guide for engaging medical students in nephrology. Clin Kidney J. 2019 Dec; 12(6):761-766. PMID: 31807288.
Published on 8/21/2018
Marks KJ, Hartman TJ, Judd SE, Ilori TO, Cheung KL, Warnock DG, Gutiérrez OM, Goodman M, Cushman M, McClellan WM. Dietary Oxidative Balance Scores and Biomarkers of Inflammation among Individuals with and without Chronic Kidney Disease. Nephron Extra. 2018 May-Aug; 8(2):11-23. PMID: 30279696.
Published on 6/1/2018
Kaze AD, Ilori T, Jaar BG, Echouffo-Tcheugui JB. Burden of chronic kidney disease on the African continent: a systematic review and meta-analysis. BMC Nephrol. 2018 06 01; 19(1):125. PMID: 29859046.
Published on 3/11/2017
Ilori TO, Wang X, Huang M, Gutierrez OM, Narayan KM, Goodman M, McClellan W, Plantinga L, Ojo AO. Oxidative Balance Score and the Risk of End-Stage Renal Disease and Cardiovascular Disease. Am J Nephrol. 2017; 45(4):338-345. PMID: 28285313.
Published on 8/3/2016
Ren H, Yang B, Ruiz JA, Efe O, Ilori TO, Sands JM, Klein JD. Phosphatase inhibition increases AQP2 accumulation in the rat IMCD apical plasma membrane. Am J Physiol Renal Physiol. 2016 12 01; 311(6):F1189-F1197. PMID: 27488997.
View full list of 18 publications.