Tinzar Basein MD
Voluntary Assistant Professor, General Internal Medicine
72 East Concord Street, L-315 | (617) 789-3000

tbasein@bu.edu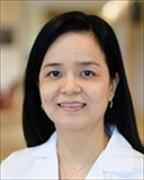 Sections
General Internal Medicine
Websites
Education
Medicine, MBBS, University of Yangon, 2003
Publications
Published on 6/22/2020
Liu FY, El Mouhayyar C, Mamtani R, Dammann F, Basein T. A case of herpes simplex 2 encephalitis with an unusual radiographic manifestation. IDCases. 2020; 21:e00884. PMID: 32642433.
Published on 10/10/2018
Basein T, Gardiner BJ, Andujar Vazquez GM, Joel Chandranesan AS, Rabson AR, Doron S, Snydman DR. Microbial Identification Using DNA Target Amplification and Sequencing: Clinical Utility and Impact on Patient Management. Open Forum Infect Dis. 2018 Nov; 5(11):ofy257. PMID: 30539032.
Published on 1/26/2017
Lamontagne S, Basein T, Chang B, Mallela L. A hemodialysis cohort study of protocol-based anticoagulation management. BMC Res Notes. 2017 Jan 26; 10(1):66. PMID: 28126020.
View full list of 3 publications.