Ting-hsu Chen MD
Voluntary Assistant Professor, Pulmonary, Allergy, Sleep & Critical Care Medicine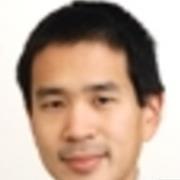 Sections
Pulmonary, Allergy, Sleep & Critical Care Medicine
Biography
My clinical interests are in sleep medicine, including the diagnosis of sleep disorders such as obstructive sleep apnea and insomnia. I perform bronchial thermoplasty and advanced diagnostic bronchoscopy including EBUS and navigational bronchoscopy at the VA Boston Healthcare System.
Education
MD, Washington University School of Medicine, 2001
Epidemiology, MPH, Boston University School of Public Health, 2008
Biochemistry, BS, Case Western Reserve University, 1997
Publications
Published on 3/20/2009
Wilk JB, Chen TH, Gottlieb DJ, Walter RE, Nagle MW, Brandler BJ, Myers RH, Borecki IB, Silverman EK, Weiss ST, O'Connor GT. A genome-wide association study of pulmonary function measures in the Framingham Heart Study. PLoS Genet. 2009 Mar; 5(3):e1000429. PMID: 19300500.
Published on 1/1/2009
Chen TH, Gona P, Sutherland PA, Benjamin EJ, Wilson PW, Larson MG, Vasan RS, Robins SJ. Long-term C-reactive protein variability and prediction of metabolic risk. Am J Med. 2009 Jan; 122(1):53-61. PMID: 19114172.
Published on 8/7/2008
Chen TH, Hollingsworth H. Images in clinical medicine. Allergic bronchopulmonary aspergillosis. N Engl J Med. 2008 Aug 7; 359(6):e7. PMID: 18687635.
Published on 1/1/2003
Chen TH. Oxygen Delivery Devices. In" Shifren, A, ed. The Washington Manual Pulmonary Subspecialty Consult. 2003.
Published on 1/1/2003
Chen TH. Chronic Liver Diseases. In: Shiels, A ed. The Washington Manual Gastroenterology Subspecialty Consult. 2003.
View full list of 5 publications.