Thomas Carlton C. Moore MD
Assistant Professor, Gastroenterology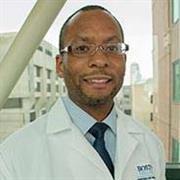 Biography
Expertise includes: Gastrointestinal motility.

Carlton Moore, MD is a clinician with an expertise in gastrointestinal motility, and an Assistant Professor of Medicine at Boston University. He completed his gastroenterology fellowship at Chobanian and Avedisian School of Medicine. He completed his undergraduate studies at Yale University and received his medical degree from Johns Hopkins School of Medicine. His clinical interests are gastrointestinal motility disorders, gastroesophageal reflux disease, and functional bowel disorders.
Education
MD, Johns Hopkins University School of Medicine, 1996
BA, Yale University, 1991
Publications
Published on 8/15/2004
Moore TC, Jepeal LI, Boylan MO, Singh SK, Boyd N, Beer DG, Chang AJ, Wolfe MM. Gastrin stimulates receptor-mediated proliferation of human esophageal adenocarcinoma cells. Regul Pept. 2004 Aug 15; 120(1-3):195-203. PMID: 15177938.
Published on 3/1/2003
Lemos DW, Raffetto JD, Moore TC, Menzoian JO. Primary aortoduodenal fistula: a case report and review of the literature. J Vasc Surg. 2003 Mar; 37(3):686-9. PMID: 12618713.
View full list of 2 publications.