Theresa W. Kim MD
Clinical Associate Professor, General Internal Medicine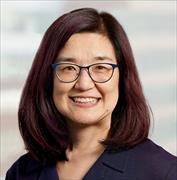 Sections
General Internal Medicine
Centers
Clinical Addiction Research and Education Unit
Biography
Theresa W. Kim, MD is Clinical Associate Professor at Chobanian and Avedisian School of Medicine and clinician-investigator in the Section of General Internal Medicine at Boston Medical Center. After completing research training in a NIH-funded fellowship, she joined the faculty of the Clinical Addiction Research Education (CARE) program at Boston Medical Center. In addition to board-certification in Addiction Medicine and Internal Medicine, she is accredited as a HIV Specialist by the American Academy of HIV Medicine. She has had the honor of providing HIV and shelter-based primary care at the Boston HealthCare for the Homeless Program for the duration of her career. She has published and received NIH-funding for her research on improving access to addiction care in medical settings for disadvantaged populations. This has included examining 1) the impact of housing instability, depression, and substance use on access to care for people with HIV infection; 2) defining and measuring the quality of medical care on addiction outcomes; and 3) screening and brief intervention for unhealthy alcohol and drug use in general medical settings. In addition to a health services focus, she has published in the area of medical comorbidities including falls and poor bone health (osteoporosis and vitamin D deficiency).
Education
MD, Boston University School of Medicine, 1991
MSc, Boston University School of Public Health, 2004
BA, Boston University, 1987
Publications
Published on 2/17/2023
Bertholet N, Saitz R, Hahn JA, Heeren TC, Emenyonu NI, Freiberg M, Winter MR, Kim TW, Magane KM, Lloyd-Travaglini C, Fatch R, Bryant K, Forman LS, Rateau L, Blokhina E, Muyindike WR, Gnatienko N, Samet JH. Impact of alcohol use disorder severity on human immunodeficiency virus (HIV) viral suppression and CD4 count in three international cohorts of people with HIV. Alcohol Clin Exp Res. 2023 Apr; 47(4):704-712. PMID: 36799302.
Published on 12/23/2022
Shin D, Gill SV, Kim TW, Magane KM, Mason T, Heeren T, Winter M, Helfrich C, Saitz R. Study Protocol for a Pilot Randomized Trial of a Virtual Occupational Therapy Fall Prevention Intervention for People With HIV and Alcohol Use. Subst Abuse. 2022; 16:11782218221145548. PMID: 36578450.
Published on 10/24/2022
Radick AC, James J, Leroux BG, Kim TW, Saxon AJ, Samet JH, Tsui JI. Use of Video Directly Observed Therapy and Characteristics Associated With Use Among Patients Treated With Buprenorphine in an Office-based Setting. J Addict Med. 2022 Oct 24. PMID: 36282871.
Published on 8/11/2022
Kim TW, Heeren TC, Samet JH, Bertholet N, Lloyd-Travaglini C, Winter MR, Magane KM, Gnatienko N, Bryant K, Rateau LJ, Muyindike WR, Hahn JA, Blokhina E, Saitz R. Alcohol and falls among people with HIV infection: A view from Russia and the United States. Alcohol Clin Exp Res. 2022 Sep; 46(9):1742-1752. PMID: 35957545.
Published on 6/23/2022
Kim TW, Samet JH, Lodi S, Kimmel SD, Forman LS, Lira MC, Liebschutz JM, Williams EC, Walley AY. Functional Impairment and Cognitive Symptoms Among People with HIV Infection on Chronic Opioid Therapy for Pain: The Impact of Gabapentin and Other Sedating Medications. AIDS Behav. 2022 Dec; 26(12):3889-3896. PMID: 35737281.
Published on 5/14/2022
Taylor JL, Laks J, Christine PJ, Kehoe J, Evans J, Kim TW, Farrell NM, White CS, Weinstein ZM, Walley AY. Bridge clinic implementation of "72-hour rule" methadone for opioid withdrawal management: Impact on opioid treatment program linkage and retention in care. Drug Alcohol Depend. 2022 Jul 01; 236:109497. PMID: 35607834.
Published on 11/18/2021
Alford DP, Kim TW, Samet JH, Cruz AB, Brolin MF, Shanahan CW, Saitz R. Prevalence and Correlates of Positive Follow-up Screens in Primary Care for Unhealthy Alcohol and Other Drug Use After a Negative Screen. J Addict Med. 2022 Jul-Aug 01; 16(4):e219-e224. PMID: 34799491.
Published on 7/28/2021
Tsui JI, Leroux BG, Radick AC, Schramm ZA, Blalock K, Labelle C, Heerema M, Klein JW, Merrill JO, Saxon AJ, Samet JH, Kim TW. Video directly observed therapy for patients receiving office-based buprenorphine - A pilot randomized controlled trial. Drug Alcohol Depend. 2021 10 01; 227:108917. PMID: 34399136.
Published on 3/15/2021
Kimmel SD, Walley AY, Lodi S, Forman LS, Liebschutz JM, Lira MC, Kim TW, Del Rio C, Samet JH, Tsui JI. Naloxone receipt and overdose prevention care among people with HIV on chronic opioid therapy. AIDS. 2021 03 15; 35(4):697-700. PMID: 33587441.
Published on 2/4/2021
Bhatraju E, Liebschutz JM, Lodi S, Forman LS, Lira MC, Kim TW, Colasanti J, Del Rio C, Samet JH, Tsui JI. Post-traumatic stress disorder and risky opioid use among persons living with HIV and chronic pain. AIDS Care. 2021 Feb 04; 1-8. PMID: 33535800.
View full list of 37 publications.