Tariq Bhat MD
Voluntary Assistant Professor, General Internal Medicine
72 East Concord Street, L-315 | (617) 789-3036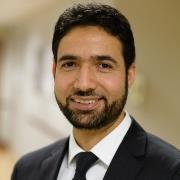 Sections
General Internal Medicine
Websites
Education
Medicine, MBBS, Government Medical College, 2006
Publications
Published on 2/11/2020
Jha A, Afari M, Koulouridis I, Bhat T, Garcia L. Isolated Renal Artery Dissection: A Systematic Review of Case Reports. Cureus. 2020 Feb 11; 12(2):e6960. PMID: 32076589.
Published on 10/1/2019
Aoun J, Hattar L, Dgayli K, Wong G, Bhat T. Update on complications and their management during transradial cardiac catheterization. Expert Rev Cardiovasc Ther. 2019 Oct; 17(10):741-751. PMID: 31608731.
Published on 9/30/2018
Aoun J, Lahsaei S, Zahm C, Bhat T, Carrozza JP. Validation and comparison of non-hyperemic pressure reserve to fractional flow reserve for assessment of coronary artery stenosis: A real world study. Catheter Cardiovasc Interv. 2019 02 01; 93(2):250-255. PMID: 30269422.
Published on 12/10/2017
Lafferty CJ, Lafferty KM, Bhat T, Olson PC, Atoot A, Daneshvar F, McCord DA. Takotsubo Cardiomyopathy Precipitated by Tapering of Anxiolytic Medication: A Case Report. Clin Med Insights Cardiol. 2017; 11:1179546817746643. PMID: 29270038.
Published on 5/3/2017
Bahia A, Lahsaei S, Bhat T, Garcia L. Navigating complex femoropopliteal and infrapopliteal anatomy in endovascular interventions. J Cardiovasc Surg (Torino). 2017 Oct; 58(5):690-697. PMID: 28471153.
Published on 4/1/2017
Bhat TM, Afari ME, Garcia LA. Atherectomy in Peripheral Artery Disease: A Review. J Invasive Cardiol. 2017 Apr; 29(4):135-144. PMID: 28368845.
Published on 6/16/2016
Afari ME, Bhat T. Response to: the neutrophil-lymphocyte ratio and atherosclerosis. Expert Rev Cardiovasc Ther. 2016 08; 14(8):887. PMID: 27291946.
Published on 4/12/2016
Bhat TM, Afari ME, Garcia LA. Neutrophil lymphocyte ratio in peripheral vascular disease: a review. Expert Rev Cardiovasc Ther. 2016 Jul; 14(7):871-5. PMID: 26967241.
Published on 3/4/2016
Afari ME, Bhat T. Neutrophil to lymphocyte ratio (NLR) and cardiovascular diseases: an update. Expert Rev Cardiovasc Ther. 2016; 14(5):573-7. PMID: 26878164.
Published on 1/1/2015
Bhat T, Neuman A, Tantary M, Bhat H, Glass D, Mannino W, Akhtar M, Bhat A, Teli S, Lafferty J. Inhaled nitric oxide in acute pulmonary embolism: a systematic review. Rev Cardiovasc Med. 2015; 16(1):1-8. PMID: 25813791.
View full list of 30 publications.