Tara Bouton MD, MPH
Assistant Professor, Infectious Diseases
801 Massachusetts Ave | (617) 414-5213

tcbouton@bu.edu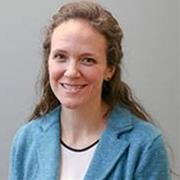 Sections
Infectious Diseases
Biography
Dr. Bouton's research focuses on the interactions between tuberculosis resistance-conferring mutations, HIV, and clinical outcomes in both diseases. She has lived and worked in Brazil, Ghana, Botswana, and South Africa.
Websites
Education
MD, Tulane University School of Medicine, 2012
MPH, Tulane University School of Public Health and Tropical Medicine, 2012
Government, BA, Colby College, 2006
Publications
Published on 9/9/2021
Barocas JA, Savinkina A, Lodi S, Epstein RL, Bouton TC, Sperring H, Hsu HE, Jacobson KR, Schechter-Perkins EM, Linas BP, White LF. Projected long-term impact of the COVID-19 pandemic on hepatitis C outcomes in the United States: a modelling study. Clin Infect Dis. 2021 Sep 09. PMID: 34499124.
Published on 7/1/2021
Bouton TC, Jacobson KR. Symptom Screens Are Not Sufficient: The Fight Against Tuberculosis Needs Better Weapons. Clin Infect Dis. 2021 07 01; 73(1):121-123. PMID: 32296819.
Published on 6/16/2021
Ragan EJ, Gill CJ, Banos M, Bouton TC, Rooney J, Horsburgh CR, Warren RM, Myers B, Jacobson KR. Directly Observed Therapy to Measure Adherence to Tuberculosis Medication in Observational Research: Protocol for a Prospective Cohort Study. JMIR Res Protoc. 2021 Jun 16; 10(6):e24510. PMID: 34132642.
Published on 5/20/2021
Epstein RL, Sperring H, Hofman M, Lodi S, White LF, Barocas JA, Bouton TC, Xiao Y, Hsu HE, Miller NS, Linas BP, Marathe JG. Time to SARS-CoV-2 PCR Clearance in Immunocompromising Conditions: Is Test-Based Removal From Isolation Necessary in Severely Immunocompromised Individuals? Open Forum Infect Dis. 2021 Jun; 8(6):ofab164. PMID: 34189164.
Published on 5/19/2021
Myers B, Carney T, Rooney J, Malatesta S, White LF, Parry CDH, Bouton TC, Ragan EJ, Horsburgh CR, Warren RM, Jacobson KR. Alcohol and Tobacco Use in a Tuberculosis Treatment Cohort during South Africa's COVID-19 Sales Bans: A Case Series. Int J Environ Res Public Health. 2021 05 19; 18(10). PMID: 34069737.
Published on 5/6/2021
Kataria Y, Cole M, Duffy E, de la Cena K, Schechter-Perkins EM, Bouton TC, Werler MM, Pierre C, Ragan EJ, Weber SE, Jacobson KR, Andry C. Seroprevalence of SARS-CoV-2 IgG antibodies and risk factors in health care workers at an academic medical center in Boston, Massachusetts. Sci Rep. 2021 05 06; 11(1):9694. PMID: 33958668.
Published on 3/31/2021
Bouton TC, Lodi S, Turcinovic J, Weber SE, Quinn E, Korn C, Steiner J, Schechter-Perkins EM, Duffy E, Ragan EJ, Taylor BP, Schaeffer B, Miller N, Davidoff R, Hanage WP, Connor J, Pierre C, Jacobson KR. COVID-19 vaccine impact on rates of SARS-CoV-2 cases and post vaccination strain sequences among healthcare workers at an urban academic medical center: a prospective cohort study. medRxiv. 2021 Mar 31. PMID: 33821283.
Published on 1/1/2021
Leavitt SV, Jacobson KR, Ragan EJ, Bor J, Hughes J, Bouton TC, Dolby T, Warren RM, Jenkins HE. Decentralized Care for Rifampin-Resistant Tuberculosis, Western Cape, South Africa. Emerg Infect Dis. 2021; 27(3):728-739. PMID: 33622466.
Published on 9/1/2020
Barocas JA, Blackstone E, Bouton TC, Kimmel SD, Caputo A, Porter SJ, Walley AY. Prevalence of Covid-19 Infection and Subsequent Cohorting in a Residential Substance Use Treatment Program in Boston, MA. J Addict Med. 2020 Sep/Oct; 14(5):e261-e263. PMID: 32530889.
Published on 10/17/2019
Bouton TC, de Vos M, Ragan EJ, White LF, Van Zyl L, Theron D, Horsburgh CR, Warren RM, Jacobson KR. Switching to bedaquiline for treatment of rifampicin-resistant tuberculosis in South Africa: A retrospective cohort analysis. PLoS One. 2019; 14(10):e0223308. PMID: 31622366.
View full list of 16 publications.