Tamar F. Barlam
Section Chief, Infectious Diseases
Professor, Infectious Diseases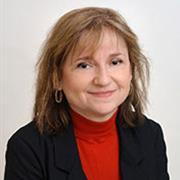 Sections
Infectious Diseases
Biography
Dr. Barlam is the Chief of the Section of Infectious Diseases and the Director of Antimicrobial Stewardship for the Boston Medical Center. She has close to 30 years' experience directing antimicrobial stewardship programs. Her research is focused on understanding factors that influence antimicrobial prescribing, and the implementation and impact of stewardship interventions. She has also led public policy initiatives to reduce inappropriate use of antimicrobials in food animals and served on a national task force to improve antimicrobial use in companion animals. She is the chair of a national committee on antimicrobial stewardship education and implementation.
Education
MD, University of Rochester School of Medicine & Dentistry, 1979
Biomedical Sciences, BS, City College of New York, 1977
Publications
Published on 8/26/2020
Barocas JA, Komaromy M, Haidar D, Barlam TF, Orr BL, Miller NS. Assessment of Oropharyngeal Specimens for Discontinuation of Transmission-Based COVID-19 Precautions. Open Forum Infect Dis. 2020 Sep; 7(9):ofaa382. PMID: 32964067.
Published on 7/25/2020
Sinha P, Mostaghim A, Bielick CG, McLaughlin A, Hamer DH, Wetzler LM, Bhadelia N, Fagan MA, Linas BP, Assoumou SA, Ieong MH, Lin NH, Cooper ER, Brade KD, White LF, Barlam TF, Sagar M. Early administration of interleukin-6 inhibitors for patients with severe COVID-19 disease is associated with decreased intubation, reduced mortality, and increased discharge. Int J Infect Dis. 2020 Oct; 99:28-33. PMID: 32721528.
Published on 6/15/2020
Barlam TF, Childs E, Zieminski SA, Meshesha TM, Jones KE, Butler JM, Damschroder LJ, Goetz MB, Madaras-Kelly K, Reardon CM, Samore MH, Shen J, Stenehjem E, Zhang Y, Drainoni ML. Perspectives of Physician and Pharmacist Stewards on Successful Antibiotic Stewardship Program Implementation: A Qualitative Study. Open Forum Infect Dis. 2020 Jul; 7(7):ofaa229. PMID: 32704510.
Published on 3/3/2020
Burrowes SAB, Rader A, Ni P, Drainoni ML, Barlam TF. Low Uptake of Rapid Diagnostic Tests for Respiratory Tract Infections in an Urban Safety Net Hospital. Open Forum Infect Dis. 2020 Mar; 7(3):ofaa057. PMID: 32166096.
Published on 5/17/2019
Eby JC, Lane MA, Horberg M, Gentry CN, Coffin SE, Ray AJ, Sheridan KR, Bratzler DW, Wheeler D, Sarumi M, Barlam TF, Kim TJ, Rodriguez A, Nahass RG. How Do You Measure Up: Quality Measurement for Improving Patient Care and Establishing the Value of Infectious Diseases Specialists. Clin Infect Dis. 2019 05 17; 68(11):1946-1951. PMID: 30256911.
Published on 4/2/2019
Kimmel SD, Jawa R, Walley AY, Barlam TF. Actions to Integrate Treatment of Opioid and Infectious Disease Epidemics. Ann Intern Med. 2019 04 02; 170(7):508-509. PMID: 30934072.
Published on 3/28/2019
Barlam TF, Morgan JR, Kaplan WA, Outterson K, Pelton SI. Disproportionate Exposure to Antibiotics in Children at Risk for Invasive Pneumococcal Disease: Potential for Emerging Resistance and Opportunity for Antibiotic Stewardship. J Pediatric Infect Dis Soc. 2019 Mar 28; 8(1):63-65. PMID: 28992176.
Published on 3/1/2019
Morgan JR, Carey KM, Barlam TF, Christiansen CL, Drainoni ML. Inappropriate Antibiotic Prescribing for Acute Bronchitis in Children and Impact on Subsequent Episodes of Care and Treatment. Pediatr Infect Dis J. 2019 03; 38(3):271-274. PMID: 29794648.
Published on 12/17/2018
Barlam TF, Soria-Saucedo R, Ameli O, Cabral HJ, Kaplan WA, Kazis LE. Retrospective analysis of long-term gastrointestinal symptoms after Clostridium difficile infection in a nonelderly cohort. PLoS One. 2018; 13(12):e0209152. PMID: 30557401.
Published on 5/3/2018
Morgan JR, Barlam TF, Drainoni ML. A Qualitative Study of the Real-world Experiences of Infectious Diseases Fellows Regarding Antibiotic Stewardship. Open Forum Infect Dis. 2018 Sep; 5(9):ofy102. PMID: 30280120.
View full list of 41 publications.